Chili peppers are low-acid foods that need to be pressure canned. To pressure can peppers, pack them into sanitized half-pint jars with 1/2 teaspoon of salt. Add boiling water, leaving 1-inch headspace, and process in a pressure canner for 35 mins.
What is the Best Way of Canning Chili Peppers?
Chili peppers are a low-acid food and should be canned in a pressure canner for safety reasons. Pressure canners process foods at high enough temperatures to kill harmful bacteria. Chili peppers can only be canned in a water bath canner if they are pickled first to raise their acidity.
Print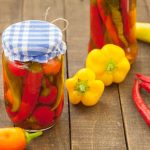 Easy Pressure Canning Recipe for Chili Peppers
---
Author:

Total Time:

1 hour, 10 minutes
Description
Learn how easy it is to make canned chili peppers with this easy recipe. It's the perfect way to preserve chile peppers, jalapeno peppers, and other varieties of hot peppers.
---
12

pounds chile peppers

4 tbsp

canning salt
---
Instructions
Wash the canning jars, lids, and bands in warm, soapy water. Rinse and place the canning lids and bands aside.
Place the canning jar rack in the pressure canner and add 2-4 inches of water based on the manufacturer's instructions for your pressure canner.
Fill the canning jars half-full with hot water and place them in the canner. Maintain a simmer at 180°F for 10 minutes and keep the jars in the water until the peppers are ready.
Add cold water to a separate large pot and let it come to a boil.
Rinse the whole peppers, then cut a slit on the side of each pepper. This will help keep the peppers from floating when canned.
If using tough-skinned chilis (poblano, Anaheim, or Hatch chiles), blister the skin of the chile peppers using an oven broiler at 400˚F for 6-8 minutes. Remove the stems, skins, seeds, and cores of the peppers. Leave the peppers whole, cut them into rings, or dice them into small pieces.
If using thin-skinned peppers such as Serrano or jalapeno, blanch them in hot water for three minutes. Remove the stems, skins, seeds, and cores. Leave the small peppers whole or slice them into rings.
Spread a dry kitchen towel on a counter. Remove the sanitized canning jars and place them on the dry towel.
Using a ladle and canning funnel, place peppers into the canning jars. Add 1/4 teaspoon of salt to each half-pint jar and 1/2 teaspoon of salt to pint jars.
Fill the jars with hot water, maintaining a 1-inch headspace.
Use a bubble popper to remove any air bubbles.
Wipe the jar rims and place the lids on the jars. Apply the screw bands and tighten until fingertip tight.
Using a jar lifter, return the filled jars to the canner. Add the water required for your pressure canner (usually between 3 and 4 inches).
Cover the pressure canner with a lid and let it vent steam for 10 minutes.
Allow the pressure in the canner to build to the recommended pressure and process for 35 minutes:
Dial-Gauge Pressure Canner:
0-2,000ft: 11 lbs pressure
2,001-4,000ft: 12 lbs pressure
4,0001-6,000ft: 13 lbs pressure
6,001-8,000ft: 14 lbs pressure
Weighted-Gauge Pressure Canner:
0-1,000ft: 10 lbs pressure
1,001ft and up: 15 lbs pressure
Post Processing
Once the processing time is over, turn off the heat and allow the pressure canner to cool down. Remove the lid once the pressure reaches zero. Allow the jars to sit in the water for five minutes.
Spread a towel on the counter. Using a jar lifter, remove the canned peppers and place them on the dry towel. Allow the jars to sit for 12-24 hours and cool at room temperature.
After 12 hours, remove the screw bands. Test the lids to make sure they are properly sealed and do not flex up and down.
Label the jars with the date and store them in a cool, dry place. For best quality, use your canned peppers within 12-18 months.
Notes
Do not alter this tested home canning recipe, as doing so may make the final product unsafe.
Be sure to wear gloves when canning hot peppers.
Prep Time:

15 minutes

Canning Time:

35 minutes

Cook Time:

20 minutes
Nutrition
Serving Size:

1/8 cup

Calories:

5kcal

Sodium:

1200mg

Fat:

0g

Saturated Fat:

0g

Carbohydrates:

1g

Fiber:

0.5g

Protein:

1g
Can Chili Peppers Be Water Bath Canned?
No – chili peppers are a low-acid food and need to be pickled first before being water bath canned.
For water bath canning, use an approved canning recipe for pickled peppers. You can pickle peppers in a vinegar brine, as pickling produces enough acidity to preserve peppers at a lower temperature.
How to Pickle Chili Peppers
The best way to pickle peppers is to soak them in a hot vinegar brine.
To get started, heat an equal amount of water and distilled 5% white vinegar in a small saucepan and season with canning salt, sugar, and spices to taste. Pour the hot liquid over sliced chili peppers. Cool, cover, and store in the refrigerator for up to three weeks.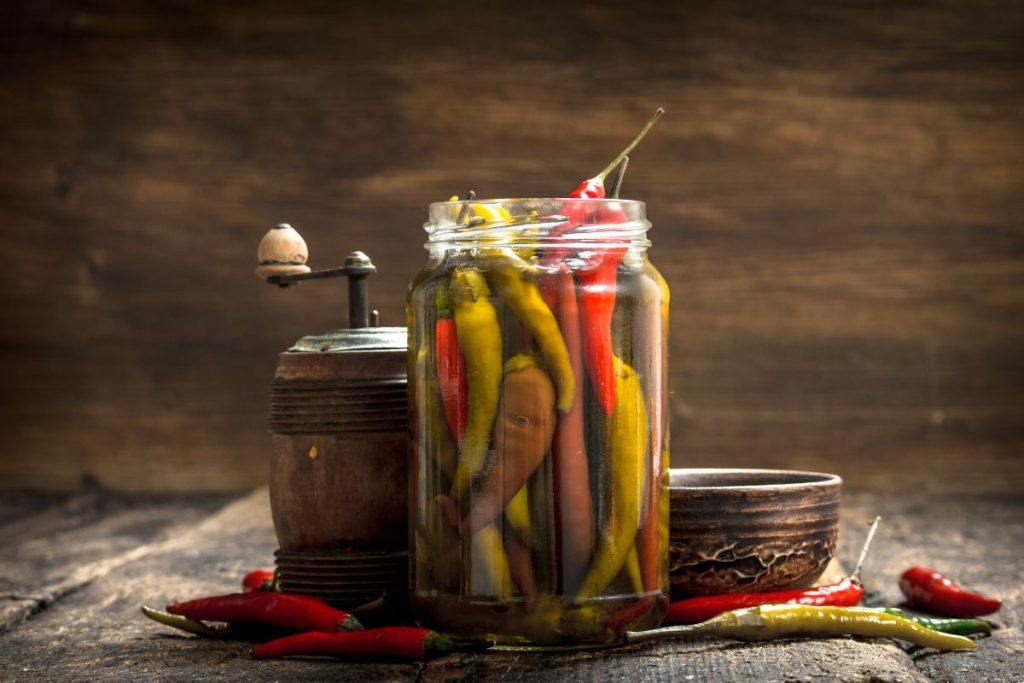 How Long Does it Take for Canning Chili Peppers?
It takes 35 minutes to process pints and half-pints at 10 pounds of pressure using a pressure canner. Please refer to the National Center for Home Food Preservation for up-to-date home canning guidelines and recipes to ensure food safety.
What is the Shelf Life of Canned Chili Peppers?
Unopened canned hot peppers have a shelf life of 3 to 5 years. For the best flavor, consume chili peppers within 12-18 months.
To extend the shelf-life of canned chili peppers once opened, refrigerate them in airtight containers. Canned chili peppers that are opened and refrigerated will last for 1-2 months.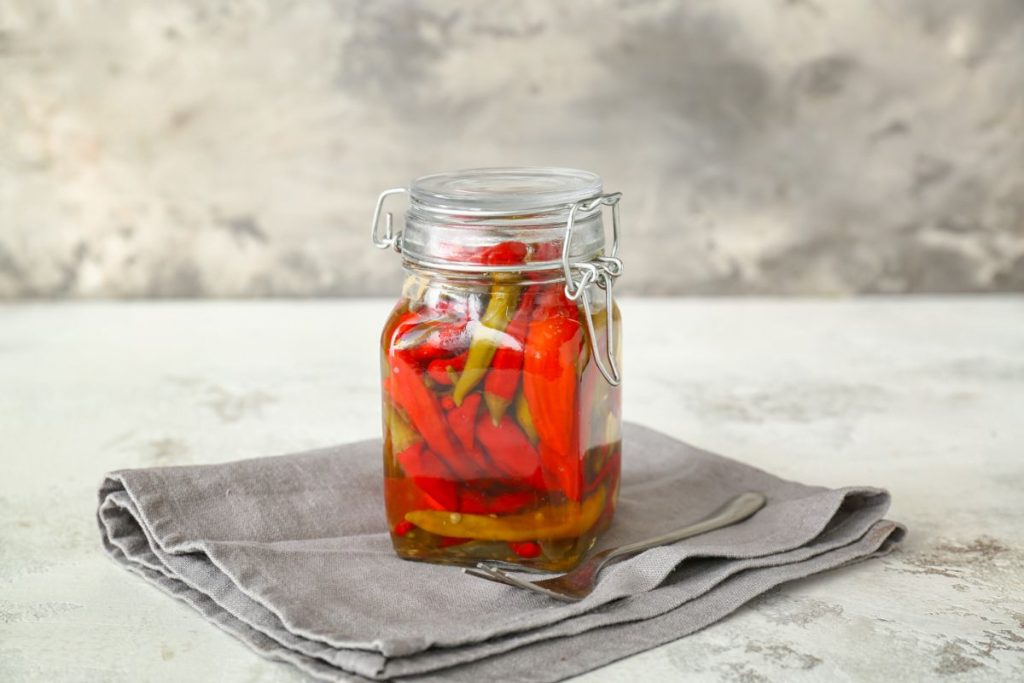 How to Store Canned Chili Peppers
Chili peppers should be stored in a cool, dry place. Always store chili peppers away from direct sunlight and heat sources, which may accelerate spoilage. Be sure to regularly rotate the stock and use the oldest peppers first.