The three ways of canning serrano peppers are water bath canning, pressure canning, and pickling. Process pickled peppers in a boiling water bath canner and non-pickled peppers in a pressure canner based on your altitude. Pickled peppers should be kept in the refrigerator.
Pressure Canning Serrano Peppers
Pressure-canning serrano peppers is a safe and effective way to preserve them.
Here's a step-by-step guide on how to pressure can serrano peppers:
Wash serrano peppers thoroughly and remove the stems.
Prepare your canning jars and lids by washing them with hot, soapy water and sterilizing them in boiling water for at least 10 minutes.
Pack your serrano peppers tightly into sterilized mason jars, leaving 1 inch of headspace at the top.
Heat enough water to fill the canning jars and bring it to a boil.
Carefully ladle the hot water over the serrano peppers in the jars, maintaining 1 inch of headspace at the top.
Wipe the rims of the jars with a paper towel.
Place the lids on the jars and apply the screw bands. Tighten the bands to fingertip tightness.
Place the jars in a prepared pressure canner, following the manufacturer's instructions for your specific canner. Most pressure canners will need 2 to 4 inches of water at the bottom of the canner.
Place the jars inside the canner onto the canning rack using canning tongs.
Close the lid and let the pressure canner vent steam for 10 minutes.
Process the jars at 10-15 pounds of pressure for 35 minutes. Adjust the pressure per your altitude and type of pressure canner.
Once the processing time has elapsed, turn off the canner and let it release pressure.
Once the pressure reaches zero, use a jar lifter to remove the jars from the canner and let them cool on a towel-covered level surface for 12–24 hours.
Check the seals on the jars by pressing down on the center of each lid. If the lid does not pop up and down, the jar is properly sealed. Remove the screw bands.
Store your pressure-canned veggies in a cool, dry place for 1-2 years. Enjoy them in salsas, soups, stews, and other dishes!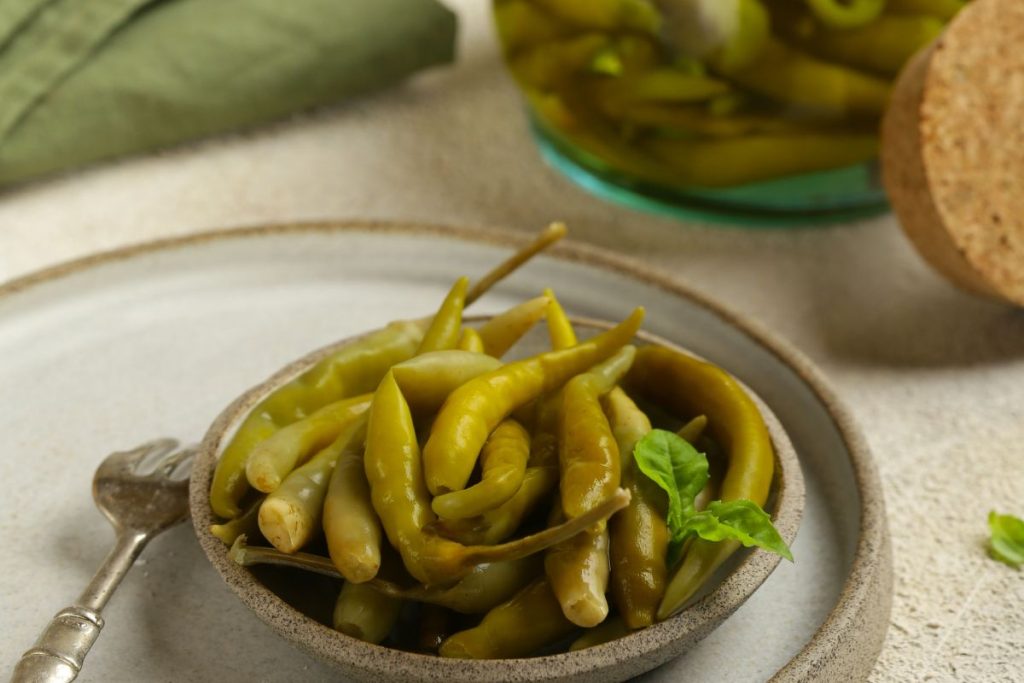 Water Bath Canning Serrano Peppers
Water bath canning is for high-acid foods like pickled serrano peppers. Pickled peppers are easy to prepare for canning:
Wash your serrano peppers thoroughly in running water. Wear gloves when handling hot peppers, as they can burn the skin.
Slice the peppers into rounds or leave them whole, depending on your preference.
In a pot, combine 2 cups of vinegar, 2 cups of water, and 1 tablespoon of pickling salt. You can also add spices like garlic, peppercorns, or bay leaves for extra flavor.
Boil the mixture and let it simmer for 5–10 minutes on low heat.
Raw pack the sliced or whole serrano peppers into sterilized canning jars, leaving 1/2 inch of headspace at the top.
Ladle the pickling liquid over the peppers, maintaining 1/2 inch of headspace.
Use a knife or spatula to remove any air bubbles from the jars.
Wipe the rims of the jars using a clean, damp cloth.
Place the lids on the jars and tighten until finger-tight.
Place the jars in a prepared boiling water bath canner, ensuring that the jars are completely submerged in water and that there are at least 1-2 inches of water above the top of the jars.
Bring the water to a rolling boil and process the jars for 10–20 minutes, per your altitude.
Once the processing time is complete, turn off the heat and let the jars sit in the water for 5 minutes.
Carefully remove the jars from the canner and let them cool on a towel for 12–24 hours.
Check if the jars are sealed properly by pressing down on the center of each lid. If the lid does not pop up and down, it is sealed correctly.
Store your water-bath canned serrano peppers in a cool, dry place for up to 1 year. Enjoy pickled serrano peppers on pizza, nachos, or tacos!
Print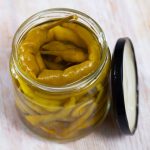 Pickled Serrano Peppers Canning Recipe
---
Author:

Total Time:

25 minutes
Description
It is easy to prepare homemade pickled serrano peppers, and the results are much better than store-bought versions.
---
1

pound of serrano peppers

1 cup

distilled white vinegar or apple cider vinegar (5% acidity)

1/2 cup

water

1 cup

sugar

1 tsp

sea salt
---
Instructions
In a large pot, add water, vinegar, salt, and sugar, and let the mixture warm over low heat until the sugar dissolves.
Remove from the heat and place the mixture aside to let it cool.
Slice the serrano peppers into thin slices and pack them in hot, sterilized canning jars.
Add your water, vinegar, salt, and sugar mixture into the jar until the peppers are submerged.
Cover and put the jar in the refrigerator to cure for 2–3 days.
After 3 days, your pickled peppers are ready to eat! Keep them in the refrigerator and consume them within 1 month.
Prep Time:

15 minutes

Pickling Time:

10 minutes
Nutrition
Serving Size:

1lb

Calories:

145kcal

Sugar:

18.42g

Sodium:

45mg

Fat:

2g

Carbohydrates:

30.39g

Fiber:

16.8g

Protein:

7.89g

Cholesterol:

0mg
Do You Need to Peel Serranos Before Canning?
Serrano peppers can be canned without peeling. Serrano peppers have thin and tender skins that soften easily during the canning process.
Do You Need to Cut Slits in Serrano Peppers Before Pickling or Canning?
Small peppers may be left whole, but cutting small slits in the pepper will help ensure peppers do not float. If you wish to cut slits, take a sharp knife and make a small cut on each side of the pepper length-wise while preparing them.
Can You Pickle or Can Other Peppers with Serrano Peppers?
Yes! Peppers can be pickled or canned together. The most popular varieties to pair with serrano peppers are jalapeno peppers, sweet peppers, banana peppers, habaneros, and bell peppers.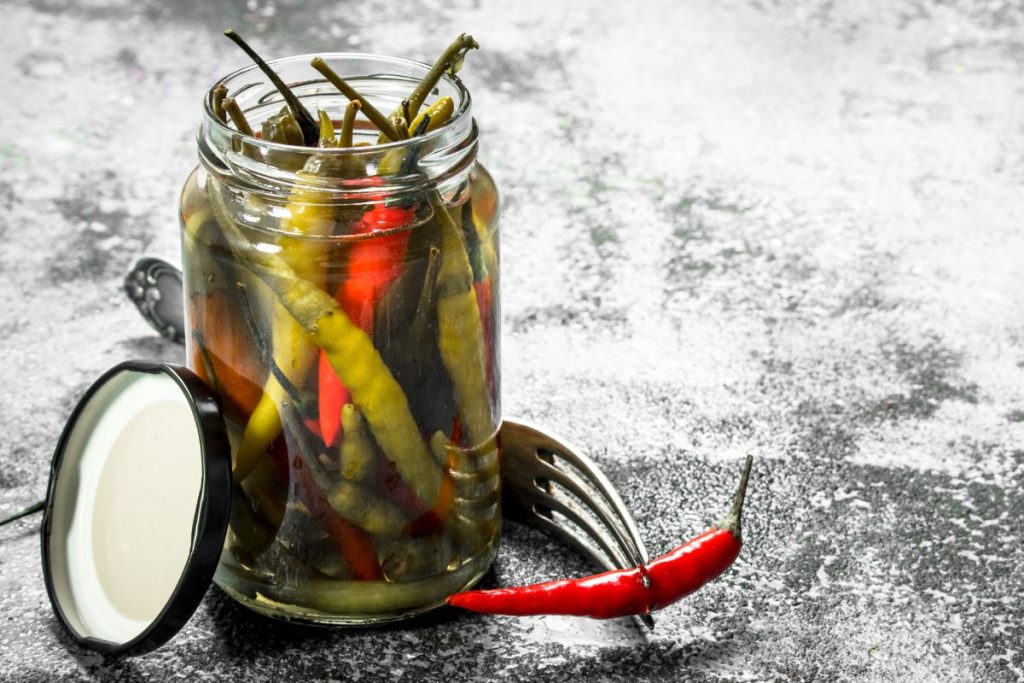 How to Store Canned Serrano Peppers
Canned serrano peppers should be stored in a cool, dry place away from direct sunlight. The ideal temperature for storage is between 50°F and 70°F.
Once you open a jar of canned serrano peppers, store the leftovers in the refrigerator and use them within a week. Discard peppers that show signs of spoilage, such as a foul odor, mold growth, or a bulging lid.
How Long Will Canned Serrano Peppers Last?
Canned serrano peppers are generally safe to eat for 1-2 years, but their quality and flavor may decline over time. Consume canned serrano peppers within 6 to 12 months for optimal quality. Label peppers with the date of canning to keep track of their shelf life.