Canning crisp banana peppers requires soaking the peppers in jars with pickling brine and spices. Pickled peppers can be canned using a hot water bath canning method, as the pickling process increases their acidity.
The Key to Keeping Banana Peppers Crisp
The best way to have crisp canned banana peppers is to start with fresh, crunchy peppers. For the best texture, discard mushy, bruised, and limp peppers before canning.
Print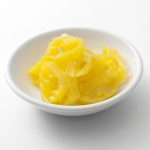 How to Make Pickled Banana Peppers Recipe
---
Author:

Total Time:

24 hours, 50 minutes
Description
This easy pickled banana peppers recipe is tasty and perfect for first-time picklers and canners. You can make hot banana peppers by adding jalapenos or pepperoncini to this recipe!
---
2½

pounds banana peppers

5 cups

apple cider vinegar (5% acidity)

1¼ cups

water

5 teaspoons

pickling salt

2 tablespoons

celery seed

4 tablespoons

mustard seed
---
Instructions
Wash and sterilize canning jars, lids, and screw bands. Keep jars hot until use.
Wash peppers and cut off the stems. Slice peppers into ¼ to ½ inch slices.
In a saucepan, combine the cider vinegar, water, and salt and bring to a rolling boil.
Add ½ tbsp celery seed and 1 tbsp mustard seed into the bottom of each clean, hot jar. Fill jars with sliced banana pepper rings.
Cover the sliced peppers with boiling water, leaving ½ inch headspace at the top of the jar.
Remove air bubbles using a sanitized spatula. Wipe the rims of the jars and apply the lids and screw bands.
If not canning the peppers, allow them to cool to room temperature and then place them in a refrigerator and allow them to marinate for a week. Consume pickled banana peppers within a month.
If canning, process the jars in a boiling water bath canner for 10 minutes at an elevation less than 1,000 feet and 15-20 minutes at elevations above 1,000 feet.
Notes
Optional: For spicy peppers, substitute 1 pound of banana peppers for jalapenos or pepperoncini peppers. 
Prep Time:

30 minutes

Pickling Time:

24 hours

Cook Time:

20 minutes
Nutrition
Serving Size:

30g

Calories:

5kcal

Sodium:

270mg

Fat:

0g

Saturated Fat:

0g

Carbohydrates:

1g

Fiber:

1g

Protein:

0.3g
Useful Tools for Canning Crisp Banana Peppers
These tools are helpful when canning banana peppers:
Canning funnel
Ball Mason jars (half-pint or pint)
Canning lids
Canning rack
Canning tongs or jar lifter
Large pot
Ladles
Rubber gloves
Spatula
It is important that all tools and equipment are sanitized before canning for food safety.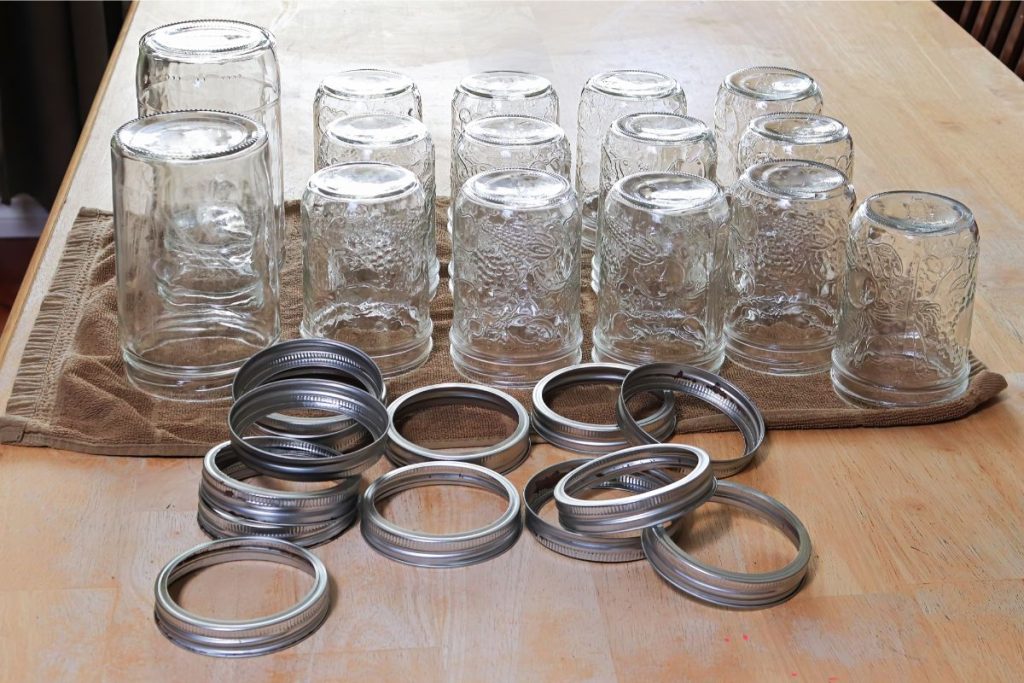 Why Do You Need to Pickle Banana Peppers before Canning Them?
Pickling banana peppers raises the acidity and allows them to be canned using the water bath canning method. Low-acid foods such as cabbage and peppers cannot be water-bath canned without adjusting the pH level.
Additionally, pickling peppers before canning gives canned peppers more flavor. Most canning recipes for banana peppers include a pickle brine.
Can You Use Pickle Crisp when Canning Peppers?
Yes, you can use Pickle Crisp when canning peppers. The calcium chloride granules in Pickle Crisp helps to keep the peppers crisp throughout the canning process without lowering the acidity.
Pickle crisp is a safer alternative to lime, which was traditionally used to keep food crisp during canning, but would lower the acidity of the food in the process. 
What Causes Peppers to Not Be Crisp After Canning?
There are many reasons that peppers may not be crisp, including:
Failing to use pickle crisp or pickling salt
Overprocessed peppers (may have a shriveled appearance)
The peppers have gone bad (indicated by cloudy sediment at the base of the jar)
Using limp or damaged peppers
Using too weak of a vinegar solution (vinegar should have at least 5% acidity)
Tips to Keep Banana Peppers Crisp
Add pickling salt instead of sea salt or Kosher salt to the brine
Store canned peppers away from heat and direct sunlight
Use fresh, firm peppers
Use Pickle Crisp or calcium chloride
When pickling peppers, use soft water or distilled water
How Long Will Canned Banana Peppers Last?
Canned banana peppers can last 18 months when properly stored. Store your peppers at a temperature range of 40-70 degrees Fahrenheit in a dark, dry location away from sunlight and humidity.