The canning process for Pico de Gallo begins by washing, peeling, and de-seeding fresh tomatoes, onions, and peppers. Dice the ingredients and mix with vinegar or lemon juice and seasonings. Boil the mixture and simmer for 3 minutes. Pack into hot pint jars, seal, and process in a boiling water canner for 15-25 minutes.
Can Pico De Gallo Be Canned in a Water Bath?
Yes – it's possible to can Pico de Gallo in a water bath. All tested, acidified tomato salsa recipes are developed to be processed in a boiling water bath canner. 
When making these recipes, use 5% acidity vinegar or bottled lime, or lemon juice. Since this salsa contains low-acid vegetables, adding acids lowers pH, creating an acidic environment ideal for eliminating harmful bacteria.
Print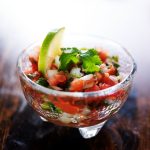 Pico De Gallo Canning Recipe
---
Author:

Total Time:

2 hours, 15 minutes
Description
Do you want to can a low-calorie, easy-to-make condiment for burrito bowls, tacos, or tortilla chips? Follow this hassle-free guide for making and canning Pico-de Gallo!
---
1

kg Roma tomatoes (

2

lbs. W

eight

after de-seeding.)

1

medium onion

1

large jalapeno pepper

2 tablespoons

of cilantro/coriander

1/2 cup

bottled lime juice

1 teaspoon

pickling salt
---
Instructions
Prepare your canning jars. Wash pint jars, lids, and screw bands in warm, soapy water. Rinse them thoroughly and set lids and rings aside to air-dry.
Cover the canning jars in simmering water at 180 degrees Fahrenheit for 10 minutes and keep hot until ready to fill the jars.
Wash fresh, firm, ripe tomatoes under cool, running tap water. Core them, halve them with a sharp knife, and scrape off the seeds gently. Dice the halves into ¼ inch-cubes and pour into a clean, large saucepan.
Using a sharp knife, trim the tips and bottom ends of the onion. Peel the outer leathery skin, cut the onion into halves, and then dice into ¼ inch cubes. Add the onion to the diced tomatoes.
Wash jalapeno peppers under cool water. Remove stems and split them halfway to remove seed membranes and seeds. Cut into ¼ inch chunks and add to the the onions and tomatoes. Mix the three ingredients thoroughly.
Add chopped cilantro, lime juice, and pickling salt as well. Stir the mixture until well-blended.
Place the pot on a stovetop and bring the mixture to a full, rolling boil. Reduce the heat to a gentle simmer, uncover the pot, and cook your Pico-de-Gallo for 3 minutes. Remove from heat.
Ladle the hot salsa Fresca into hot canning jars with cooking liquid. Leave ½ inch of headspace.
Run a non-metallic utensil along the jar edges to release air pockets.
Wipe the rims with a damp paper towel.
Center canning lids over the jars, add screw bands, and fasten until fingertip tight.
Prepare your boiling water bath canner by filling it with boiling water and a jar rack.
Load the pint jars into your water bath canner with a jar lifter. Ensure the water is 1-2 inches above the top of the jar lids.
Wait until the water resumes a vigorous boil before covering the canner with a lid and setting a processing time of 15-25 minutes per your altitude:
Water Bath Canning Times for Pints or Half-Pints
0-1,000ft: 15 minutes
1,001-6,000ft: 20 minutes
6,000ft and up: 25 minutes
Post Processing
Once time lapses, turn off the heat and wait for 5 minutes.
Remove processed jars using a jar lifter and place them on a cushioned, heat-proof surface to cool for 12-24 hours.
Check the jar seals by looking out for concave-shaped lids. Jars with lids that pop up and down when pressed didn't seal. Put them in a fridge and consume the contents within seven days.
Remove screw bands from sealed jars, then label them with the contents and date. Store the sealed pint or half-pint jars in a clean, cool, dark, dry place for up to 18 months.
Prep Time:

90 minutes

Canning Time:

15 minutes

Cook Time:

30 minutes
Nutrition
Serving Size:

4g

Calories:

8kcal

Sugar:

1g

Sodium:

219mg

Fat:

0.1g

Saturated Fat:

0g

Carbohydrates:

1.8g

Fiber:

0.5g

Protein:

0.3g

Cholesterol:

0g
How Long Does it Take to Can Pico De Gallo?
The pickling time for fresh Pico de Gallo or salsa fresca is 1 hour. Water bath canning pickled Pico de Gallo takes 15-25 minutes.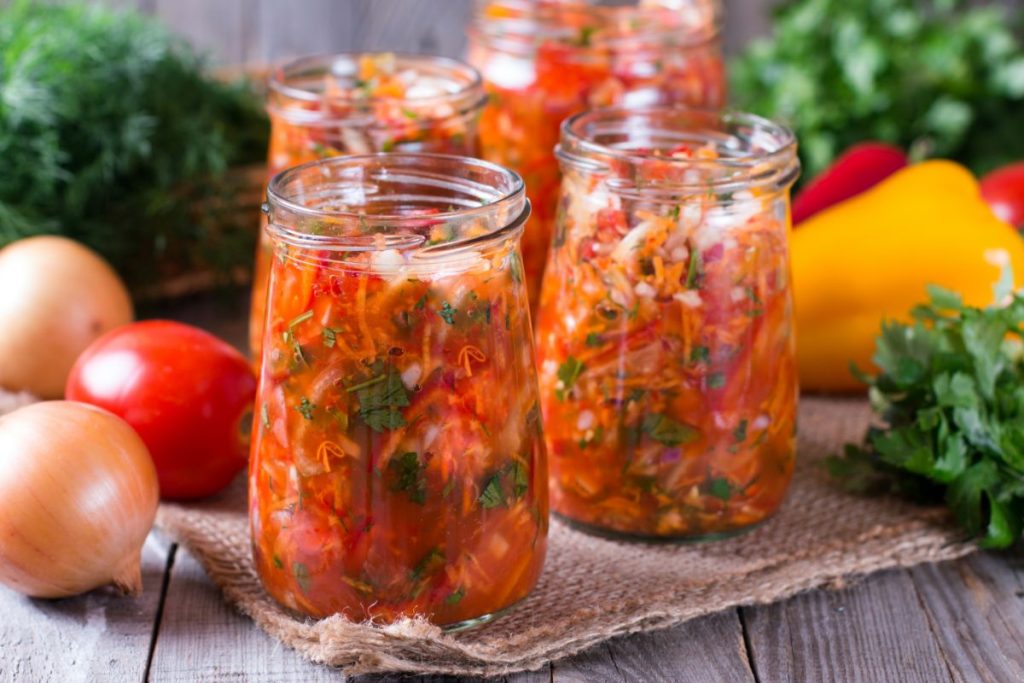 What are the Best Ingredients to Use in Canned Pico De Gallo?
The best ingredients for a Mexican classic Pico de Gallo include:
What are the Best Tomatoes to Use When Canning Pico de Gallo?
Roma tomatoes are excellent for this fresh salsa because they are meaty and less watery, giving your condiment a thick consistency. Cherry tomatoes are firm and good for canned salsa too.
What are the Best Onions to Use When Canning Pico de Gallo?
Use white or red onion varieties for in-depth flavor when canning Pico de Gallo. However, you may substitute or add green onions and shallots to the mixture to complement the other ingredients.
What is the Difference Between Salsa and Pico de Gallo?
Some key differences between salsa and Pico de Gallo include:
Additional ingredients – While most basic ingredients are the same, salsa often includes roasted, stewed, or charred tomatoes and hot peppers.
Preparation – Making salsa involves combining cooked, fresh or canned tomatoes with other ingredients and making a puree in a food processor. For Pico de Gallo, you should combine the diced ingredients and mix well without pureeing.
Texture – Pico de Gallo has a chunky, less watery consistency, while traditional tomato salsa has a thin, runny consistency.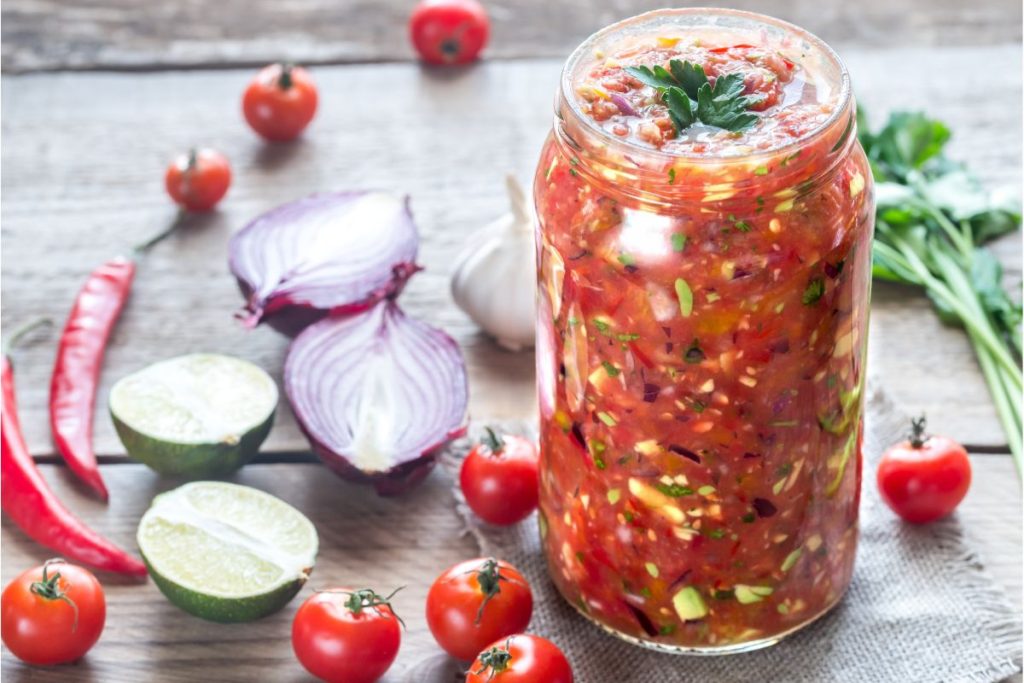 Can Pico de Gallo Be Made with Canned Tomatoes?
Yes, Pico de Gallo can be made with canned tomatoes. While traditional Pico de Gallo recipes call for fresh tomatoes, some recipes substitute them with store-bought canned ones. If you can't find fresh fruits, get a can from the grocery store, drain the tomatoes, and chop them into smaller pieces before combining them with diced onions, pepper, cilantro, salt, and lime for a tasty Pico.
How to Store Canned Pico de Gallo
Store unopened, sealed jars at 50-70 degrees Fahrenheit. Fluctuating temperatures from furnaces and uninsulated garages may diminish the quality of canned salsa.
Avoid moisture, as it can corrode metallic lids. Direct sunlight affects the flavor, so keeping the jars in a dark area away from natural sunlight is best.
How Long Can Canned Pico de Gallo Be Stored?
If stored properly, canned Pico de Gallo has a shelf life of up to 18 months. Upon opening a jar of canned food, the USDA recommends refrigerating and consuming it within 3-4 days.