The process of canning roasted tomatoes begins by oven-roasting ripe tomatoes at 450°F. Pack the roasted tomatoes into canning jars with citric acid or bottled lemon juice and process in a boiling water canner for 85-100 minutes, per elevation.
How Do You Roast Tomatoes for Canning?
The first thing required for canning roasted tomatoes is to roast fresh tomatoes.
Choose ripe tomatoes with no visible blemishes for roasting, then follow these steps:
Preheat your oven to 450°F.
Wash the fresh tomatoes under running water.
Remove the cores and slice them vertically into halves.
Place the sliced tomato halves in a single layer with the cut side facing down on a 1/2" high, rimmed baking sheet.
Optional: Add flavor to the tomatoes by sprinkling with 1-2 teaspoons of oregano, rosemary, basil, or black pepper.
Roast the tomatoes in the oven for 45 to 50 minutes, or use the broiler setting and broil for 3-5 minutes. Use tongs to move the tomatoes periodically to prevent burning. Roasted tomatoes will have a wrinkled appearance and brown to black spotting.
Once the tomatoes are roasted, remove the baking sheet from the oven and turn the oven off. Allow the tomatoes to cool on the baking sheet.
If you wish to remove the skin, pinch the thin, wrinkled skin between your fingers and pull it towards the center to lift it away from the tomato flesh.
Squeeze the tomato until most of the seeds come out. Collect the tomato pieces, discarding any that are overly charred or burned.
Place roasted tomatoes into prepared canning jars for canning.
Print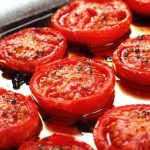 Canning Roasted Tomatoes Recipe
---
Author:

Total Time:

2 hours, 20 minutes
Description
Preserving your summer tomato harvest is a breeze with this delicious canned tomato recipe. This small batch recipe is enough to make 1 pint of canned roasted tomatoes. For each additional pint desired, double the ingredient amounts.
---
2

lbs roasted tomatoes

1 tsp

lemon juice or

¼ tablespoon

citric acid
---
Instructions
Wash pint jars, canning lids, and screw bands in warm, soapy water and rinse well.
Sterilize canning jars in boiling water for 10 minutes, then keep the jars warm until ready to fill.
Add water to a boiling water bath canner until it is half-full. Cover it with a lid, place it on a stove, and bring the water to a rolling boil.
Ladle roasted tomatoes into hot, sterilized canning jars. Sprinkle 1 teaspoon of bottled lemon juice into each pint and stir.
Remove air bubbles by pressing down on the tomatoes with the back of a clean spoon, leaving ½-inch of headspace. A bubble popper or chopstick is also effective in releasing trapped air.
Wipe the jar rims with a damp cloth or napkin, and place lids on top of the jars. Apply screw bands and screw it until fingertip tight.
Load the jars into the boiling water bath with canning tongs. Add boiling water to ensure there is water 1-2 inches above the tops of the jars.
Let the water resume a vigorous boil before starting the timer.
The processing time will range from 85 to 100 minutes, based on your altitude:
Processing Times
85 minutes (0 – 1000ft)
90 minutes (1,001 – 3,000ft)
95 minutes (3,001 – 6,000ft)
100 minutes (6,001ft +)
Post Processing
Once processing is complete, turn the stove off and remove the lid from the canner.
Remove jars from the hot water with a jar lifter. Place them on a clean, towel-covered counter.
Let the jars cool at room temperature for 12-24 hours.
Remove the screw bands from the jars and confirm they have a vacuum seal. Press on the middle of the lid of each jar to ensure it doesn't flex up and down.
Label sealed jars and store them in a dark, cool place. For any jars that didn't seal, reprocess them or refrigerate them and use them within 3 days.
Prep Time:

20 minutes

Canning Time:

85 minutes

Cook Time:

35 minutes
Nutrition
Serving Size:

1/4 pint

Calories:

41kcal

Sugar:

6g

Sodium:

12mg

Fat:

0g

Saturated Fat:

0g

Carbohydrates:

9g

Fiber:

3g

Protein:

2g
What are the Best Tomatoes for Roasting and Canning?
Large paste varieties are the best for roasting and canning recipes, including:
Amish Paste
Polka
San Marzano
Saucy
Roma tomatoes
While any tomatoes can be canned, the best tomatoes have less water content and thick or meaty walls, which is excellent for making tomato paste or sauces.
Further, they are easier to peel than other varieties, and their sugars are quickly caramelized by roasting for an intensely-flavorful outcome.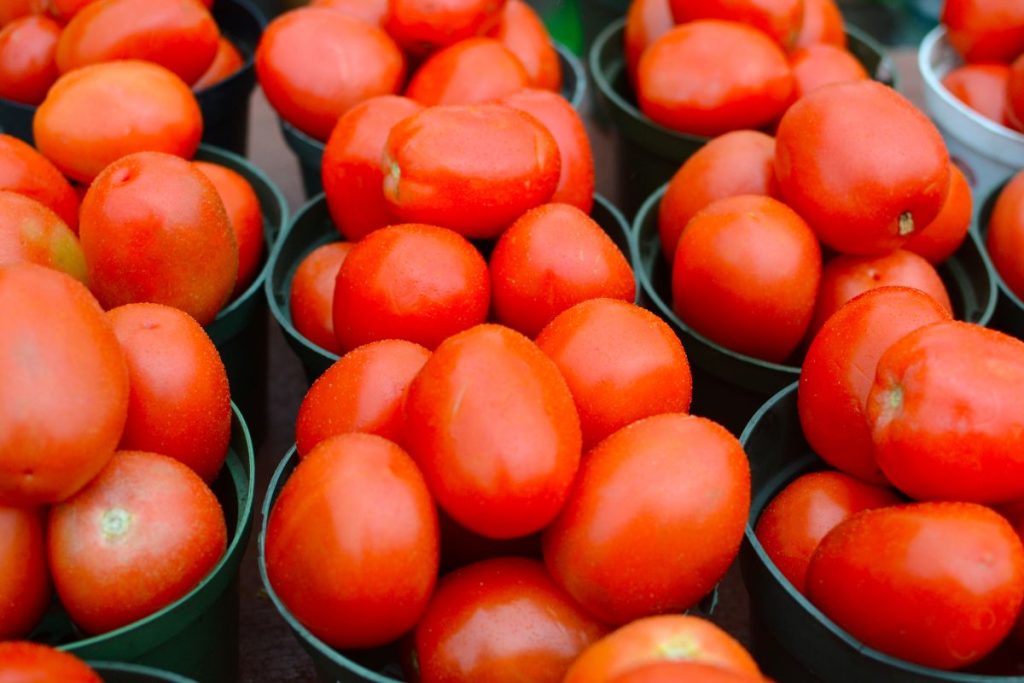 Are Oven Canning Roasted Tomatoes Safe?
No.
Per the National Center for Home Food Preservation, using an open kettle, conventional oven, microwave oven, or dishwasher for home canning isn't safe or recommended because the heat isn't high enough for safe processing.
Dry canning (also known as oven canning) is associated with risks such as botulism, jar breakage, and the under-processing of food due to inadequate temperatures.
What Can You Do With Canned Roasted Tomatoes?
Canned roasted tomatoes can be used the same as fresh roasted tomatoes in many Italian recipes.
Turn roasted tomatoes into tomato sauce, pasta sauce, or puree. They can be added to stews and soups or as a topping for fresh salads.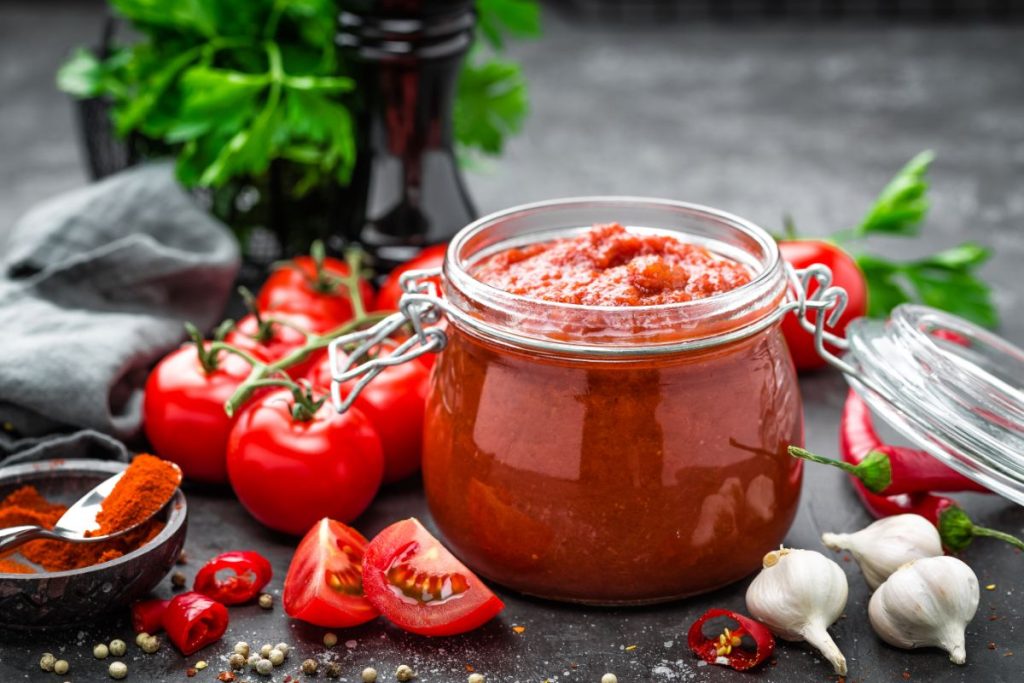 Can Roasted Cherry Tomatoes Be Canned?
Yes. It's possible to can roasted cherry tomatoes in a boiling water canner or a pressure canner. They can be canned like other tomato varieties in pint or quart jars.
How to Store Roasted Canned Tomatoes
It's best to store canned tomatoes in a dry, dark place with a temperature between 50-70 degrees Fahrenheit.
The USDA recommends using home canned goods within 12-18 months. If you have an opened jar of roasted canned tomatoes, refrigerate and use it within 5-7 days.