To can mango salsa, boil the salsa ingredients over high heat and then simmer on low heat for 5 minutes. Fill sanitized canning jars with the salsa, wipe the rims, and cover with canning lids. Process the jars in a water bath canner for 10–20 minutes per elevation.
Do You Have to Water Bath Mango Salsa When Canning?
Mango salsa canning recipes contain a mix of low-acid and acidic ingredients. Most tested canning recipes for salsa are suitable for canning in a boiling water bath canner because they contain bottled lemon juice or vinegar. If you wish to can salsa in a pressure canner, only use a canning recipe made for pressure canning.
Print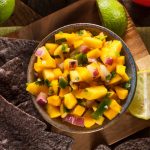 Mango Salsa Canning Recipe
---
Author:

Total Time:

1 hour, 15 minutes
Description
This fruity and spicy salsa recipe is easy to prepare and delicious! Be sure to wear gloves when handling hot peppers and green mangoes, as these fruits can cause skin irritation.
---
6 cups

diced fresh peaches

2

1⁄4 cups diced mangoes

1

whole diced habanero or 4 diced ‌jalapeno peppers (de-seeded)

1

2⁄3 cups diced red bell peppers

1

1⁄8 diced red onions

2

1⁄4 tbsp minced garlic

3

1⁄3 tbsp chopped fresh cilantro

1

1⁄8 lime juice and zest

1

2⁄3 cups cider vinegar or white vinegar (5%)

1

1⁄8 cups brown sugar

5⁄8

‌teaspoon salt
---
Instructions
Wash and sterilize your canning jars and lids and keep them hot until they are ready to use.
In a large pot, add all of your prepared salsa ingredients.
Bring the mixture to a boil using high heat and keep stirring until the sugar is dissolved.
Reduce the heat and allow the mixture to simmer for 5 minutes.
Use a canning funnel or ladle to transfer the hot salsa into the hot, sterilized canning jars, leaving 1/2-inch head space.
Use a damp kitchen cloth or a paper towel to wipe the jar rims.
Place the canning lids on and screw on the metal bands until fingertip tight.
Use canning tongs to transfer the sealed jars into a prepared boiling water canner, and cover the jars with at least 1-2 inches of boiling water. The processing time will depend on your elevation:
Processing Time Per Elevation
0 – 1,000ft: 10 minutes
1,001 – 6,000ft: 15 minutes
6,000ft and up: 20 minutes
Post Processing
Once the jars are finished processing, turn off the heat and allow the canner to cool. Remove the lid from the canner and transfer the jars from the canner using a jar lifter.
Set the jars on a cushioned surface in a draft-free area to cool for 12-24 hours.
Remove the screw bands from the jars and inspect the seals. Sealed jars should have stationary lids that don't flex when you press on them with your finger.
Refrigerate and use any unsealed jars within 3-4 days. For properly sealed jars, label the contents with the date and store the jars in a cool, dry, dark place.
Prep Time:

1 hour

Canning Time:

20 minutes

Cook Time:

15 minutes
Nutrition
Serving Size:

2 tablespoons

Calories:

29kcal

Sugar:

8g

Sodium:

2mg

Fat:

0g

Carbohydrates:

10g

Fiber:

1g

Protein:

0g
Hot Pack vs. Raw Pack for Canning Mango Salsa
The best method for canning mango salsa is hot packing because it safely eliminates bacteria prior to canning. Hot packing salsa involves cooking the salsa before packing it in sterilized jars. The mango in the salsa develops a softer texture when prepared using the hot pack method because the fruit is cooked during the canning process.
The raw pack method involves packing the raw salsa ingredients into jars without any cooking. A hot canning liquid, such as tomato juice or vinegar-based brine, is then added to the jars. The mango salsa canned through this method has a crisper texture but may lose color over time.
What Kind of Mangoes Should Be Used for Canning Mango Salsa?
The best mangoes for canning mango salsa should be firm but not hard. They should be slightly green and have a slight give when firmly pressed with a finger. Ripe mangoes are too soft and will become mushy when canned. It's best to choose fresh mangoes with these characteristics so they will hold up well when canned.
Tips to Make Canned Mango Salsa Amazing
Here are some tips to take your canned mango salsa to the next level:
Add additional acidic fruits to the salsa, such as pineapple, peaches, or strawberries.
Add a variety of herbs and spices like cilantro, cumin, cayenne pepper, and chili powder
Chopped jalapenos and red bell peppers add warmth and savoriness to canned mango salsa.
Don't overcook the salsa because this can make it mushy.
If you want a sweeter salsa, add honey.
If you want salsa with a bite, add bottled lime juice or vinegar.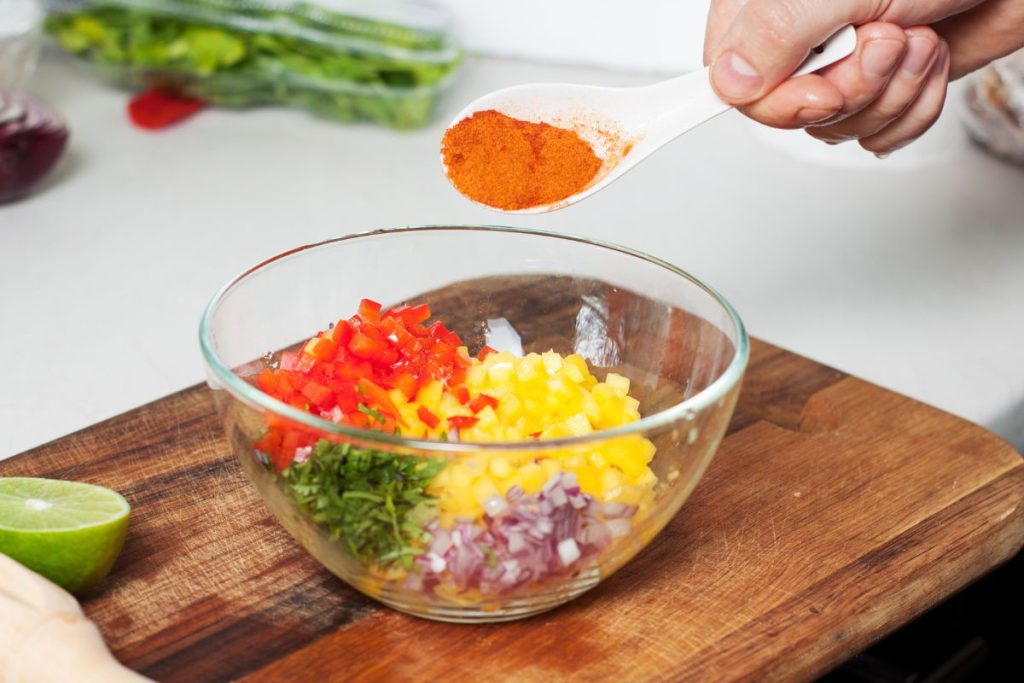 Is It Better to Use Pints or Quarts When Canning Mango Salsa?
The best jar size for canning salsa is half-pint jars or 16-ounce pint jars. The number of pints or quarts in a full canner load depends on the canner's size. Most canners have a capacity of eight to nine-pint jars or seven-quart jars.
How Long Does It Take to Can Mango Salsa?
Canning mango salsa takes 10-20 minutes of processing time for half-pint jars. When canning mango salsa, adjust the time depending on your altitude.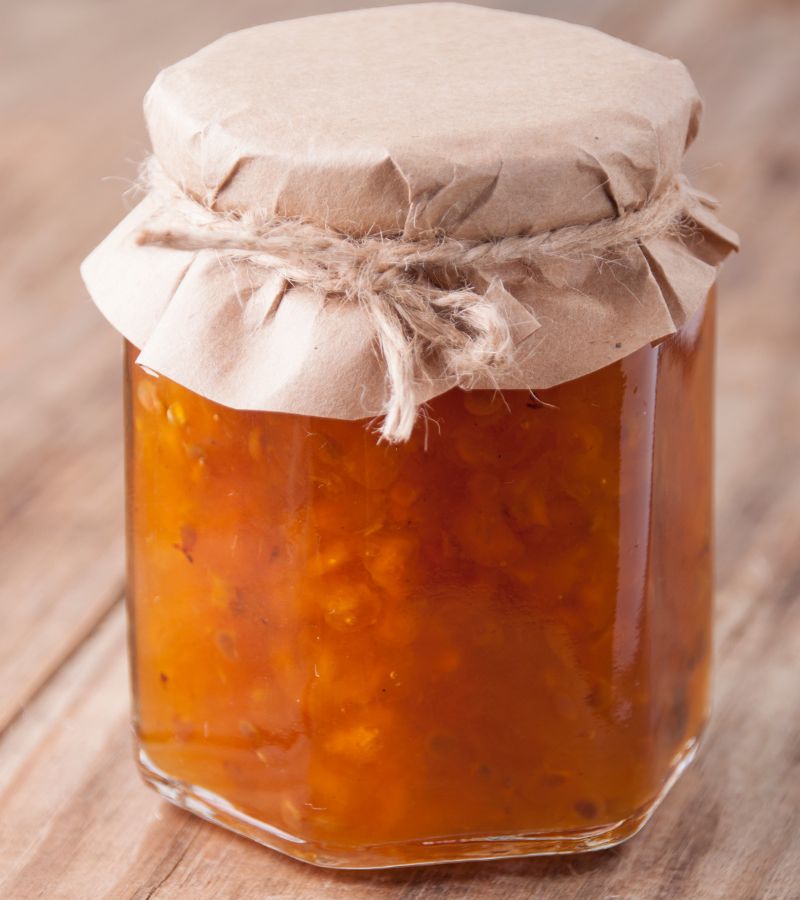 How to Store Canned Mango Salsa
Store sealed jars of canned mango salsa in a cool, dark place away from heat and direct sunlight. Make sure to rotate your jars periodically and use your stock following the "first in, first out" method. Check the jars from time to time for signs of spoilage, such as bulging lids or leaking jars. After opening the jars of salsa, refrigerate the contents and use it within two weeks.
What is the Shelf Life of Mango Salsa?
The shelf life of mango salsa is one year. For the best taste and texture, use mango salsa within six months.