Canning gumbo starts by making the gumbo with okra, shrimp, veggies, and spices. Once cooked, ladle the gumbo into hot canning jars, leaving ½ inch headspace, then process in a pressure canner for 90-100 minutes.
Is it Better to Water Bath Can or Pressure Can Gumbo?
Pressure canning is the safest method of processing gumbo. This stew contains low-acid veggies and proteins like sausage, chicken, or seafood. A pressure canner's high heat destroys clostridium botulinum bacteria. Processing in a water bath is unsafe because pathogens survive in less-acidic environments.
Print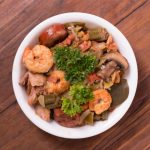 Louisiana Cajun Gumbo Canning Recipe
---
Author:

Total Time:

3 hours, 55 minutes
Description
Is it your first time canning gumbo? Follow these foolproof steps for making a rich and spicy classic Louisiana Cajun gumbo perfect for canning.
---
2

pounds small okra

1/4 cup

vegetable oil

2 cups

chopped, peeled, and seeded fresh tomatoes, or

2 cups

chopped canned tomatoes

1 cup

chopped onions

1 cup

chopped celery

1 3/4 teaspoons

salt

1/2 teaspoon

cayenne

5

bay leaves

1/2 teaspoon

dried thyme

2 quarts

water

2

pounds medium shrimp, peeled and deveined
---
Instructions
Wash canning jars, lids, and rings in warm, soapy water and rinse well. Cover the jars in simmering water until ready to use.
Wash okra, tomatoes, onions, bay leaves, and celery thoroughly under cool, running water.
Trim the tip and stem ends from the okra and cut them into ¼-inch round pieces.
Core the tomatoes and dice them into ½ inch slices. Cut ½ inch onion sizes and chop the celery into coarse pieces. Set aside.
Prepare your clean, de-veined, peeled shrimp and put them in the refrigerator.
In a large stockpot, add the vegetable oil. Add okra and saute over medium-high heat while stirring for 10-12 minutes.
Pour in diced tomatoes, onions, and celery. Stir and cook the veggies for 18-20 minutes.
Season the mixture with salt, cayenne pepper, thyme, and bay leaves. Cover with water, stir, and bring your gumbo to a boil. Uncover the pot and simmer for 15 minutes.
Add your shrimp, and stir to blend before cooking for an additional 30 minutes. Remove the bay leaves.
Prepare your pressure canner per the manufacturer's instructions. Fill it with 2-3 inches of water and place a canning rack inside. Heat the water using your stovetop.
Ladle your hot Louisiana gumbo into hot pint or quart jars, leaving 1-inch headspace.
Using a bubble popper, remove air bubbles.
Wet a clean cloth or paper napkin with vinegar and wipe the rims.
Place lids and screw bands on and fasten until fingertip tight.
Carefully load the filled jars into the canner using a jar lifter. Attach the lid and turn the heat to high to bring the water to a full, vigorous boil.
Open the vent pipe to release a steady stream of steam for 10 minutes.
Place the weight on and bring your canner to the appropriate level of pressure per your canner type and elevation:
Dial-Gauge Pressure Canner
0 – 2,000ft: 11 lbs
2,001 – 4,000ft: 12 lbs
4,001 – 6,000ft: 13 lbs
6,001ft and up: 14 lbs
Weighted Gauge Pressure Canner
0 – 1,000ft: 10 lbs
1,001ft and up: 15 lbs
Post Processing  
Process pints and quarts for 100 minutes.
Once the specified time lapses, turn the burner off. Wait for the pressure to drop to zero before opening the lid.
Remove jars from boiling water using a jar lifter. Position the jars on a wire rack or draft-free surface 1 inch apart to cool undisturbed for 12-24 hours.
Test seals by pressing the centers of the lids with your finger. Sealed jars don't flex up and down when pressed. Refrigerate unsealed jars and use them within four days.
Remove screw bands and wipe jars and lids. Label sealed jars with canning date and contents. Store in a cool, dry place and enjoy within 12 months.
Prep Time:

15 minutes

Canning Time:

100 minutes

Cook Time:

2 hours
Nutrition
Serving Size:

24 ounces

Calories:

394kcal

Sugar:

5g

Sodium:

270mg

Fat:

21g

Saturated Fat:

3g

Carbohydrates:

18g

Fiber:

6g

Protein:

35g

Cholesterol:

230mg
Best Ingredients for Canned Gumbo
These ingredients are used to make flavorful gumbo:
Andouille sausage
Cajun seasoning or cayenne pepper
Chicken stock or chicken broth
Crab legs
Fresh bell peppers
Oysters
Shrimp
Tomato sauce
Worcestershire sauce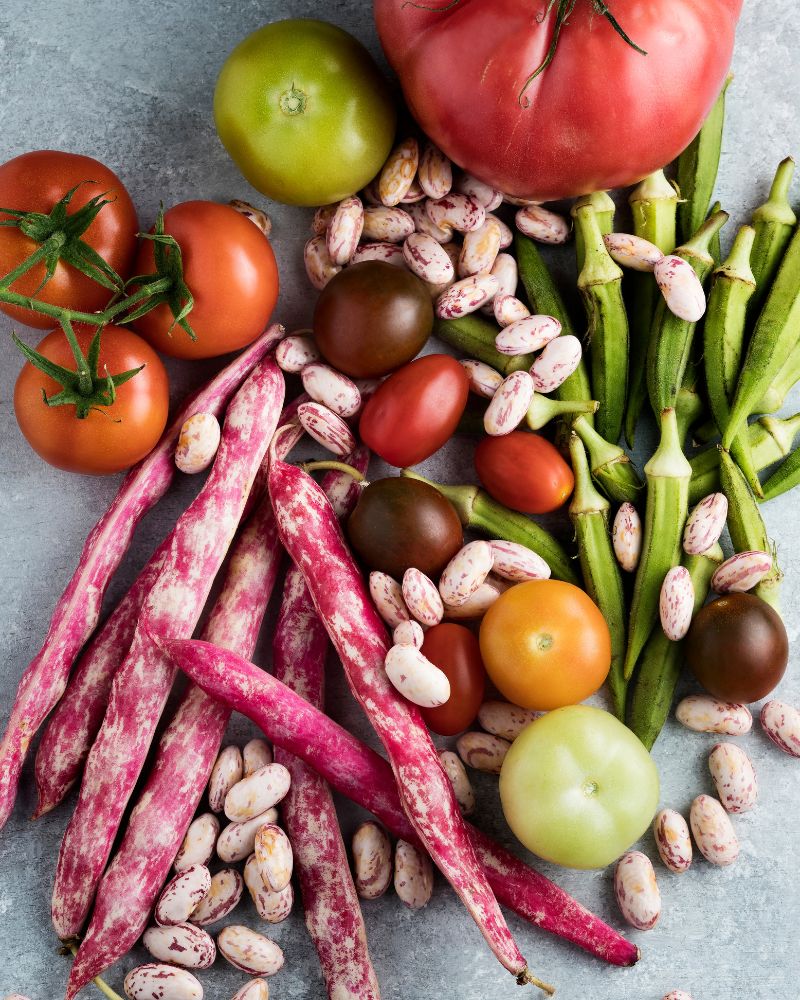 How Long Does it Take to Can Gumbo?
Pressure canning gumbo with seafood takes 100 minutes for pints and quarts. Gumbo with chicken or sausage is processed for 75 minutes for pint jars or 90 minutes for quart jars.
How to Store Canned Gumbo
Store sealed jars of canned gumbo at cool temperatures between 50-70°F to preserve texture and color.
Keep cabinet shelves clean to prevent cross-contamination.
Avoid direct sunlight, as it can shorten the shelf life of canned food.
Store your jars at least six inches above the floor to avoid damp conditions and prevent lid corrosion.
What is the Shelf Life of Canned Gumbo?
Canned gumbo can last up to 18 months. According to the USDA, the best-used-by date is within one year from the canning date. If you open gumbo jars, refrigerate the contents and consume within 3-4 days.
How to Freeze Gumbo
Freezing chicken & sausage gumbo extends the shelf life to 6 months, while frozen seafood gumbo lasts up to 3 months.
Here's how to freeze gumbo:
Prepare sizeable freezer-safe containers.
Ladle the hot gumbo and wait for it to cool to room temperature.
Using a clean spoon, remove air bubbles and leave 1 inch of headspace.
Seal the containers with clean lids. Write the date and contents on the containers before putting them at the bottom of your freezer.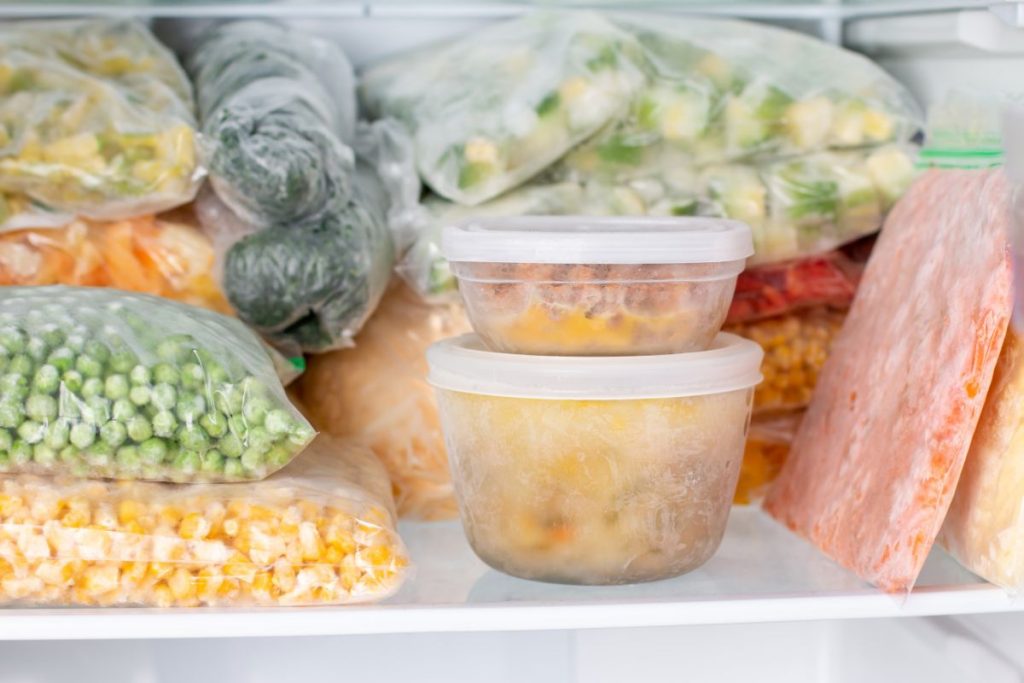 What is the Difference Between Gumbo and Jambalaya?
Some key differences between gumbo and jambalaya are:
Consistency and texture: Gumbo has a soupy consistency, while jambalaya is similar to Spanish paella or West African Jollof, which are moist and less soupy.
The role of rice: Gumbo is a Louisiana stew served over cooked rice, while jambalaya is cooked with rice as a primary ingredient.
Use of roux: Classic gumbo includes thickeners such as roux, okra, or file powder. Conversely, jambalaya doesn't have thickeners.