Canning mangoes begins with washing, peeling, and slicing mangoes. Make a light or medium syrup using water and sugar and boil mangoes for 2 minutes. Process the jars in a water bath canner for 15 minutes, adjusting for elevation.
Should You Water Bath Can or Pressure Can Mangoes?
Most unripe mangoes are acidic enough to be canned safely in a water bath canner. Raw or green mangoes have a pH range of 3.4 to 4.80. Varieties with pH 4.6 or lower are safe to can in a water bath canner.
Ripe mangoes have a pH range of 5.8-6.0. However, acidifying ripe mango pieces would cause textural issues as the flesh would break down. This explains why ripe mangoes are safely canned as mango jams, sauces, chutneys, or multi-fruit mango salsas acidified with vinegar or bottled lemon juice.
When canning raw mangoes, try high-acid varieties with a pH below 4.6, such as:
Atauflo: pH estimate of 4.0-4.2
Francis: pH estimate of 4.0-4.1
Kent: pH estimate of 4.3-4.5
Keitt: pH estimate of 3.8-4.1
Tommy Atkins: 3.7-3.9
Print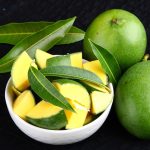 Green Mangoes Canning Recipe
---
Author:

Total Time:

2 hours 10 minutes

Yield:

9 pints

or

4 quarts

1

x
Description
This canning recipe for green mangoes is simple enough to get it right the first time you make it! This recipe is based on NCHFP guidelines but has been modified for the number of mangoes to match the amount of syrup.
---
14

–

15

Ibs mangoes, peeled and pitted

5¾ cups

water

1½ cups

sugar
---
Instructions
Pick non-fibrous, unblemished, firm green mangoes.
Get your inspected canning equipment ready. Use soap and warm water to wash the canning jars, ring bands, and lids per the manufacturer's instructions. Rinse them with warm water. Keep the rings and jars in hot water for hot-packed mangoes.
Get your boiling water bath canner ready. Load it with a canning rack and fill it halfway with clean water. Heat the water to a simmer and maintain it at 180°F for hot-packing.
Wear plastic gloves to avoid skin irritation, and then wash the mangoes under cool running water to remove bugs, dirt, and pesticides.
Using a sharp knife, peel and slice the mangoes lengthwise. Remove the pits and discard them.
Make a light or medium syrup, depending on your preference for added sugar. You'll need 5¾ cups water and 1½ cups sugar for light syrup or 5¼ cups water and 2¼ cups sugar for medium syrup for the 9-pints or 4-quarts load.
Pour the water and sugar into a large pot and heat them until the mixture boils. Stir frequently to dissolve the sugar.
Place the mango slices in the hot syrup and bring the syrup back to a boil. Boil the fruit for 2 minutes.
Fill dry pint or quart hot jars with the hot mangoes and syrup, leaving ½-inch headspace.
Use a wooden or plastic utensil to remove air bubbles from each jar.
Wipe the jar rims clean using a paper towel dipped in warm water.
Add the canning lids to the jars and apply the ring bands on the jars until finger-tight. Load them into the water bath canner without turning or tilting, using a jar lifter. Check that the jar tops are submerged 1-2 inches in the water.
Heat the canner to bring the water to a rolling boil before covering it with the lid. Process the jars per altitude and jar size:
Water Bath Canner Processing Time
0 – 1,000ft: 15 minutes for pints; 20 minutes for quarts
1,001 – 3,000ftft: 20 minutes for pints; 25 minutes for quarts
3,001 – 6,000: 20 minutes for pints; 30 minutes for quarts
Above 6,001ft: 25 minutes for pints; 35 minutes for quarts
Post Processing
Once the processing time is over, remove the canner from the heat. Open the lid for steam to escape. After 5 minutes, use canning tongs to remove each jar without turning or tilting it. Place the jars upright on a raised surface covered with warm kitchen towels.
Allow the jars to cool for 12-24 hours, undisturbed. Do not retighten the lids.
Unfasten the ring bands to test the jar seals. Press the seals down to ensure a firm seal. If the lids flex, they are not sealed. Cover unsealed jars with new lids and clean bands and reprocess them within 24 hours.
Rinse, dry, and label properly sealed jars in a cool, well-ventilated, dry, dark place.
Prep Time:

30 minutes

Canning Time:

35 minutes

Cook Time:

1 hour, 5 minutes
Nutrition
Serving Size:

1 cup (drained)

Calories:

160kcal

Sugar:

33g

Sodium:

13mg

Fat:

0.6g

Carbohydrates:

41g

Fiber:

3g

Protein:

1.4g
What is the Best Way to Preserve Fresh Mangoes?
Freeze-drying is the best way to preserve fresh mangoes for the longest shelf life. Freeze-dried mangoes are shelf stable for 5-10 years.
Other food preservation methods for mangoes include:
Canning: Ideal for mango salsa, pieces, and chutney for a shelf life of 12-18 months.
Dehydrating: Ideal for sliced or diced mangoes for a shelf life of 6-12 months at room temperature.
Freezing: Frozen mango slices or pulp have a shelf life of 6-12 months in airtight containers.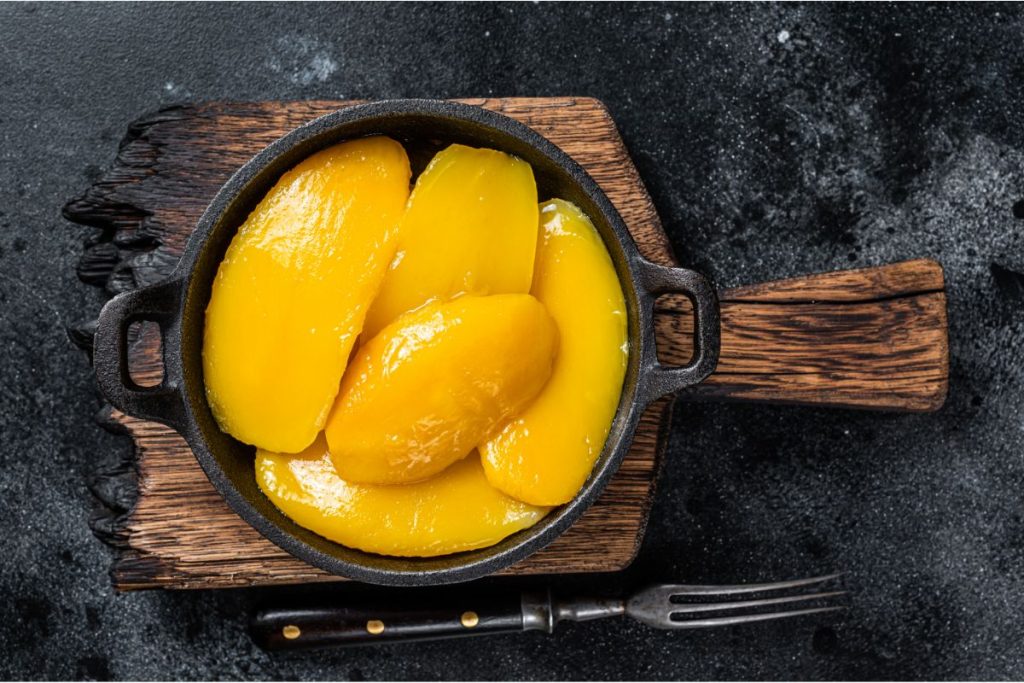 What are the Benefits of Canning Mangoes?
Green mangoes stimulate the production of certain enzymes that reduce digestive issues
Mangoes improve skin health and have other health benefits
Prolongs the shelf life of mangoes from a few days at room temperature to months or years
Rich in minerals, dietary fiber, antioxidants, and vitamins A, C, and E
Saves on freezer or refrigerator space
How Long Do You Process Mangoes When Canning?
Mangoes should be processed in sugar syrup in a water bath canner for 15 minutes for pint jars or 20 minutes for quarts jars at 1,000 feet and below. Process pint jars for 20 minutes between 1,001 and 6,000 feet and 25 minutes above 6,000 feet.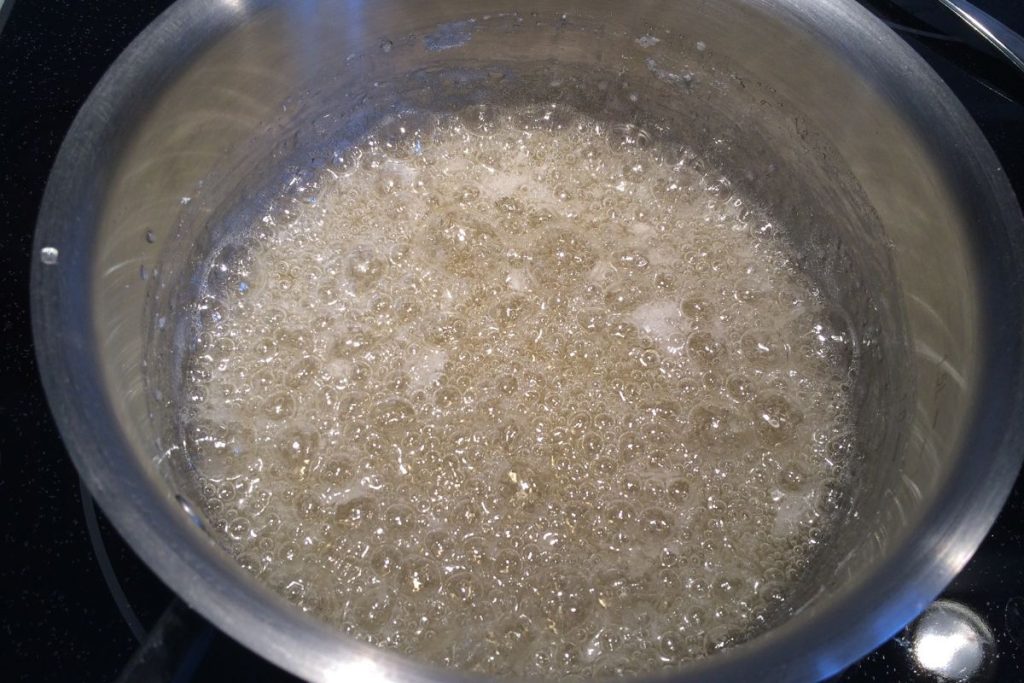 How to Store Canned Mangoes
Store canned mangoes at room temperature in a cool, dark, dry place away from heat and direct sunlight. Ensure a stable storage temperature range of 50°F – 70°F.
How Long Does Canned Mango Last?
Unopened canned mangoes have a shelf life of 1-2 years in the pantry in a cool, well-ventilated area. It's best to consume them in 12 months for the best flavor and quality. Once opened, use the mangoes within seven days.