Canning blueberry jam begins by mashing fresh blueberries and cooking them in a pot with water, lemon juice, sugar, balsamic vinegar, and pectin. Once cooked, ladle the blueberry jam into sterilized canning jars and process in a boiling water bath canner for 5-15 minutes, per elevation.
Is it Better to Water Bath Can or Pressure Can Blueberry Jam?
Blueberry jam should be processed using the water bath canning method. You should not pressure can blueberry jam because the high heat will ruin the texture of the jam.
Fruit pickles and preserves are high in acid and can be successfully processed in a boiling water bath canner. With this canning method, hot jars are immersed in boiling water for a given period. Any trapped air leaves the canning jars, creating a tight seal.
Print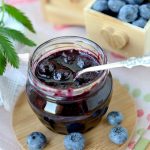 Blueberry Jam Canning Recipe
---
Author:

Total Time:

50 minutes
Description
Enjoy making this fresh blueberry jam canning recipe at home in a few easy steps. This recipe uses simple pantry ingredients and yields delicious blueberry jam every time!
---
3¾

pounds of blueberries

2¾ cups

of sugar

2 teaspoons

of lemon zest

2 tablespoons

of lemon juice

2 tablespoons

of balsamic vinegar
---
Instructions
Wash canning jars and lids in warm, soapy water and rinse well. Keep the sterilized jars hot until ready to use.
Use a food processor or potato masher to crush the fresh blueberries before cooking them.
In a large pot, mix the crushed blueberries, lemon juice, lemon zest, and balsamic vinegar.
Bring the mixture to a full rolling boil over medium-high heat. Add sugar and continue boiling, stirring well, until a full rolling boil is reached, 8 to 12 minutes.
Remove the mixture from the heat and separate the solids from the liquid using a sieve over a large bowl. Drain the berries and set them aside. Bring the remaining liquid back to a rolling boil.
Continue boiling until a temperature of 221°F is reached.
Add the berries back into the liquid mixture. Bring it to a boil a second time and allow it to cook for two more minutes.
Remove the blueberry jam from the heat and ladle the hot jam into sterilized half-pint jars, allowing ¼-inch headspace.
Wipe the jar rims and place the canning lids and rings on the jars, making sure they are fingertip tight.
Place the hot jars in the boiling-water canner and process per elevation:
Altitude (ft)
0 – 1,000: 5 minutes
1,001 – 6,000: 10 minutes
6,000 and up: 15 minutes
Post Processing
Remove the canning jars from the canner and transfer them to a rack or towel to cool for 24 hours.
Once completely cooled, remove the screw bands and test the seals. The middle of the lids should stay down when pressed.
If any jar isn't properly sealed, place it in the refrigerator and use it within a month. Otherwise, label the sealed jars of blueberry jam with the date and use them within 12 months.
Prep Time:

20 minutes

Water Bath Canning Time:

10 minutes

Cook Time:

20 minutes
Nutrition
Serving Size:

1 tbsp

Calories:

32kcal

Sugar:

7.5g

Sodium:

0.2g

Fat:

0.1g

Saturated Fat:

0g

Carbohydrates:

8.3g

Fiber:

0.4g

Protein:

0.1g

Cholesterol:

0g
Substitutions and Sweeteners in Canned Blueberry Jam
You can substitute sugar with stevia or Splenda when making jam, but the texture of the final product may be thinner. Sugar allows your homemade blueberry jam to thicken and enhances the distinctive sweet taste of blueberries.
Tips for Canned Blueberry Jam
Always use hot jars and place the filled jars in the boiling water canner as soon as they are filled.
Be careful to preserve ratios; pectin requires the correct amount of sugar to set.
For the best texture and flavor, use blueberries immediately after picking.
If the jam doesn't set, add a little more lemon juice and fruit pectin.
Make sure you use a large pot to make jam.
Use sterilized jars to prevent botulism when home canning.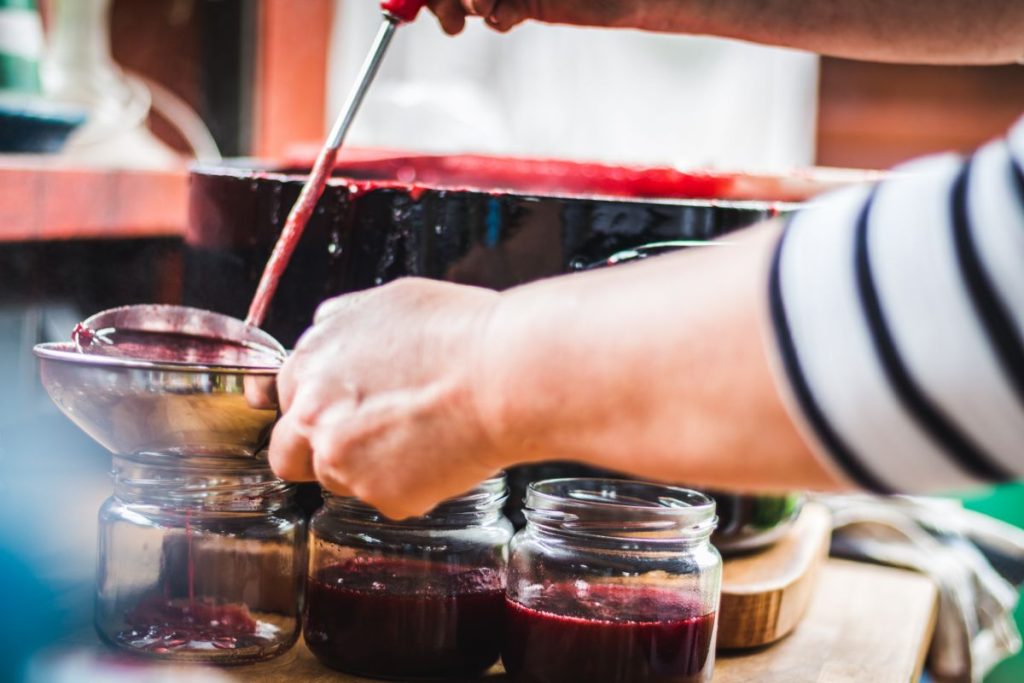 Should Pectin Be Used When Canning Blueberry Jam?
Pectin is an optional ingredient in blueberry jam recipes, but it allows the jam to jell properly. Pectin also reduces the cooking time for a fresher berry flavor. If you decide to omit it, make sure to cook the jam a little longer for any excess moisture to evaporate.
What is the Difference Between Blueberry Jam and Preserves?
Blueberry jam is made by mashing whole fruit and has a smoother texture than blueberry preserves. Preserves usually contain larger pieces of fruit.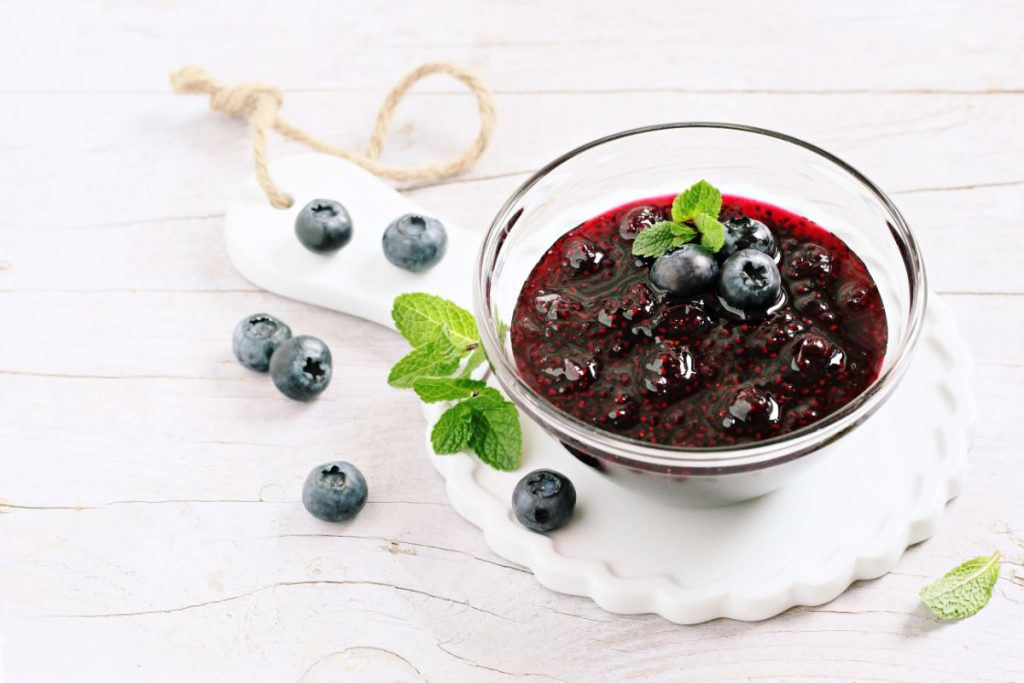 How Long Does It Take to Can Blueberry Jam?
From start to finish, it takes 13 to 25 hours to can a batch of blueberry jam. The preparation and processing time takes less than an hour, but the jam needs 12-24 hours to cool.
The Best Way to Store Canned Blueberry Jam
Sealed jars of blueberry jam should be stored in a cool, dry, dark place. Always store jam jars at least six inches off of the ground, and avoid storing canned foods anywhere near natural light sources. Take care not to store the jam in an area with high humidity or stagnant air, as this can cause rusting around the lids and may interfere with the seals.
What is the Shelf Life of Canned Blueberry Jam?
Properly canned and sealed jars of blueberry jam can last up to 12 months. Before using your homemade blueberry jam, be sure to check that the jar is properly sealed and the contents show no visible signs of spoiling. Opened jars of canned blueberry jam should be stored in the refrigerator and consumed within three weeks.