To can apple jam, ladle it into hot, clean, pint-sized canning jars, leaving a 1/4-inch headspace. Place lids on the jars and process them in boiling water in a water bath canner for 10 minutes. Allow them to cool slowly over 24 hours. Test the seals, then store the jam for up to 18 months.
What is the Best Way to Can Apple Jam?
The best way to can apple jam is to follow an apple jam canning recipe and use a water bath canner.
Here are directions for water bath canning apple jam:
Start by preparing a water bath canner and cleaning the canning jars before cooking your apple jam. Use hot, soapy water, or run through a dishwasher cycle. Wipe rims and jars with a dry, clean rag to remove leftover moisture.
Cook your apple jam according to your chosen recipe. Once your apple jam has been cooked, ladle the spread into hot canning jars. Be sure to leave 1/4-inch headspace.
Place canning lids on the canning jars and ensure the rings are fingertip tight. Once the water in the canner is at a full rolling boil, gently place your jars into the canner using a jar lifter.
Put the lid on the pot and process the jam in the water bath canner for 10 minutes.
Remove the canner from the heat but allow the canning jars to sit in hot water inside the water bath canner for five more minutes with the lids closed before carefully lifting the jars out of the canner using a jar lifter.
Place the jars on the counter and allow them to cool slowly. It is better to cool them on the counter as this will help prevent siphoning.
Once completely cooled, test the seals. If jars don't seal properly, you can reprocess them immediately or place them in a refrigerator and use the jam within two weeks.
Store properly sealed jars for 12 to 18 months in a cool, dry place.
Print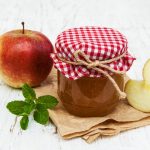 Water Bath Canning Apple Jam Recipe
---
Author:

Total Time:

4 hours, 30 minutes
Description
This apple jam recipe is easy to make and has only three ingredients! Use this fresh apple homemade jam at breakfast alongside toast or waffles, or use it as a topping for delicious desserts.
---
16 cups

(4lbs) apples

4 cups

of sugar

1/2 cup

lemon juice
---
Instructions
Peel and dice the apples, removing the cores and seeds. Slice the apples into small pieces, around 1/4-inch cubes.
Add the chopped apples into a bowl with the sugar and lemon juice and give it a quick stir. Cover the bowl with plastic wrap and place it in the refrigerator for 12 to 24 hours. Macerating the chopped apples in sugar will help give them a chunky texture instead of turning them into applesauce.
Once the apples are done macerating, clean your canning jars and sanitize the canning equipment. Get your water bath canner ready by filling it halfway with water.
Bring the apple mixture to a boil in a large saucepan over high heat.
Stir the mixture continuously and cook for 20 to 30 minutes, monitoring and stirring regularly to prevent burning. The natural pectin within the apples will cause the mixture to thicken.
Continue cooking until the jam reaches 220 degrees F (gel stage). Check the temperature using an instant-read thermometer.
Remove the apple jam from the heat and ladle it into half-pint jars while hot. Gently press down on the mixture to remove air bubbles, leaving 1/4-inch headspace. Seal the jars with canning lids and place screw bands around the jars. Ensure the bands are fingertip tight.
Once the water is boiling in your canner, place your canning jars inside carefully. Ensure the water level is 1 inch above the jars. Close the lid and process the jars for 10 minutes.
Remove the water bath canner from the heat and allow the canning jars to sit inside for an additional 5 minutes.
Using a jar lifter, carefully transfer the jars to a countertop to cool.
Allow the jars to cool slowly over 12-24 hours. You should hear a popping sound as the lids seal during the cooling process.
Once completely cool to room temperature, check the seals on your jars. For unsealed jars, you will need to either re-process or refrigerate them and use them within two weeks.
Label and date your canning jars. Then store the sealed jars in a cool, dry place for up to 18 months.
Prep Time:

4 hours

Canning Time:

10 minutes

Cook Time:

20 minutes
Nutrition
Serving Size:

1/4 cup

Calories:

90kcal

Sugar:

17g

Fat:

0.3g

Saturated Fat:

0g

Carbohydrates:

23g

Fiber:

4g

Protein:

0.5g

Cholesterol:

0g
Ideas to Spice Up Your Apple Jam
Apple jam is delicious on its own, but you can get creative and make your own variations to spice things up!
Here are some great ideas that will infuse your apple jam with extra flavor:
Add a whole vanilla bean to your apple jam macerating mixture.
Add a dash of ground nutmeg for a warm, nutty flavor.
Add a splash of brandy or rum and a little brown sugar for a boozy flavor.
Make jam that is reminiscent of apple pie filling by adding apple pie spice.
Add a mixture of ground cinnamon and cayenne to your apple jam for a little heat.
Substitute half of the lemon juice with lime juice for a tropical flavor.
Substitute half of your water with apple juice for extra sweet jam.
What is the Difference Between Applesauce and Apple Jam?
Apple jam is a spreadable preserve made from chopped apples, while applesauce has a soft, saucy texture. Apple jam has a thicker, more uniform consistency and is much sweeter than applesauce.
Which Apples Are Best for Jam?
The best apples for jam are crisp and firm. There are many different varieties of apples with an ideal texture to make apple jam or apple jelly. The best apple to choose will depend on the flavor profile you prefer. The most popular apple variety for making apple jam is Granny Smith apples because they have a tart bite that balances well with the sugar.
Here are some other delicious apples you can use to make apple jam:
Ambrosia Apples: This conical-shaped apple has low acidity and a sweet flavor.
Braeburn Apples: These crisp apples have a sweet and tart apple flavor.
Cameo Apples: These apples are aromatic and have pear-like sweetness.
Fuji Apples: These have clean, crisp flesh and a good balance of tart and sweet flavors.
Gala Apples: These have a softer texture and a sweet flavor.
Honeygold Apples: Fleshy apples with a slightly sweet flavor.
Jazz Apples: Jazz apples have a sweet and tangy flavor.
Jonathan Apples: These have crisp flesh and a tart flavor, ideal for sauces and jams.
McIntosh Red Apples: This variety has a soft, white flesh with a tart flavor.
Pink Lady Apples: Juicy, crisp flesh with a zesty, tart flavor.
Best Substitutes for Apples
Here are some substitutes for apples that can be used in apple jam canning recipes:
Apricots: Apricots are a good substitute for apples, especially for those who enjoy a bright, tangy taste. They have a softer texture than apples, but they are naturally sweet.
Peaches: Peaches can be a great substitute for apples. Fresh peaches have a similar texture to cooked apples, and their sweetness can help reduce the sugar required in most recipes.
Pears: Many types of pears have a texture that's reminiscent of apples. Pears have a relatively sweet taste, so adjust the amount of sugar accordingly.
When using these fruits in any jam recipe, consider the flavor of the fruit, as well as the amount of sugar required to achieve the desired flavor. It is also important to follow the recipe carefully to ensure the jam achieves the desired consistency.
Can Jam be Canned Without Pectin?
Yes – jam can be canned without pectin. However, jam canned without powdered pectin is a bit softer than jam canned with pectin.
Here are some tips for making jam without pectin to ensure a thick consistency:
Add sugar: Adding more sugar can help thicken the consistency of the jam.
Cook the fruit longer: Cooking for a longer period allows the natural pectin in the fruit to break down and thicken your jam.
Use high-pectin fruits: Use fruits rich in pectin in jam recipes, such as apples, to help thicken the jam.
What is the Ratio of Sugar to Fruit for Jam?
A general rule of thumb is to use a 1:1 ratio of fruit to granulated sugar by weight, which means using equal parts of both ingredients.
How Many Jars of Apple Jam Can Be Canned in a Day?
The number of jars of apple jam that can be canned in a day will vary depending on factors such as the size of the jars and the equipment being used.
For example, an experienced canning team can make 30 to 50 eight-ounce jars of apple jam in a day. However, this figure can vary significantly depending on individual circumstances, and it's important to prioritize food safety and proper canning procedures to ensure the quality of the end product.
How Long Can Apple Jam Be Stored?
The National Center for Home Food Preservation recommends storing apple jam in a cool, dry place for use within one year.
Most homemade apple jams and apple jellies that follow a tested recipe and are made within the recommended processing time will retain their flavor and quality for 12 to 18 months.
5 Tasty Ideas for Using Apple Jam
Besides spreading apple jam on toast for breakfast, there are many other creative ways to enjoy it. Here are a few delicious ways to enjoy apple jam:
1. Apple Jam with Yogurt
Stirring a teaspoon of apple jam into a bowl of yogurt can create a tasty and nutritious breakfast or snack.
2. Apple Jam with Baked Brie
Baked Brie with apple jam is a simple and delicious appetizer. Simply top your oven-warmed brie with a heaping spoon of apple jam and serve with crackers or bread!
3. Apple Jam BBQ Sauce
To make an unforgettable BBQ sauce, mix two parts of a sweet and spicy BBQ sauce with one part of apple jam. The flavor combination is out of this world and pairs exceptionally well with pork and chicken!
4. Apple Jam French Toast
Enjoy your french toast with apple jam and sweet ricotta cheese instead of maple syrup for a grown-up take on a classic!
5. Apple Jam Vinaigrette
You can stir in a few teaspoons of apple jam into a tangy vinaigrette to make a sweet summer salad dressing that pairs well with chicken and fish.