To can peach salsa, peel fresh peaches and pre-cook them with tomatoes, onion, and red pepper until slightly charred. Dice them and then combine them with the other salsa ingredients and cook for 10 minutes. Pack the mixture into hot, sterilized jars and process in a boiling water canner for 20 minutes.
Is it Better to Water Bath Can or Pressure Can Peach Salsa?
It is better to water bath can peach salsa than pressure can it. Peaches are naturally acidic, and together with the acidity of other ingredients like peppers and lime juice, they create an environment that is inhospitable to the growth of Clostridium botulinum. Water bath canning salsa yields a better texture, brighter color, and better flavor in fruit salsas.
Print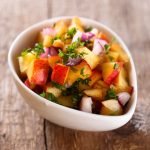 Peach Salsa Canning Recipe
---
Author:

Total Time:

1 hour, 10 minutes

Yield:

4 Pints

1

x
Description
This gluten-free peach salsa recipe offers a delicious and refreshing way to enjoy summer flavors. It is also a great way to use ripe peaches and enhance their fruity flavor by combining them with spicy peppers!
---
6

ripe and firm peaches (halved)

6

ripe tomatoes (halved)
A small red onion (peeled/halved)
A small yellow or red pepper (halved)

2 tablespoons

of minced jalapeno peppers, habanero peppers, or Serrano peppers

1 teaspoon

of salt

2 tablespoons

of brown sugar

3/4 cup

of lime juice

1 cup

of cilantro (chopped)
---
Instructions
Turn on your broiler or grill to preheat.
If you are using a grill, put the chopped peaches, tomatoes, onion, and red pepper on a grill pan with the skin side facing down. Let them cook on medium heat for 8–10 minutes until they are lightly charred. If you are using a broiler, arrange the fruits and veggies, skin side facing up, on a baking sheet and cook until charred.
Prepare your canning equipment by sterilizing it in boiling water. Leave the canning jars in simmering water until they are ready to use. Set aside the sterilized lids and bands for later use.
Dice peaches, tomatoes, red onion, and red pepper, leaving the charred skin on.
In a stockpot, mix all the ingredients except cilantro and simmer them over medium heat while stirring. Let the mixture simmer until the peaches are slightly soft, and the flavors have combined well, around 10 minutes.
Stir the cilantro into the mixture.
Ladle the hot salsa into the hot jars, allowing a ½-inch headspace.
Use a plastic spatula or other utensil to remove air bubbles.
Use a clean kitchen cloth to wipe the jar rims.
Center lids on the jars and apply the screw bands until they are fingertip tight.
Place jars in a water-bath canner and process them for 10-20 minutes, adjusting for altitude.
Once processed, turn off the heat, open the canner, and let the jars sit for 5 minutes before moving them.
Use a jar lifter to remove jars from the canner and let them cool for 12–24 hours undisturbed.
Check if the lids are properly sealed. The lid shouldn't pop up and down when pressed. Remove screw bands and store sealed jars of peach salsa in a cool, dry place. Reprocess unsealed jars with new canning lids or refrigerate and use the contents in 5-7 days.
Prep Time:

35 minutes

Pickling Time:

10 minutes

Cook Time:

25 minutes
Nutrition
Serving Size:

1 pint

Calories:

179kcal

Sugar:

21g

Sodium:

8.3mg

Fat:

1.3g

Saturated Fat:

0.1g

Carbohydrates:

26g

Fiber:

8.5g

Protein:

5.2g

Cholesterol:

0mg
Canned Peach Salsa Ingredient Guide
Peach salsa is a tasty condiment that combines sweet, tangy, and hot ingredients. Here are the most popular ingredients used in canned peach salsa recipes:
Cilantro brightens the salsa while adding a fresh, herbal flavor.
Jalapeno peppers or serrano peppers add heat to peach salsa.
Lime juice balances the sweetness while adding a bright, citrusy flavor to peach salsa. You can also use white vinegar or apple cider vinegar instead of lime juice or lemon juice.
Onions balance the sweetness while adding a savory flavor to peach salsa.
Peaches are the main ingredient in making peach salsa.
Red bell pepper adds a sweet, crunchy taste and a pop of color to peach salsa.
Salt enhances the flavors of all the ingredients in peach salsa.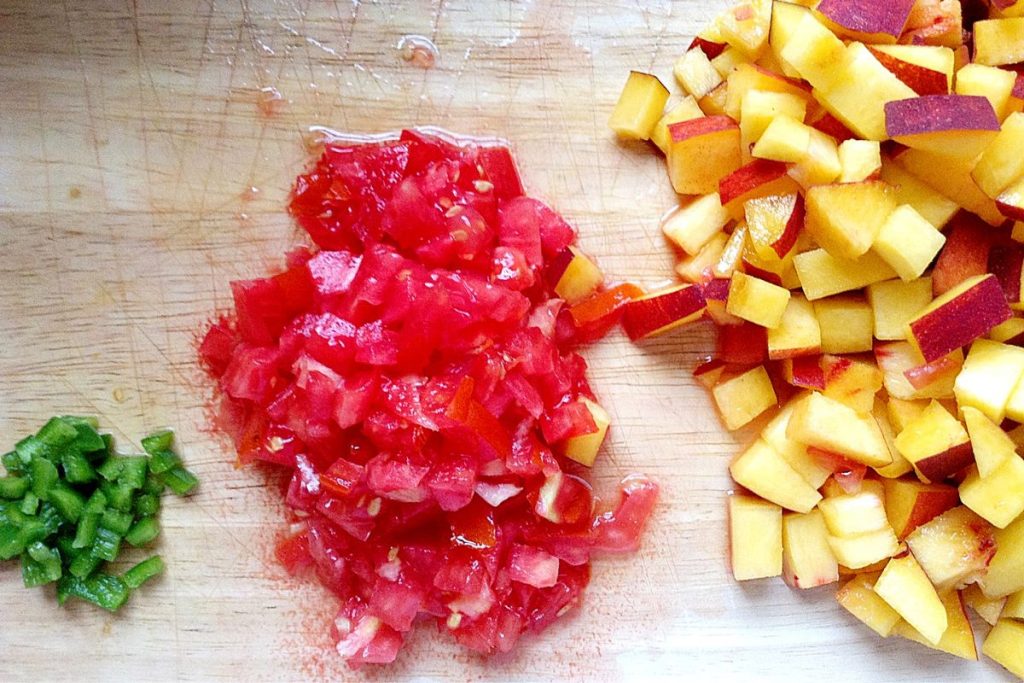 Hot Pack vs. Raw Pack for Canning Peach Salsa
A hot pack is the best method for canning peach salsa. This method helps to prevent the salsa from floating in the jars and creates a better seal while offering a better texture and reducing the risk of foodborne illness.
Can Peach Salsa Be Pressure Canned?
Yes, peach salsa can be pressure canned if the mixture doesn't have the proper acidity. Pressure canning subjects the salsa to high pressure and heat that go beyond the boiling point of water, ensuring that harmful bacteria are destroyed. However, pressure canning results in a more sauce-like texture.
Does the Canning Process Destroy Harmful Bacteria in Salsa?
Yes, the canning process kills all the harmful bacteria in salsa. Canned salsa is safe for consumption because it is highly acidic, and the high heat while canning destroys the harmful bacteria present in the ingredients.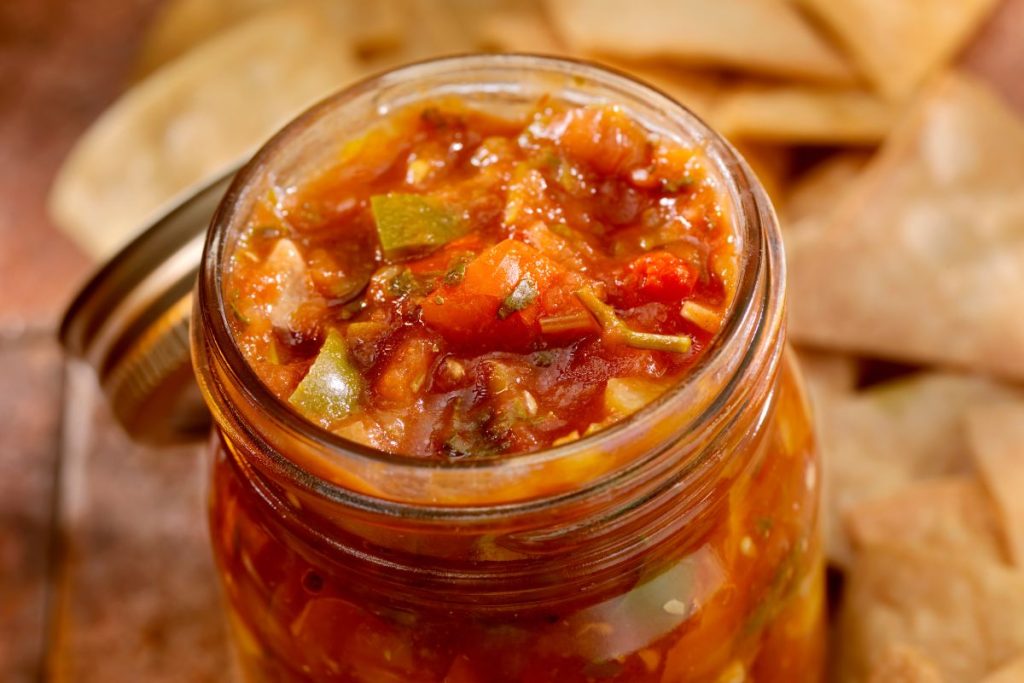 How Long Does it Take to Can Peach Salsa?
Peach salsa takes 45 minutes to prep and 25 minutes to process. The salsa also must sit undisturbed for 12 to 24 hours to cool.
What is the Shelf Life for Canned Peach Salsa?
Properly sealed canned peach salsa will last up to 18 months. For best results, use peach salsa within the first 12 months.