Canning tomato paste begins by cooking fresh tomatoes for 1 hour before removing their seeds and skins. The tomatoes are cooked again until a thick, concentrated paste forms. The paste is placed into canning jars with citric acid and processed in a boiling water bath for 45-60 minutes.
How to Make Homemade Tomato Paste for Canning
The first step of canning tomato paste is to make the paste:
Wash 14lbs of Roma or San Marzano fresh tomatoes in cool, clean water and rinse thoroughly.
Remove the cores and cut off the stems. Chop the tomatoes into ¼-inch pieces.
Put the tomato pieces in a large stockpot or crock pot, and cover them with a lid. Bring the mixture to a boil and stir continuously to prevent sticking and burning.
Lower the heat to a gentle simmer. Uncover the pot and let the tomatoes cook for 1 hour until the volume reduces by half.
Pass the cooked tomatoes through a food mill to remove seeds and skin. Alternatively, press the food with a wooden spatula through a mesh strainer. Do not use a food processor or blender, as they may trap air.
Recook the sieved tomatoes in a stockpot. Add 1 teaspoon of citric acid or bottled lemon juice and 1 teaspoon of canning salt. Add a few bay leaves and garlic cloves to the mixture for extra flavor.
Using medium heat, cook the mixture slowly until it reduces again by half. Stir constantly until a thick sauce forms.
Remove the bay leaves and garlic cloves from the mixture and discard. The tomato paste is then ready to be canned.
Print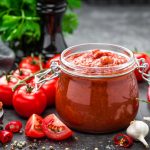 Home Canning Recipe for Tomato Paste
---
Author:

Total Time:

6 hours, 30 minutes

Yield:

9

half-pints

1

x
Description
This water bath canning tomato paste recipe is perfect for first-time canners and experts alike. Use this thickened tomato puree in your own tomato recipes and favorite family dishes.
---
14

pounds Roma tomatoes

1 teaspoon

citric acid

2

bay leaves

1 teaspoon

canning or pickling salt

1

clove garlic (optional)
---
Instructions
Wash your canning jars, lids, and screw bands in hot soapy water and rinse well.
Sterilize the canning jars by submerging them in boiling water for 10 minutes.
Make your tomato paste by removing the cores, seeds, and stems from the tomatoes and cooking diced tomatoes for an hour until the volume reduces by half.
Run the tomatoes through a food mill, then add them to a stockpot.
Add canning salt, garlic cloves, bay leaves, and citric acid or bottled lemon juice, and bring the mixture to a boil. Stir constantly until the mixture reduces again by half and forms a thick paste.
Remove the garlic cloves and bay leaves and discard.
Ladle the hot tomato paste into hot half-pint canning jars, leaving 1/2-inch headspace.
Remove excess air bubbles using an air bubble remover tool from each jar.
Wipe the rims of the jars with a clean paper towel or damp kitchen cloth.
Cover with clean lids and apply the screw bands, tightening until fingertip tight.
Prepare a boiling water canner by filling it halfway with boiling water. Add the jar rack into the canner and load the jars of tomato paste onto the rack.
Ensure boiling water covers the jars by at least 1 inch.
Bring the water to a rolling boil, then cover the canner with a lid.
Process the jars in the hot water bath for 45-60 minutes per your elevation:
0 -1000ft (45 minutes)
1,001 – 3,000ft (50 minutes)
3,001 – 6,000ft (55 minutes)
6,001ft and up (60 minutes)
Post Processing
When processing is complete, remove the jars from the hot water using canning tongs or a jar lifter and place them on a clean towel-covered countertop, placing them 1 inch apart. Don't put the jars on a cold surface, as they can easily break.
Let the jars sit undisturbed at room temperature for 12-24 hours.
Remove the screw bands from the jars. Check that the jars are properly sealed and the lids don't flex up and down.
Label and date sealed jars and store them in a cool, dry place. For any unsealed jars, reprocess or refrigerate and use the contents within 1 week.
Prep Time:

2 hours

Canning Time:

1 hour

Cook Time:

3 hours, 30 minutes
Nutrition
Serving Size:

1/4 cup

Calories:

54kcal

Sugar:

8g

Sodium:

38.9mg

Fat:

0.3g

Saturated Fat:

0.1g

Carbohydrates:

12.5g

Fiber:

2.7g

Protein:

2.9g
How to Select Tomatoes for Tomato Paste
The best varieties to use for making tomato paste are Italian Roma tomatoes, Amish Paste tomatoes, and San Marzano tomatoes. These tomato varieties have thick, meaty walls, low moisture content, and minimal seeds, making the paste thicker and easier to make.
Sort tomatoes to remove overripe or bruised tomatoes. Select only fresh, vine-ripened tomatoes for making tomato paste.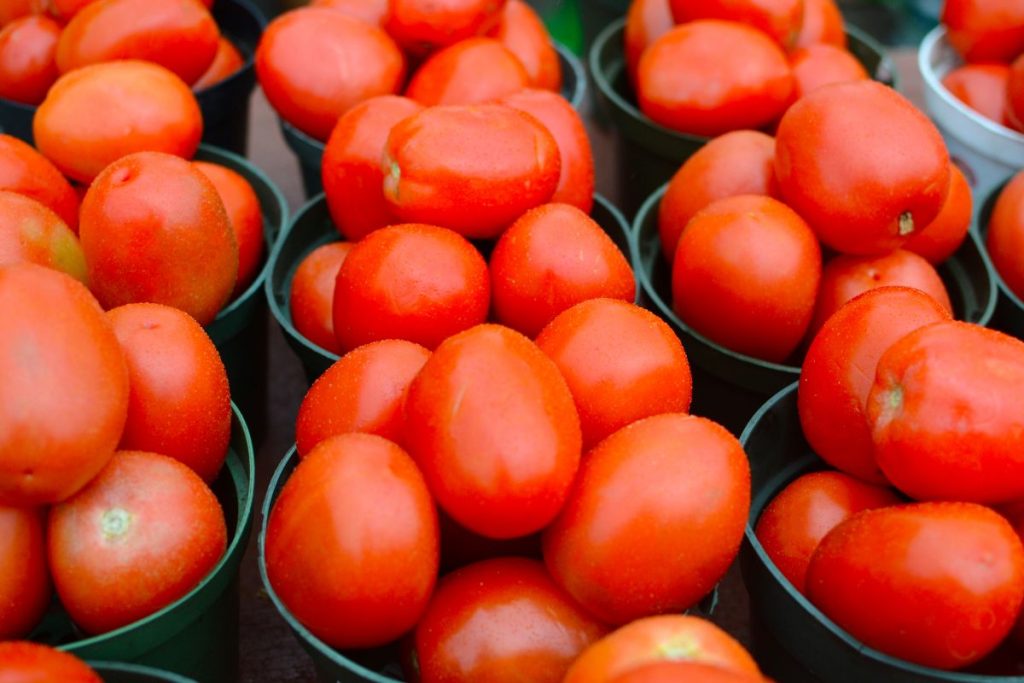 Helpful Tools and Utensils for Making Tomato Paste
Some essential tools for making tomato paste include:
A large pot: A large pot is needed to boil water for blanching tomatoes.
Chinois/mesh strainer/sieve: If you don't have a food mill, use one of these devices to separate the tomato skins from their juice.
Clean bowls: Used for collecting juice when sieving or straining cooked tomatoes with a mesh strainer.
Crockpot: For cooking and simmering tomatoes and other ingredients to make tomato paste.
Cutting board: Makes cutting, slicing, chopping, peeling, and skinning easier.
Food mill: This appliance extracts tomato pulp from tomatoes.
Sharp knife: Essential for cutting stems and chopping tomatoes into halves or quarters.
Wooden spoons: You'll require large wooden spoons for stirring tomatoes while cooking.
Can You Water Bath Can Tomato Paste?
Yes – it's possible to process tomato paste in a water bath canner. However, you must add 1 teaspoon of citric acid or bottled lemon juice when cooking your paste to ensure the product is acidic enough for safe water bath processing.
Should You Pressure Can Tomato Paste?
No – pressure canning tomato paste is not recommended. Neither the USDA nor the National Center for Home Food Preservation has tomato paste pressure canning recipes.
What are the Benefits of Canning Tomato Paste?
Canning tomato paste is beneficial in various ways:
A versatile ingredient. Homemade tomato paste can be used in recipes calling for tomato sauce or mixed with olive oil and used in place of pizza sauce.
Money savings. Canning tomato paste preserves large batches of tomatoes, which can be used when tomatoes aren't in season, saving costly trips to the grocery store.
Nutrition. Canned tomatoes are rich in nutrients, including lycopene, iron, potassium, magnesium, and vitamins B, K & C.
Unparalleled flavor. The slow-cooking process gives homemade tomato paste a rich flavor that adds depth to soups, stews, and spaghetti sauce.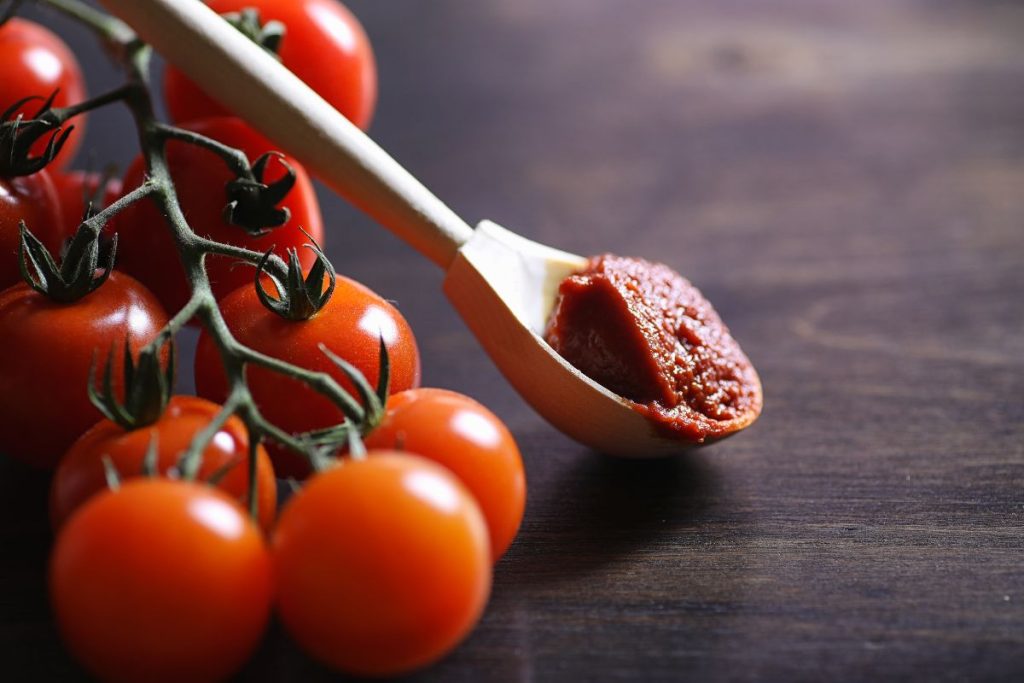 How Many Tomatoes Do You Need for Canning Tomato Paste?
The number of tomatoes you need will depend on how much tomato paste you want to make. 14 pounds of tomatoes are needed to make a full canner load or 9 half-pint jars.
Storage and Shelf Life of Canned Tomato Paste
Store canned tomato paste in a cool, dark, dry place. In such conditions, vacuum-sealed tomato paste jars maintain their quality for up to 12 months. Opened jars should be refrigerated immediately and consumed within 5-7 days.