When home canning vegetable soup, boil the prepared ingredients in vegetable stock or water. Use a slotted spoon to fill sterile canning jars halfway with cooked vegetables before covering with broth, leaving 1-inch headspace. Process the soup in a pressure canner for 60-75 minutes.
What is the Best Way to Can Soup?
Pressure canning is the best way to can vegetable soup. Most of the ingredients in vegetable soup are low-acid foods, and only a pressure canner can provide the high temperature necessary to eliminate bacteria and botulism spores. It is important to follow the processing time guidelines to prevent under-processing.
Print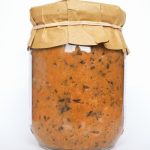 Pressure Canning Vegetable Soup Recipe
---
Author:

Total Time:

3 hours, 10 minutes

Yield:

14 pints

1

x
Description
This delicious recipe blends nutritious vegetables, beans, and spices into a comforting and hearty soup that is perfect for busy weeknights!
---
2 quarts

chopped tomatoes (about

12

medium-sized tomatoes)

11/2 quarts

peeled and cubed potatoes (

9

medium ones)

11/2 quarts

peeled and sliced carrots (about

12

medium carrots)

1

-quart lima beans/butter beans.

1

-quart uncooked whole-kernel corn

2 cups

sliced celery

2 cups

onions (diced)

11/2 cups

vegetable broth or water
---
Instructions
Rinse all of the vegetables under cool, running water.
Blanch the tomatoes in hot water for 60 seconds. Remove the peels, and dice them.
Peel and cut your potatoes into 1-inch cubes.
Cut the stem ends of your carrots and discard them. Peel the skin with a vegetable peeler and then slice the carrots into ¼-inch pieces.
Remove the corn from the cobs using a sharp knife.
Remove the leaves and stem, and cut the celery stalks into 1–inch celery slices.
Peel and chop your onions.
Put all the ingredients in a large stock pot filled with water (do not add salt or pepper yet). Bring the mixture to a boil, then reduce the temperature. Allow your soup to simmer at 180°F for fifteen minutes.
Season the soup with salt or pepper to taste.
Ladle the hot veggie soup into sanitized, hot canning jars. Fill the solids halfway, then add liquid, maintaining a 1-inch headspace.
Use a spoon to remove any trapped air bubbles, then wipe jar rims with a clean kitchen towel.
Cover the jars with lids, and apply screw bands until fingertip tight. Using a jar holder, place the jars in a pressure canner filled with 2-4 inches of simmering water.
After packing the jars in the canner, close the lid and increase the heat to medium-high.
Let your pressure canner vent steam for 10 minutes and then process the jars according to your canner type.
For dial-gauge pressure canners, the processing time for pint jars is 60 minutes and quart jars is 75 minutes with 11lbs of pressure at an altitude below 2,000 feet. Increase the pounds of pressure by 1lb for every 2,000 feet of altitude, not to exceed 16lbs.
For weighted-gauge pressure canners, process pints for 60 minutes and quarts for 75 minutes. Use 10lbs of pressure when canning at an altitude of 0-1,000 feet. For altitudes above 1,000ft, adjust the pressure to 15lbs.
Once the processing is complete, turn the heat off and allow the canner to cool. Let the pressure return to zero before opening the canner.
Remove the hot jars using a jar lifter and place them on a countertop with a towel beneath them. Let the jars sit undisturbed for 24 hours to cool at room temperature.
Confirm the jars are sealed by removing the screw bands and testing the lids. Label the sealed jars before storing the jars in a cool, dry place.
Notes
If using dried beans to make homemade vegetable soup, rehydrate them in boiling water for 3 minutes. Remove them from the heat and soak them for one hour before boiling them again until they are fully cooked. The beans can then be added to the soup.
Prep Time:

30 minutes

Canning Time:

1 hour, 45 minutes

Cook Time:

55 minutes
Nutrition
Serving Size:

1 pint

Calories:

303kcal

Sugar:

16g

Sodium:

503mg

Fat:

2g

Saturated Fat:

1g

Carbohydrates:

65g

Fiber:

14g

Protein:

12g

Cholesterol:

0g
How Long Does it Take to Can Vegetable Soup?
Vegetable soup requires a processing time of 55- 60 minutes for pint jars and 75- 90 minutes for quart jars. If the soup contains seafood, process jars for 100 minutes.
What Size Jars are Needed to Can Vegetable Soup?
The most commonly used jar sizes when canning vegetable soup are ½ liter pint jars and 1-liter quart canning jars. Both of these sizes are standardized and fit into different types of pressure canners.
How Much Headspace is Required When Canning Vegetable Soup?
It is recommended to leave 1-inch headspace when canning vegetable soup. This free space allows the circulation of hot liquid between the food particles to enhance proper heat penetration.
Best Vegetables for Canned Vegetable Soup Recipes
Not all vegetables are good candidates for canned vegetable soup. Ensure you choose veggies that retain their original flavor, color, and texture.
Some of the best vegetables for home-canned soup include:
Carrots
Celery
Corn
Lima beans
Peppers
Tomatoes
Can You Can Vegetable Soup in a Water Bath?
No. It's not possible to can vegetable soup using the water bath canning method. The National Center for Home Food Preservation does not recommend canning vegetable or vegetable-meat soups in a boiling water canner.
The low acidity of most vegetables increases the risk of botulism. A pressure canner is the only kind of canner that reaches a high enough temperature to eliminate harmful bacteria.