Canning raspberries begins by making a hot syrup with sugar and water and raw packing the berries into sterilized canning jars. Process the raspberries in a water bath canner for 15 - 35 minutes, adjusting the processing time per elevation and jar size.
Should Raspberries Be Water Bath Canned or Pressure Canned?
Raspberries should be water-bath canned. These fruits are considered high-acid foods that have the ability to block the growth of harmful bacteria when processed in a boiling water canner's temperatures. Pressure canning may be an option, but the canner's extra-high temperatures may cause raspberries to disintegrate.
Print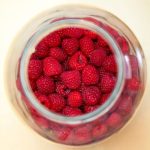 How to Can Whole Raspberries Recipe
---
Author:

Total Time:

30 minutes

Yield:

9 pints

1

x
Description
This whole-berry raspberry canning recipe is a tried and true favorite. Follow these foolproof instructions for delicious spring berries you can enjoy all year!
---
8

lbs fresh raspberries

5 ¼ cups

water

2 ¼ cups

sugar
---
Instructions
Wash your canning jars, lids, and screw bands with hot water and mild dish soap. Rinse well and set lids aside to air dry. Simmer clean jars in boiling water until ready to use.
Pour water into your boiling water canner, filling it halfway, and place a jar rack at the bottom. Set the canner on your burner to heat.
Select firm, fully-ripe fresh raspberries without bruises. Wash them gently in cold water, rinse, and drain the fruits thoroughly.
In a clean medium-large pot, make a light syrup by dissolving 2 ¼ cups sugar in 5 ¼ cups water. Bring the sugar mixture to a boil. If you prefer fruit juice or water as your canning liquid, omit the water and use the canning liquid of your choice.
Ladle ½ cup of syrup or any desired canning liquid into each jar.
Add your raw berries while shaking gently to ensure a tight pack. Be careful not to crush the tender fruit. Leave ½ inch of headspace.
Add more hot syrup to cover your raspberries but maintain the recommended headspace.
Using a bubble popper, remove air bubbles.
Dampen a paper towel with hot water and wipe the jar rims.
Place sterilized canning lids on each jar, add the screw bands and tighten them until finger tight.
Transfer the filled jars into your water bath canner using a jar lifter. Ensure the water level is 1-2 inches above the jar tops.
Cover the canner with a lid and adjust the heat to high heat until the water resumes a rolling boil.
On your timer, set a processing time of 15 minutes for pint jars or half-pints or 20 minutes if processing in quart jars. Adjust the time per altitude as shown below:
Water Bath Canning Processing Per Elevation
0 – 1,000ft: 15 minutes for pint jars; 20 minutes for quarts
1,001 – 3,000ft: 20 minutes for pint jars; 25 minutes for quarts
3,001 – 6,000ft: 20 minutes for pint jars; 30 minutes for quarts
6,001ft and up: 25 minutes for pint jars; 35 minutes for quarts
Post Processing
Once your timer beeps, turn off the burner. Remove the canner's lid and let the jars sit in hot water for five more minutes.
Using a jar lifter, lift the hot jars out of the water and place them on a draft-free, cushioned surface. Allow the jars to cool undisturbed for 12-24 hours.
Once cooled, test the seals by pressing the center of each lid with your finger. Sealed lids don't move up and down when pressed.
Refrigerate unsealed jars, if any, and use them within 5-7 days, or use them as a topping for your favorite ice cream.
For sealed jars, wipe the exterior, remove screw bands, and label with the contents and date of canning. Store your canned raspberries in a cool, clean, dry place away from direct sunlight.
Prep Time:

10 minutes

Canning Time:

20 minutes
Nutrition
Serving Size:

1 cup

Calories:

64kcal

Sugar:

5.4g

Sodium:

1.2mg

Fat:

0.8g

Saturated Fat:

0g

Carbohydrates:

15g

Fiber:

8g

Protein:

1.5g

Cholesterol:

0mg
Raw Pack vs. Hot Pack for Canning Raspberries
A raw pack is the best method for raspberries because of their delicate structure. Cooking the fruit first and doing a hot pack, such as when home-canning strawberries or blueberries, isn't recommended unless you are make raspberry jam.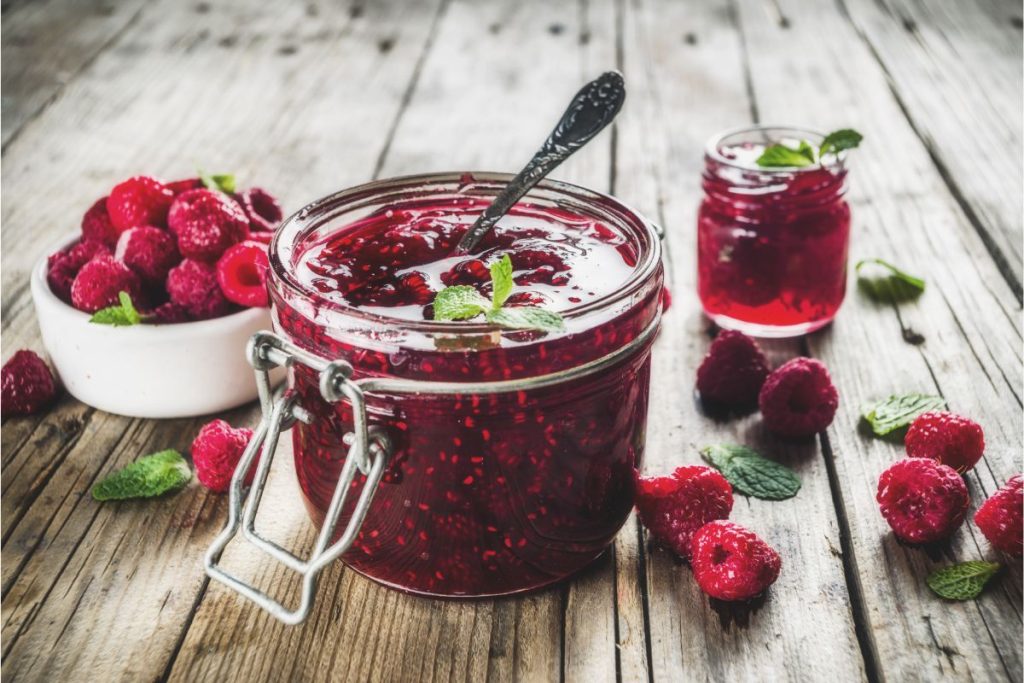 How Long Do You Pressure Can Raspberries?
The processing time for raspberries in a pressure canner is 8 minutes for pint jars or 10 minutes for quart jars at 5-6 lbs pressure.
How Long Do You Water Bath Can Raspberries?
When water bath canning raspberries, timing depends on your altitude. Raw-packed pints take 15-25 minutes, and quarts require 20-35 minutes.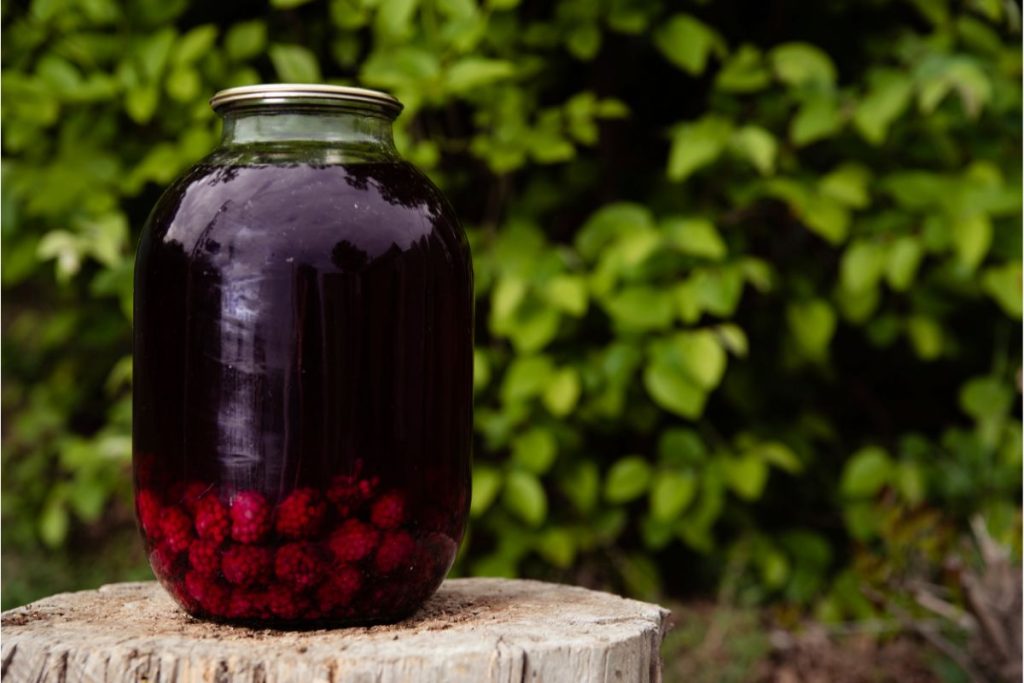 What is the Best Way to Preserve Raspberries?
Fresh berries are best preserved by freezing and last up to 12 months. If it's your first time freezing raspberries, wash and drain the fresh berries, then choose one of these freezing methods:
Dry pack: Put drained raspberries into freezer-safe containers, leaving ½ inch headspace, seal with lids, and freeze at 0°F. For berries that can be easily separated, lay the raspberries in a single layer on a freezer tray and freeze them solid before adding them to a freezer-safe storage container.
Sugar pack: Add ¾ cup sugar per 1 1/3 pounds of berries (1 quart) and mix carefully until sugar dissolves. Leave ½-1 inch headspace. Seal the quart jars and put them in your freezer.
Syrup pack: Make 40% syrup by dissolving 2 ¾ cups of sugar in 4 cups water. Pack your berries into freezer containers and cover with syrup leaving ½ -1 inch headspace. Seal and freeze.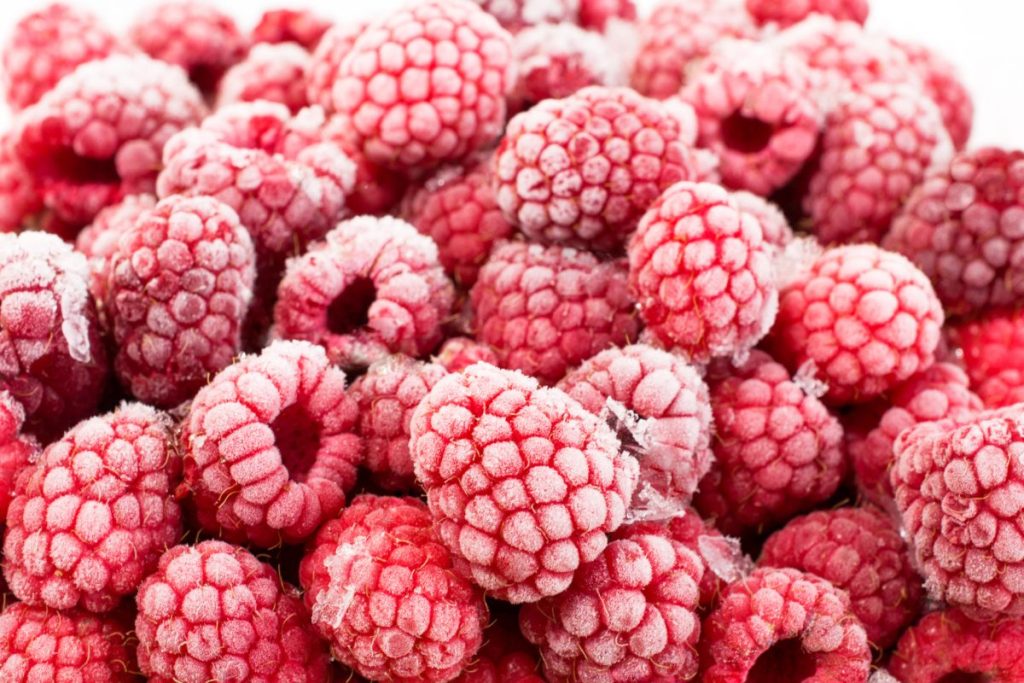 Can You Can Raspberries without Sugar?
Yes – you may make your syrup using other sweeteners instead of sugar. According to the National Center for Home Food Preservation, light corn syrups or mild-flavored honey may be used in place of up to half the table sugar called for in syrups.
Further, you may blend unsweetened apples, pineapples, and white grapes and use the juice as your canning liquid. While you can use boiling water, it may dilute the flavor.
How to Store Canned Raspberries
Store canned raspberries in a cool, dry place at 50°F – 70°F for a longer shelf life. Keep the storage area clean and well-aerated to prevent contamination and dampness. Also, avoid direct sunlight as it can make food lose quality fast.
What is the Shelf Life of Canned Raspberries?
Canned raspberries are shelf-stable with the ability to last up to two years. The USDA recommends using all home canned goods within one year for the best nutrition, flavor, and texture. Refrigerated opened jars of canned fruit are best used within seven days.