Canning pesto is not recommended due to the dairy and low-acid ingredients it contains. Freezing is the best method for preserving pesto. Once pesto is made, pack it into ice cube trays for individual portions. Freeze overnight and transfer the frozen pesto cubes into an airtight container. 
Can Homemade Pesto Be Canned?
No, you shouldn't can homemade pesto using traditional canning methods. This is because pesto includes low-acid ingredients like cheese. Combining garlic, oil, and cheese in pesto creates an environment where botulism can thrive.
Even when pressure canned, pesto is not safe to store for long-term use. Home canning of cheese is not recommended by the National Center for Home Food Preservation (NCHFP). The high temperature in pressure canning causes cheese to curdle and become grainy.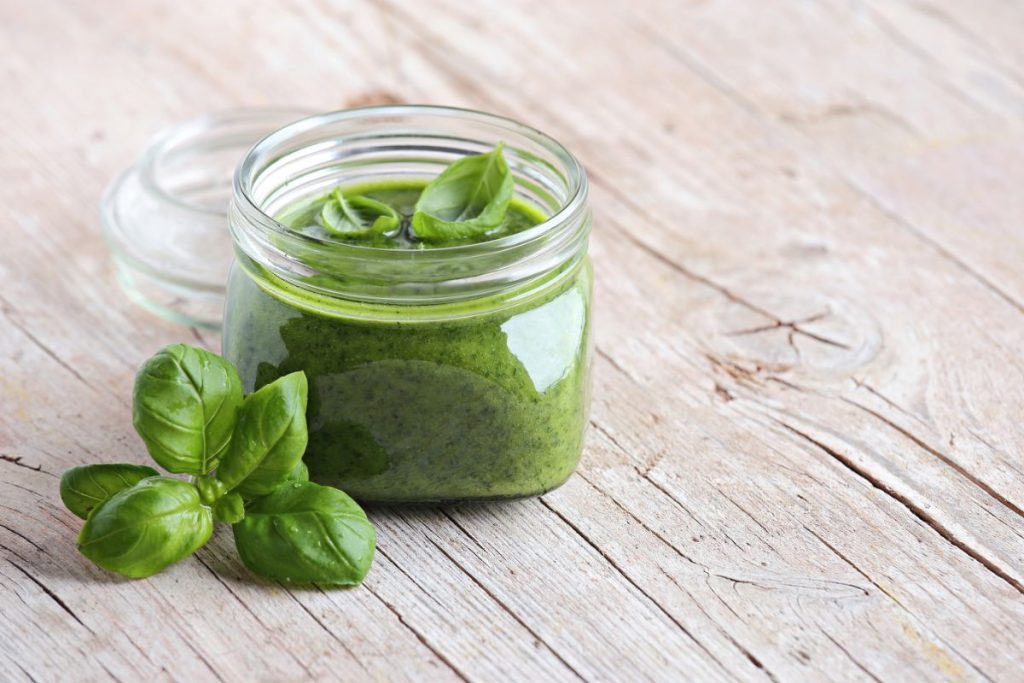 What is the Best Way to Preserve Homemade Pesto?
The best method of preserving pesto is by freezing it. Frozen pesto retains the flavor, color, and texture of the ingredients.
Collect your ingredients and prepare the pesto following your desired recipe. You'll need fresh basil, nuts, garlic, olive oil, Parmesan cheese, salt, and pepper.
Blend the pesto ingredients together to form a uniform mixture, and adjust the salt and pepper to your taste.
Use small, airtight containers, ice cube trays, or freezer-safe bags to portion your homemade basil pesto into the desired serving sizes.
To level the pesto in the ice cube trays, lightly tap the trays on the counter. If you're using a container, smooth the top with the back of a spoon or a spatula to remove any air bubbles.
Add a little olive oil to the top of each compartment with a spoon or squeeze bottle. This will prevent the pesto from turning a darker color due to air exposure.
Wrap the ice cube tray with plastic wrap or cover your containers or bags tightly.
Place the containers in the freezer overnight, so the cubes can solidify, ensuring they are on a flat surface to prevent spills.
If using ice cube trays, once the pesto cubes are completely frozen, remove them from the trays and transfer them into a freezer bag for easy storage and retrieval.
Label each bag or container with a marker, including the contents and the freezing date.
Print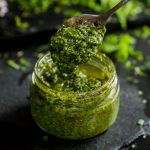 Homemade Basil Pesto Recipe for Freezing
---
Author:

Total Time:

12 hours, 10 minutes
Description
This homemade pesto recipe is great for freezing and adding to soups, marinades, pasta, and other dishes.
---
4 cups

of fresh basil leaves

1/2 cup

Parmesan cheese (freshly grated)

1/2 cup

pine nuts, toasted

3

cloves of garlic

1

lemon (juice and zest)

1 cup

extra virgin olive oil
Kosher salt and ground black pepper to taste
---
Instructions
Place pine nuts on a baking sheet in a single, even layer and bake at 350°F for about 7 minutes until toasted brown.
Place the basil, Parmesan cheese, pine nuts, garlic, lemon juice, and zest in a food processor or blender and pulse them together.
Add the olive oil gradually to prevent oxidation and blend until smooth.
Add salt and pepper to taste.
Once the taste and texture are to your liking, freeze the fresh pesto in ice cube trays or freezer bags for 12 hours. Transfer into airtight containers for long-term storage.
Notes
Frozen pesto lasts up to 4 months.
Prep Time:

10 minutes

Freezing Time:

12 hours
Nutrition
Serving Size:

2 tablespoons

Calories:

119kcal

Sugar:

1g

Sodium:

64mg

Fat:

3g

Saturated Fat:

2g

Carbohydrates:

1g

Fiber:

1g

Protein:

2g

Cholesterol:

4mg
Can You Make Pesto Shelf Stable?
Some commercial varieties of pesto are shelf stable. Most shelf-stable pesto has bottled lemon juice or citric acid along with other chemicals that prevent bacterial growth. The NCHFP does not recommend any type of home canning of pesto.
What are the Differences Between Canned and Frozen Pesto Sauce?
Here are the main differences between frozen and canned pesto sauce:
Flavor: Frozen pesto keeps the fresh flavors of the ingredients better than canned ones. This is because delicate flavors can be destroyed by high heat during processing.
Preservation method: Canned pesto is sterilized and preserved in a sealed environment. Frozen pesto is still fresh and flavorful because freezing entails reducing the temperature to stop bacterial growth and enzymatic activity.
Shelf-life: Commercially canned pesto lasts up to one year at room temperature if stored in a cool, dark, and dry place. Frozen pesto retains its best quality for 3–4 months.
Texture and consistency: Canned pesto has a smoother and more uniform consistency due to the blending procedure and high heat used by commercial equipment. When properly prepared, frozen pesto has a rougher texture, similar to freshly made pesto.
Can You Make Pesto without Basil?
You can make pesto without basil. Although basil is a frequently used herb in pesto, you can experiment with different herbs or leafy greens such as spinach, cilantro, arugula, parsley, kale, mint, lemon balm, watercress, zucchini, or mixed herbs.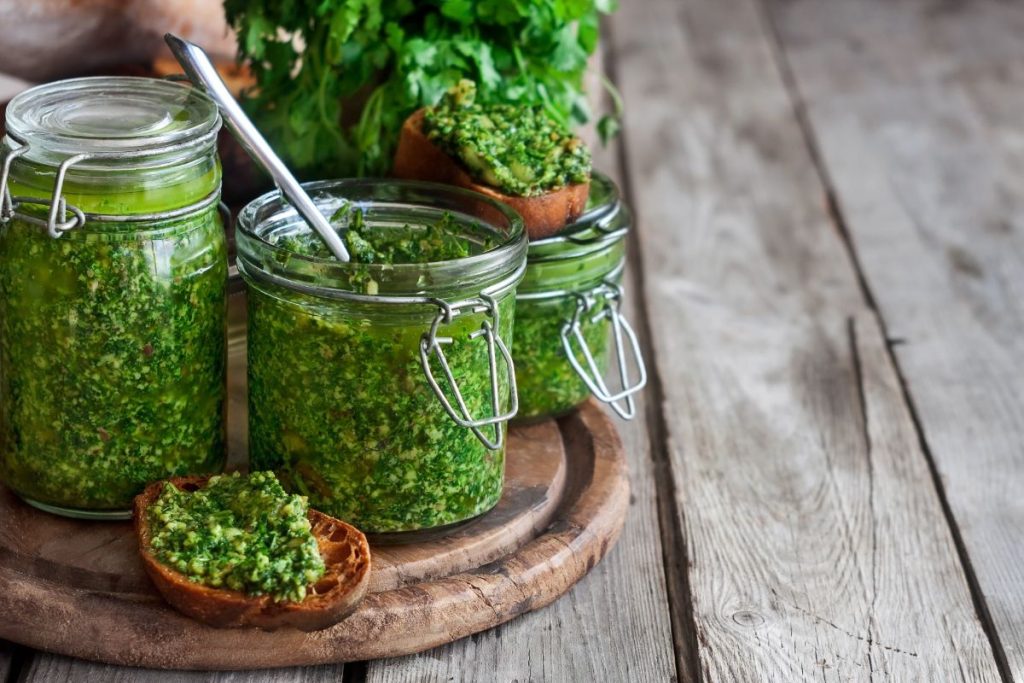 How Do You Know When Pesto Is Spoiled?
There are several signs to look for when determining if pesto has gone bad:
If it has an off-putting or sour odor
If it has exceeded its shelf life
If the color has changed from green to brown or black
It exhibits signs of mold or organic growth
What is the Shelf Life of Canned and Frozen Pesto?
The shelf life of commercial pesto depends on the brand. Follow the directions on the jar for storage and adhere to the "best-used-by" date. Store-bought pesto typically lasts 6 to 8 months when sealed and up to 2 weeks in the fridge once opened.
‌DIY ‌basil pesto sauce lasts for 3 to 4 months in the freezer and 5-7 days in the refrigerator once opened.