For water bath canning pears with honey, ladle diced pears into clean canning jars and pour hot honey syrup over them. Wipe the rims, and apply lids and seal bands. Process the jars for 20 to 25 minutes. Allow the processed jars to cool at room temperature for 12 hours before checking the seals and storing in a cool, dry place.
What is the Best Way to Preserve Pears with Honey?
You can use either a pressure canner or a boiling water canner to preserve pears with honey. The honey acts as a natural preservative for pears. If the processed pears are properly sealed and stored in a cool, dry place, you'll preserve the fruit for up to one year.
Print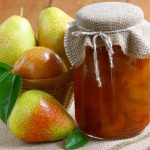 Water Bath Canning Pears with Honey Recipe
---
Author:

Total Time:

1 hour
Description
This homemade pears with honey canning recipe is easy to make! Prepare to be amazed by the incredible flavor of pears laced with golden honey syrup and hints of warm spices.
---
14

medium-sized, soft, ripe pears

2 teaspoons

cinnamon

1/2 tsp

apple pie spice

1/4 teaspoon

nutmeg

1/2 cup

honey
---
Instructions
Begin by gathering your pint jars, lids, and rings and running them through a dishwashing cycle. You can also wash by hand in hot, soapy water. Allow to dry thoroughly, and wipe the rims of the jars.
Take six of the fresh pears and cut them into halves. Peel the pears and remove the core, stems, and seeds. Chop the halves into smaller pieces and blend them to make 4 cups of pear puree.
Place a large pot over medium-low heat. Pour the puree into the pot and whisk in the honey, nutmeg, apple pie spice, and cinnamon to make a sauce.
Peel and remove the seeds and stems from the remaining pairs. Slice the pears into ¼-inch slices, then cut the slices into thirds.
Add the slices to the honey mixture and stir to evenly coat the pieces.
Simmer for 5 to 10 minutes until the slices are tender.
Set up your water bath canner. Fill halfway with water and bring to a boil.
Meanwhile, heat the clean pint jars. Fill the hot jars with the hot pear preserves using a funnel and run a silicone spatula along the inside of the jars to remove air bubbles. Remember to leave ½-inch headspace from the tops of the jars.
Wipe the rim and cover the filled pints with hot lids. Apply screw bands until fingertip tight.
Using a jar lifter, lower the jars into the hot water bath canner. Process the jars for 20 minutes if your elevation is below 1000ft and 25 minutes if you live above 1000ft.
Turn off the heat from the canner. Carefully remove the jars with a jar lifter and allow the pints to cool slowly at room temperature for 12 hours.
Remove the screw bands and test the seals on all of the jars. The seals should be indented.
For any jars that aren't sealed, you can reprocess or store in the refrigerator and eat within 14 days.
For sealed jars, store in a cool, dry place and use within one year.
Prep Time:

30 minutes

Canning Time:

25 minutes

Cook Time:

5 minutes
Nutrition
Serving Size:

3 tbsp

Calories:

101

Sugar:

17g

Sodium:

2mg

Fat:

0.2g

Saturated Fat:

0.04g

Carbohydrates:

27g

Fiber:

6g

Protein:

1g
Pressure Canning Pears with Honey
Although you can water bath can pears with honey, you can also use a pressure canner, if desired. Once you've prepared your pears with honey syrup, process your pint jars according to your elevation for 10 minutes at the pressure indicated in the table below:
| | | | | | |
| --- | --- | --- | --- | --- | --- |
| Altitude | 0- 1,000 ft | 1,001-2,000 ft | 2,001-4,000 ft | 4,001-6,000 ft | 6,000 ft + |
| Pints (10 minutes) | 6lbs | 7lbs | 8lbs | 9lbs | 10lbs |
Once processed, remove the jars carefully from the pressure canner and allow them to reach room temperature over 24 hours. Remove the screw bands from the jars and check the seals. Reprocess or use any unsealed jars within 14 days. For sealed jars, store them in a cool, dry place for up to a year.
How to Keep Canned Pears from Turning Brown
Canned pears turn brown due to oxidation, affecting their appearance and texture. You can add a small amount of lemon juice to the honey syrup to prevent pears from turning brown. You can also add ascorbic acid (vitamin C) to the syrup to prevent the browning of the pears.
Another thing that causes canned pears to turn brown is exposure to light. This speeds up the oxidation process and can be avoided by storing canned pears in a cool, dark place.
What are the Best Pears for Canning?
If you don't have a pear tree, you may wonder what varieties of pears you should buy to make canned pears. The following types of pears are best for canning:
Anjou: This pear has a firm texture with a sweet and slightly tangy flavor. They hold their shape well during the canning process and make an excellent dessert topping.
Bartlett: These pears are sweet, juicy, and tender. They are widely available and are great for making pear butter or pear jam.
Bosc: These pears have a slightly firmer texture than Bartlett. They have a rich, slightly spicy flavor that pairs well with cinnamon sticks and other warm spices.
Comice: These pears are one of the sweetest varieties and do better when canned in light syrup. They have a buttery texture that makes them a popular choice for making canned applesauce.
It's important to note that Asian pears are less acidic, so it is important to add lemon juice to acidify them before canning.
Can You Can Pears Without Sugar?
Yes, pears can be canned without sugar. However, most pear recipes call for equal parts pears and cups of sugar because sugar helps to retain the flavor, color, and texture of canned pears.
If you omit sugar but want to add sweetness to canned pears, you can use honey, maple syrup, agave nectar, crushed pineapple, or apple juice. When using these substitutes, it is important to note that they have different sweetness levels compared to sugar, so be sure to adjust the amount accordingly.
Can Pears be Raw-packed for Canning?
Yes, pears can be raw-packed for canning. You'll need to fill the jars with raw pears, add hot syrup, and process them in a canner. Raw-packed pears are firmer and retain their texture better than pears that are cooked before canning.
However, per the University of Alaska Fairbanks, hot-packing is a better food preservation method for acidic fruits like peaches, pineapples, and pears than raw-packing. It is easier to hot-pack jars, and pears are less likely to float when hot-packed.
How Long Can Canned Pears Be Stored?
Canned pears have an average shelf-life of one year.
Proper storage of canned pears involves storing them in a cool, dry, and dark place. Rotate your stock periodically and consume the oldest jars first.
Once you've opened canned pears, place them in an airtight container. Keep them in the refrigerator and consume them in 3 to 4 days.