Home canning cranberry sauce starts by cooking fresh cranberries in water and sugar for 10-15 minutes. Ladle the hot sauce into hot pint or half pint jars and process them in a water bath canner for 15-25 minutes, adjusting for elevation.
Should Cranberry Sauce be Water Bath Canned or Pressure Canned?
Since cranberries have a high acid content, cranberry sauce made from fresh cranberries can be canned using a water bath canner. Currently, the National Center for Home Food Preservation doesn't have a recipe for pressure-canning cranberry sauce, but they do have a water bath cranberry canning recipe.
Print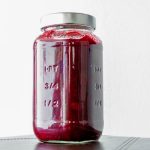 Cranberry Sauce Canning Recipe
---
Author:

Total Time:

24 hours, 33 minutes

Yield:

4

half-pints

1

x
Description
Cranberries are one of the best fruits you can preserve by canning. This simple cranberry sauce recipe takes only a few ingredients and is easy to get right the first time you make it!
---
4 cups

fresh cranberries (or frozen cranberries, thawed)

1 cup

water or orange juice

2 cups

sugar (white or brown sugar)
Optional Ingredients
Orange zest, grated from 1 large orange

½ teaspoon

butter
Cinnamon ground from a whole cinnamon stick
Minced jalapeno
Pinch of salt
---
Instructions
Select fresh cranberries. They should be slightly opaque and have a fire-engine red or scarlet color. Pick firm ones with a slight give when squeezed.
Get the water bath canner ready. Lower the canning rack into the canner, fill it halfway with fresh water, and heat it to boiling, which may take 30-45 minutes.
Prepare the canning jars, lids, and screw bands. Wash the canning lids and bands in warm soapy water and rinse them. Submerge the canning jars in simmering fresh water and keep them hot until ready to fill. Do not boil the jars.
Wash the cranberries under cool running water.
Pour the cranberries and fresh water (or 1 cup water-orange juice mixture) into a large stock pot. Cover the pot with a lid, leaving a crack open as the berries may emit hot juices as they burst open.
Boil the water and cranberries over medium-high heat. Reduce the heat to a simmering temperature and simmer the berries for 10 minutes until soft.
For jellied cranberry sauce: Once the berries have softened, take them out and crush them with the back of a spoon or in a potato masher. Alternatively, strain them through a mesh strainer.
Add the butter to reduce foaming (optional) and stir until it melts. Add sugar and bring the mixture to a boil. Stir with a wooden spoon to ensure all the sugar dissolves. Boil for 3 minutes, adding the optional spices in the last few minutes of cooking. Ladle the hot cranberry sauce into the hot jars, leaving ½-inch headspace.
For whole cranberry sauce: Skip steps 7 and 8. Do not mash or sieve the berries once the berries have softened. Add butter (optional) and stir it to melt. Add sugar and boil while stirring to dissolve it. Boil for three minutes, adding the optional spices in the last minutes of cooking. Ladle the hot sauce into the hot jars. Leave ½-inch headspace.
Remove air bubbles from all filled jars using a plastic spatula or a wooden spoon.
Wipe rims with clean, dampened paper towels and center a new lid and band on each jar. Fasten the bands on each jar until fingertip tight.
With the canner at 180 degrees Fahrenheit, lift the filled jars onto the canning rack using a jar lifter. Ensure the water covers each jar by 1-2 inches, and then bring the water to a rolling boil.
Cover the canner and process both half-pint and pint jars per elevation:
0 – 1,000 feet: 15 minutes
1,001 – 3,000 feet: 20 minutes
3,001 – 6,000 feet: 20 minutes
Above 6,000 feet: 25 minutes
Post Processing
Turn off the heat, open the canner's lid, and let the canner sit for 5 minutes.
Take the jars out with a jar lifter and place them on dry towels on a counter. Allow them to cool for 12-24 hours without disturbing them.
Remove the screw bands and check that the jars are sealed correctly. They shouldn't flex when you press the lid downward.
Refrigerate any unsealed jars and use the cranberry sauce within 14 days. Alternatively, reprocess them within 24 hours using new lids.
Label and store sealed jars of cranberry sauce in a cool, dry, dark place.
Prep Time:

5 minutes

Canning Time:

15 minutes

Cook Time:

13 minutes
Nutrition
Serving Size:

1/4 cup

Calories:

216kcal

Sugar:

52g

Sodium:

3mg

Fat:

1g

Saturated Fat:

1g

Carbohydrates:

56g

Fiber:

2g

Protein:

1g
Why Make Your Own Canned Cranberry Sauce?
Canning cranberry sauce at home offers the following advantages:
Canning cranberries make them shelf-stable, saving space in the refrigerator.
Canning cranberries ahead of time means one less holiday dish to prepare.
Water bath canning homemade cranberry sauce improves its shelf life.
You have control over the ingredients in homemade versus store-bought.
Canning Whole Berry Cranberry Sauce vs Jellied Cranberry Sauce
The water bath canning method is safe for both whole-berry cranberry sauce and crushed or jellied cranberry sauce. The main differences between the two are their thickness and preparation methods. Cranberry jelly sauce is a thicker fluid with fewer to no berry skins or semi-solid berries. It requires warming the can in hot water before serving.
Cranberry sauce made with whole berries is more fluid and contains semi-solid berries and skins. It's easy to serve since you only have to use a spoon to scoop it out.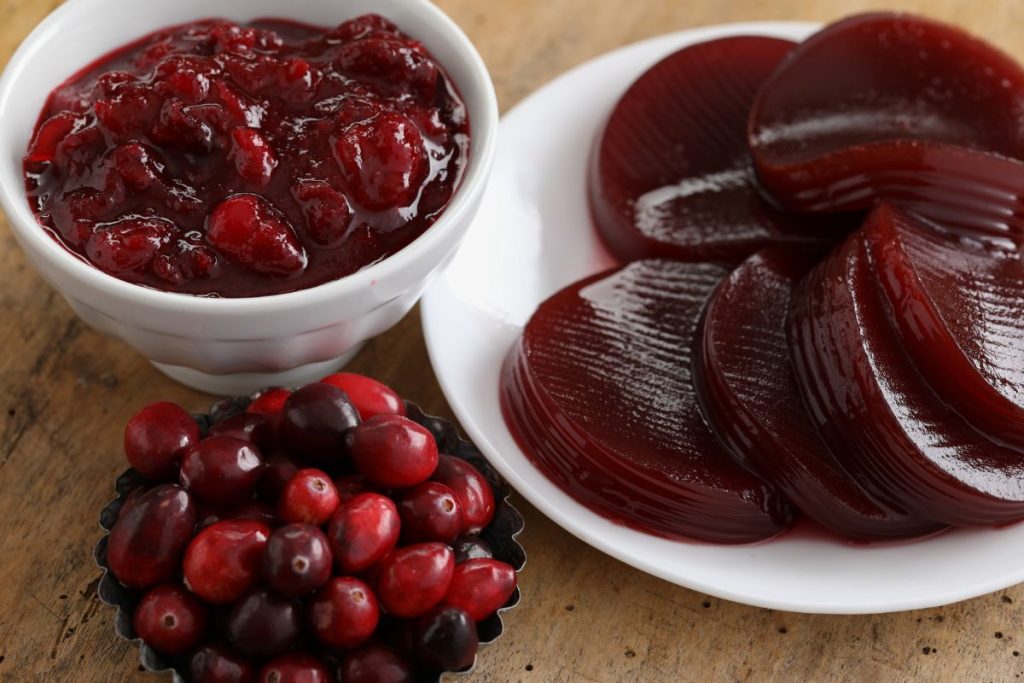 Is Pectin Needed for Canning Cranberry Sauce?
No. You don't need store-bought pectin when canning cranberry sauce. Cranberries are naturally rich in pectin, which releases when cooking the berries and helps form a thicker sauce.
How to Sweeten Cranberry Sauce for Canning
The sugar used when cooking cranberry sauce acts as a sweetener. It also helps pectin molecules marry each other, distributing the sweetness evenly throughout the sauce. Other sweeteners you can use to reduce the tartness of cranberries are honey and maple syrup.
How Much Sugar is Needed for Canning Cranberries?
The National Center for Home Food Preservation recommends using 2 cups of sugar for every 4 cups of cranberries when making canned cranberry sauce. This equates to 1 cup of sugar for every pint or 2 cups of sugar for every quart of canned cranberry sauce.
How Long Does it Take to Can Cranberry Sauce?
Canning cranberry sauce takes roughly 24 hours and 30 minutes:
Canner cooling time: 5 minutes
Cooking cranberries: 13 minutes
Cooling time for jars: 12-24 hours
Preparing cranberries and home canning kit: 5 minutes
Preparing water bath canner: 45 minutes
Water bath canning: 15 minutes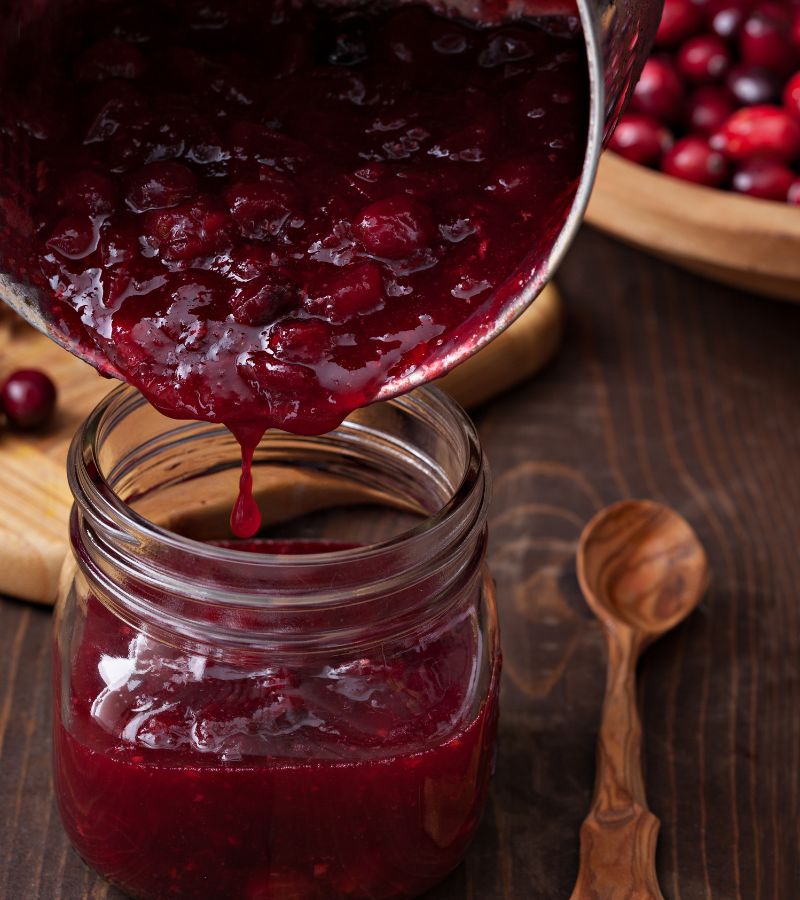 How to Store Canned Cranberry Sauce
Store canned cranberry sauce at room temperature, away from heat and light, in a cool, dark place. Ensure jars of cranberry sauce are at least 6 inches off of the ground and the storage room has adequate ventilation.
How Long Can Canned Cranberry Sauce Be Stored?
The USDA recommends using home-canned cranberry sauce within a year for the best flavor. Once canned cranberry sauce is opened, refrigerate it and use it within four days.