When pickling avocados, heat equal parts of vinegar and water, with salt, sugar, and spices. Boil the brine for 5 minutes before pouring it over freshly sliced avocados. Let the mixture sit for at least 1 hour, pack into sterilized canning jars, and process in a boiling water canner for 10-20 minutes per elevation.
Can Avocados Be Pressure Canned?
No – experts warn against pressure canning avocados. The high temperatures inside pressure canners will produce an unpleasant texture. Canning softens avocados and makes it difficult for heat to penetrate effectively through the fruit. Based on these reasons, there is no science-tested pressure canning avocado guide from the USDA or NCHFP.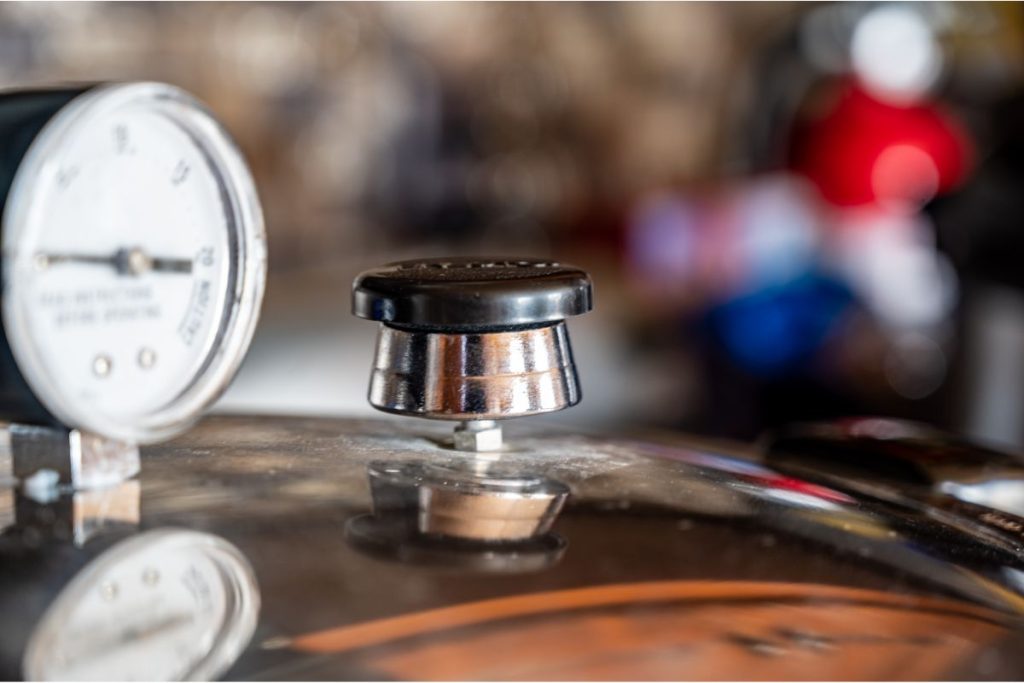 Can Avocado Be Canned in a Water Bath?
Yes – pickling raises the acidity of avocados, making them safe to process in a water bath. According to the National Center for Home Food Preservation, water bath canning makes pickles shelf stable by preventing microbial activity from yeasts, enzymes, and molds.
Print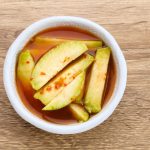 Pickled Avocado Canning Recipe
---
Author:

Total Time:

1 hour, 40 minutes
Description
Pickle fresh avocado slices into a yummy condiment for topping your favorite dishes. Try pickled avocado on tacos, shrimp salad, or nachos!
---
1/2 cup

distilled white vinegar (5% acidity).

1 tablespoon

kosher salt

1 teaspoon

sugar

1/2 teaspoon

whole coriander seeds

½ tablespoon

whole cumin seeds

2

just ripened, firm whole avocados

6

sprigs fresh cilantro

1

clove garlic (thinly sliced)

½

jalapeno or Serrano chile (deseeded and sliced)

2 teaspoons

lime zest (optional)
---
Instructions
Select fresh, firm ripe avocados. Wash the fruit thoroughly under cool running water.
Combine equal parts of water and white vinegar in a medium pot. Add coriander seeds, cumin seeds, sugar, and pickling or kosher salt. Apple cider vinegar may be substituted for white vinegar provided it is 5%.
Stir until the salt and brown sugar dissolves, then bring the mixture to a boil. Reduce the heat to simmer the mixture for 5 minutes.
Prepare pint-sized canning jars, lids, and rings by washing them in hot, soapy water. Rinse and transfer the jars to a pot filled with simmering water until ready to use.
Fill your boiling water canner halfway with water. Place a jar rack at the bottom and put on a stove to heat until boiling.
Cut avocados lengthwise into halves using a sharp knife. Separate the halves and carefully remove the pits.
Using clean hands, gently peel your avocados. You can also run a clean spoon inside the fruit to loosen the skin for easier peeling.
Place the avocados flat side down on a clean chopping board, and cut the halves into ½-inch thick slices.
Pack the slices into sterilized, hot canning jars. Add lime zest, cilantro sprigs, garlic, and jalapeno slices as desired. Leave ½ inch of headspace.
Pour hot pickling vinegar brine over your sliced avocados, maintaining ½ inch headspace.
Run a plastic butter knife or bubble popper along the insides of the jar edges to remove air bubbles.
Dampen a clean cloth or paper napkin with vinegar and wipe the jar rims.
Center lids over the jars and place screw bands, tightening just until fingertip tight.
Use a jar lifter to place the filled jars into your water bath canner. Ensure the water level is 1 inch above the jar tops – add boiling water as needed.
Bring the water to a rolling boil, then close the canner's lid.
On your timer, set a processing time per elevation and process the jars:
Processing Times Per Elevation
0 – 1,000ft: 10 minutes
1,001 – 6,000ft: 15 minutes
6,001ft and up: 20 minutes
Post Processing
Once time lapses, turn off the heat. Wait for 2 minutes before removing the jars from the hot water. Place them on a towel-covered countertop to cool for 12-24 hours.
Remove the screw bands and test the seals by pressing the lids with a finger. If lids pop on pressing, your jars are not sealed and should be refrigerated and used within 3-5 days.
Wipe the jars and label them with the contents and date. Store in a cool, moisture-free, dark place.
Prep Time:

10 minutes

Pickling Time:

1 hour

Cook Time:

30 minutes
Nutrition
Serving Size:

55g

Calories:

87.5kcal

Sugar:

2g

Sodium:

181mg

Fat:

7g

Saturated Fat:

1g

Carbohydrates:

7g

Fiber:

4g

Protein:

1g
How Long Does it Take to Pickle and Can Avocado?
Pickling avocado for canning takes 1-2 hours, including prep time. The processing time in a water bath is 10-20 minutes per altitude for pint jars.
What is the Best Method for Preserving Avocado?
Due to their delicate texture, freezing is the best and most effective method of preserving avocados. Make avocado puree first and add 750 mg (1/4 teaspoon) of ascorbic acid per quart or one tablespoon of bottled lemon juice for every two avocados.
Pack the puree into airtight jars or freezer bags and freeze it for up to 3 months. Remember to remove air bubbles before sealing if using jars, and don't fill jars all the way as the mixture expands when frozen. Frozen avocados retain their natural texture and color.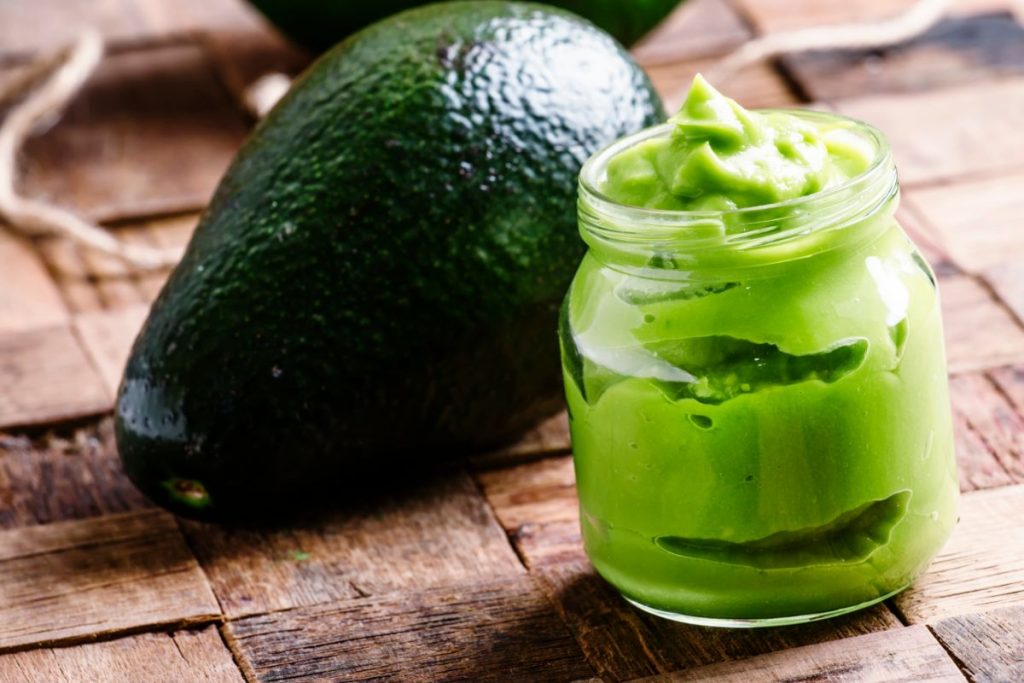 What are the Benefits of Canning Avocados?
Canning avocados is beneficial in many ways:
Canned avocados can be blended into Mexican guacamole or smoothies.
Canning helps you prevent food waste due to the temperamental ripening of avocados.
Canning is an excellent method to extend the shelf life of fruits
This fruit is nutrient-packed and contains riboflavin, magnesium folate, potassium vitamins b6, niacin, beta-carotene, vitamin C, and omega-3 fatty acid.
Is it Possible to Can guacamole?
No – guacamole has a dense consistency which may inhibit proper heat penetration, making it unsafe for canning. Freezing is the most convenient method of preserving guacamole.
To freeze guacamole, grease the jars with extra virgin olive oil to prevent browning. Put it into wide-mouthed mason jars, sprinkle it with bottled lemon juice, remove air bubbles, and seal them before putting them in your freezer.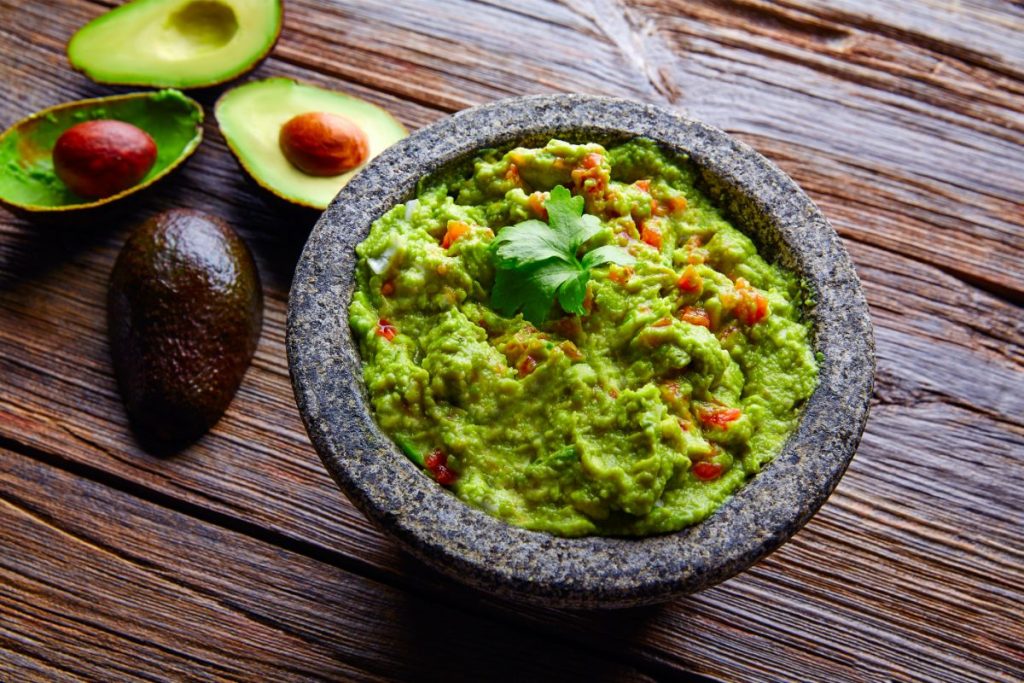 How to Store Pickled Canned Avocado
Pickled and canned avocado has a shelf life of 12-18 months, while quick pickled avocados have a shelf life of three months. The shelf life depends on how the products are stored.
Some helpful tips for storing pickled, canned avocado include:
Avoid storage in moist areas, as it can corrode metal lids.
Ensure you wipe the exterior of the jars with a damp, clean cloth before storage.
Keep pickled and canned avocado jars out of direct sunlight.
Keep your canned avocado within a temperature range of 50-70°F.
Store pickled avocado at least six inches off of the ground.