When home canning 3 bean salads, blanch the fresh beans before soaking all of the ingredients in a pickling brine with lemon and vinegar. Marinate the mixture for 12-14 hours before packing and process the jars in a water bath canner for 15-25 minutes.
What Type of Beans to Use for 3-Bean Salad
Some of the best types to use for a 3-bean salad include fresh green or yellow beans, kidney beans, garbanzo beans, chickpeas, Lima beans, pinto beans, or wax beans. These varieties hold flavor, texture, and shape well and are also suitable for canning.
Print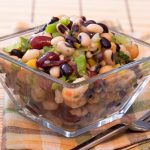 3-Bean Salad Canning Recipe
---
Author:

Total Time:

24 hours, 25 minutes
Description
Whether you are a beginner or seasoned canner, this simple three-bean salad is a winner and easy to prepare! Enjoy three bean salads all year with this delicious side dish recipe.
---
1

–

1/2

cups cut and blanched fresh green beans or yellow wax beans

1

–

1/2

cups canned, drained red kidney beans

1 cup

canned, drained garbanzo beans

1/2 cup

peeled and thinly sliced onion

1/2 cup

trimmed and thinly sliced celery

1/2 cup

sliced green peppers

1/2 cup

white vinegar (

5

percent acidity)

1/4 cup

bottled lemon juice

3/4 cup

sugar

1/4 cup

vegetable oil

1/2 teaspoon

canning or pickling salt

1

–

1/4

cups water
---
Instructions
Wash fresh green/yellow beans under cool running tap water. Cut ¼ inch from the top and bottom ends.
Cut the beans into 1-2 inch pieces or as desired.
Boil water in a large pot or saucepan. Put the chopped bean pieces inside the boiling water and blanch them for 3 minutes.
Remove the blanched beans from the water and plunge them into ice-cold water for 3 minutes to stop the cooking process. Drain your beans thoroughly.
Rinse the kidney beans and garbanzo beans in cool tap water and drain in a colander.
Wash, peel, and slice red onions into thin pieces. Chop celery stalks and green peppers.
Combine water, white vinegar, bottled lemon, and sugar in a large pot. Bring the mixture to a rolling boil before removing it from the heat.
Stir in ½ teaspoon of pickling salt and ¼ cup vegetable or olive oil and mix well. Return the pickling liquid to the stove.
Add beans, celery, onions, and black pepper, then simmer gently for 5 minutes.
Remove from the heat and let the liquid sit at room temperature for 1 hour. Cover and transfer the bean mixture to the refrigerator and marinate your bean salad for 12-14 hours.
After marinating, reheat the mixture in a pot and bring it to a rolling boil.
Wash half-pints or pint jars, canning lids, and rings in warm soapy water. Rinse in cool water and simmer the jars in water until ready to use.
Prepare your water bath canner per the manufacturer's instructions. Position a canning rack at the bottom of the canner, fill it with water halfway, and start heating it.
Ladle the solids from your salad into hot canning jars until half-full. Fill the other half with hot pickling liquid, leaving 1/2 inch headspace.
Using a non-metallic utensil or bubble popper, remove air bubbles and adjust the headroom as required.
Wipe the rims of the jars with a damp paper napkin or cloth. Place lids and rings on the jars and screw until fingertip tight.
Use canning tongs to place the filled jars into your boiling water canner. Attach the lid and bring water inside to a vigorous boil.
Once the water is at a rolling boil, set a processing time of 15-25 minutes, adjusting per altitude:
Processing Time for 3-Bean Salad: Half-pints and Pints
0 – 1,000ft: 15 minutes
1,001 – 6,000ft: 20 minutes
6,001ft and up: 25 minutes
Post Processing
Once the timer beeps, turn off the stove. Wait 2-5 minutes before removing the jars from the hot water using a jar lifter.
Place the jars on a cushioned surface, 1 inch apart, to cool for 12-24 hours.
Once cooled, verify the jars are sealed by pressing the center of each lid with your finger. If the lids pop up, the jars aren't sealed. Any unsealed jars may be refrigerated and used within 5 days.
For sealed jars, remove the screw bands and write the canning date and contents on the jars. Store them in a cool, dry place like your pantry or cabinet, away from direct sunlight.
Prep Time:

10 minutes

Pickling Time:

24 hours

Cook Time:

15 minutes
Nutrition
Serving Size:

3/4 cup

Calories:

185kcal

Sugar:

18g

Sodium:

242mg

Fat:

7.8g

Saturated Fat:

0.7g

Carbohydrates:

27g

Fiber:

3.7g

Protein:

3.4g

Cholesterol:

0mg
Do You Have to Blanch the Beans Before Canning 3-Bean Salad?
Blanching fresh green or yellow beans before canning is important to preserve the crunchy texture, flavor, and vibrant color. According to experts at Clemson University, this process stops enzyme action, which could diminish the quality of the legumes and veggies over time.
Use the following steps to blanch your beans:
Boil water in a large pot.
Put clean, trimmed, chopped beans into a wire or blanching basket. Add the beans directly into the water if you don't have a basket.
Allow them to remain in the boiling water for 3 minutes.
Transfer the par-cooked beans immediately into a large pot of ice-cold water to cool for 3 minutes (small pods) or 4 minutes (large pods).
Drain the beans thoroughly, and place them into a clean bowl.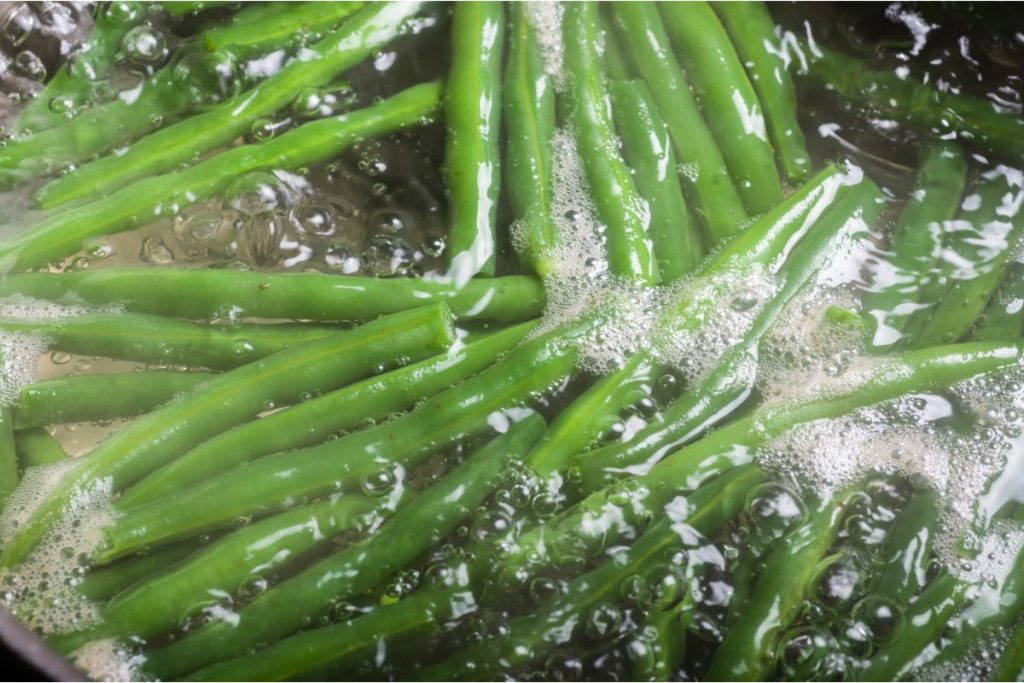 How Long Does it Take to Can 3-Bean Salad?
Water bath canning pickled 3-bean salad takes 15-25 minutes.
What are the Benefits of Canning Beans?
Choice of ingredients. Home canning your own 3-bean salad lets you choose which bean types to include.
Convenience. It's a hands-free side dish that pairs well with most proteins.
Cost-effective. Canning is a cheap, effective method of saving beans from discounted sales or summer harvest for future use.
Flavor. This homemade bean salad is a delicious, tangy, spicy accompaniment for your favorite dishes.
Nutritional value. Canned beans are nutrient-packed. They are excellent sources of proteins, riboflavin, manganese, potassium, calories, calcium, and fiber.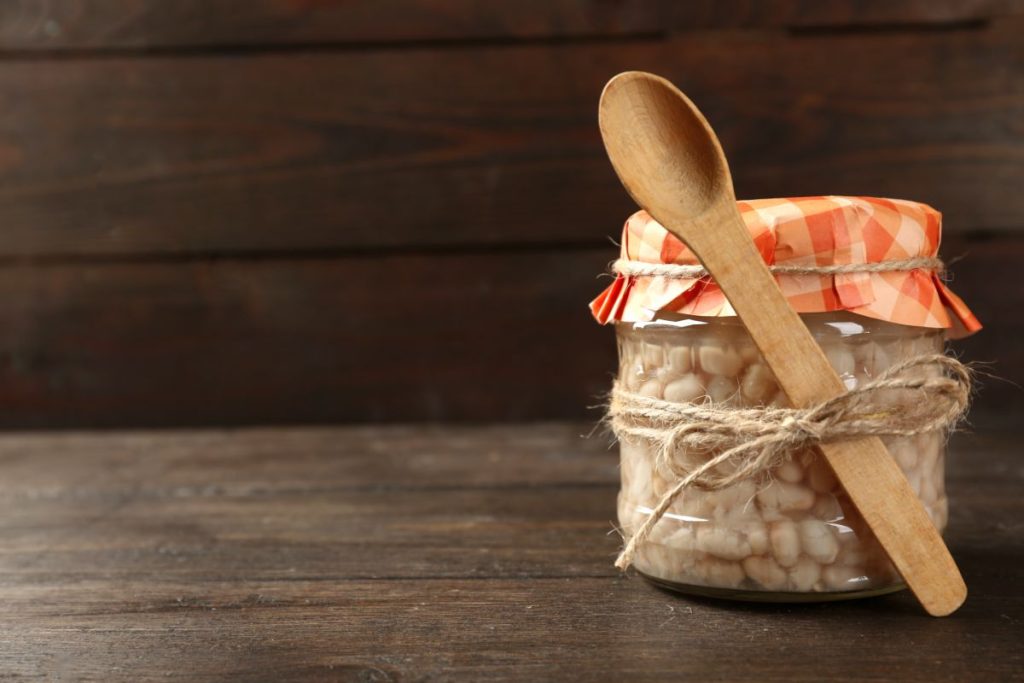 How to Store Canned 3-Bean Salad
Store jars away from direct sunlight and moisture. Keep jars at least six inches off the ground to prevent the lids from corrosion and ensure the storage area temperature remains below 85 degrees Fahrenheit.
Can You Freeze 3-Bean Salad?
Yes – you can freeze 3-bean salad. Simply pack the salad into airtight freezer bags. Remove air bubbles using a plastic spoon or butter knife before sealing and freezing them for up to 3 months. Defrost the frozen salad in your refrigerator for 24-48 hours when ready to eat.
How Long Does Canned 3-Bean Salad Last?
Canned 3-bean salad is shelf-stable and can stay in your pantry for years. However, the USDA recommends using it within one year for the best nutrition, flavor, and texture.