When canning lentil soup, wash your fresh vegetables and chop them into small, uniform pieces. Rehydrate dry lentils, then combine the ingredients with broth or stock of your choice and cook for 5 minutes. Ladle the mixture into canning jars and process in a pressure canner for 60-75 minutes.
What is the Best Way to Preserve Lentil Soup?
Pressure canning is the best way of preserving lentil soup. Since vegetables are the primary ingredients in soups and stews, they have low acidity and can't be processed safely in a boiling water canner. The extra-high temperature of 240-250 degrees Fahrenheit achieved by a pressure canner is ideal for low-acid foods.
Print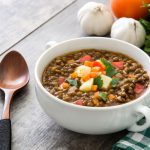 Lentil Soup Pressure Canning Recipe
---
Author:

Total Time:

2 hours, 35 minutes
Description
This hearty, filling soup is a perfect one-pot dinner. Making and canning lentil soup is a breeze with this canning recipe!
---
¼ cup

extra virgin olive oil

1

medium yellow or white onion, chopped

2

carrots, peeled and chopped

4

garlic cloves, pressed or minced

2 teaspoons

ground cumin

1 teaspoon

curry powder

½ teaspoon

dried thyme

1

large 28 ounces can of diced tomatoes

1 cup

brown or green lentils, sorted and rinsed

4 cups

vegetable broth

2 cups

water

2 teaspoons

salt (or to taste)

½ teaspoon

red pepper flakes

1/2 teaspoon

ground black pepper

1 cup

chopped fresh collard greens or kale, tough ribs removed

1

to

2

tablespoons bottled lemon juice
---
Instructions
Prepare your vegetables. Under cool running tap water, wash onions, carrots, garlic, and greens. Peel the onions and carrots.
Re-rinse the carrots, trim away the tops and bottoms and dice them into uniform ¼-1-inch pieces. Cut your onions into thin slices. If using kale, remove the center ribs and chop the leaves coarsely.
In a large stock pot, warm the olive oil over medium heat until it starts simmering. Add the diced carrots and onions. Cook for 5 minutes while stirring until they turn soft.
Stir in the garlic, cumin, thyme, and curry powder. Add diced tomatoes and mix well.
Add the rinsed lentils to your stock pot. Cover them with water and vegetable broth or chicken stock.
Season the mixture with salt, red pepper flakes, and freshly ground black pepper. Cover the pot and bring your soup to a boil.
Reduce to medium heat for a gentle simmer for 25 to 30 minutes. Ensure the lentils are soft but hold their shape. Do not thicken or puree the soup.
Add the chopped greens and cook for about 5 minutes or until soft. Turn off the stove. Stir in 1 teaspoon of lemon juice.
Prepare your canning jars. Wash the jars, rings, and lids in hot, soapy water. Rinse well and simmer in boiling water until ready to fill.
Prepare the pressure canner per the manufacturer's requirements. Place 2-4 inches of water inside with a jar rack and put on a stove to warm.
Ladle the hot lentil soup using a slotted spoon into hot canning jars. Fill jars halfway with solids and halfway with cooking liquid. Leave 1-inch headspace.
Release air pockets using a non-metallic utensil. Dampen a clean cloth or paper napkin with vinegar and wipe the jar rims.
Center lids on the jars, apply the screw bands, and tighten until fingertip tight.
Load the filled jars into your pressure canner using a jar lifter. Bring the water to a boil and cover the canner.
Remove the weight to allow the canner to release a steady stream of steam for 10 minutes.
Close the vent pipe and allow the pressure to build to per your canner type and elevation:
Dial-Gauge Pressure Canner
0 – 2,000ft: 11 lbs
2,001 – 4,000ft: 12 lbs
4,001 – 6,000ft: 13 lbs
6,001 – 8,000ft: 14 lbs
Weighted-Gauge Pressure Canner
0 – 1,000ft: 10 lbs
1,001ft and up: 15 lbs
Post Processing
Set a processing time of 60 minutes for pints or 75 minutes for quarts.
Once the time is complete, turn off the heat. Allow the canner's pressure to drop up to zero.
Carefully remove the jars from the hot water using a jar lifter. Place them on a towel-lined countertop, 1-inch apart, to cool for 12-24 hours.
Check the seals by looking at the lids. Properly-sealed jars have lids with a concave shape and don't flex when pressed.
Refrigerate any unsealed jars and consume them within 5-7 days.
For properly sealed jars, wipe them clean and label them with the canning date and contents. Remove screw bands and store them in a cool, clean, dry place.
Prep Time:

15 minutes

Canning Time:

60 minutes

Cook Time:

1 hour, 20 minutes
Nutrition
Serving Size:

1 cup

Calories:

366kcal

Sugar:

10.8g

Sodium:

1324.1mg

Fat:

15.5g

Saturated Fat:

2.2g

Carbohydrates:

47.8g

Fiber:

10.8g

Protein:

14.5g

Cholesterol:

0mg
Can Plain Lentils Be Canned?
Yes – it's possible to can lentils without meat or additional veggies. According to canning experts at Clemson University, fresh, shelled legumes, including lentils, can be pressure canned. Pint jars should be processed for 40 minutes and quart jars for 50 minutes.
Dry lentils may also be canned. Before canning them, rinse them thoroughly and process them for 75 minutes for pints and 90 minutes for quarts in a pressure canner.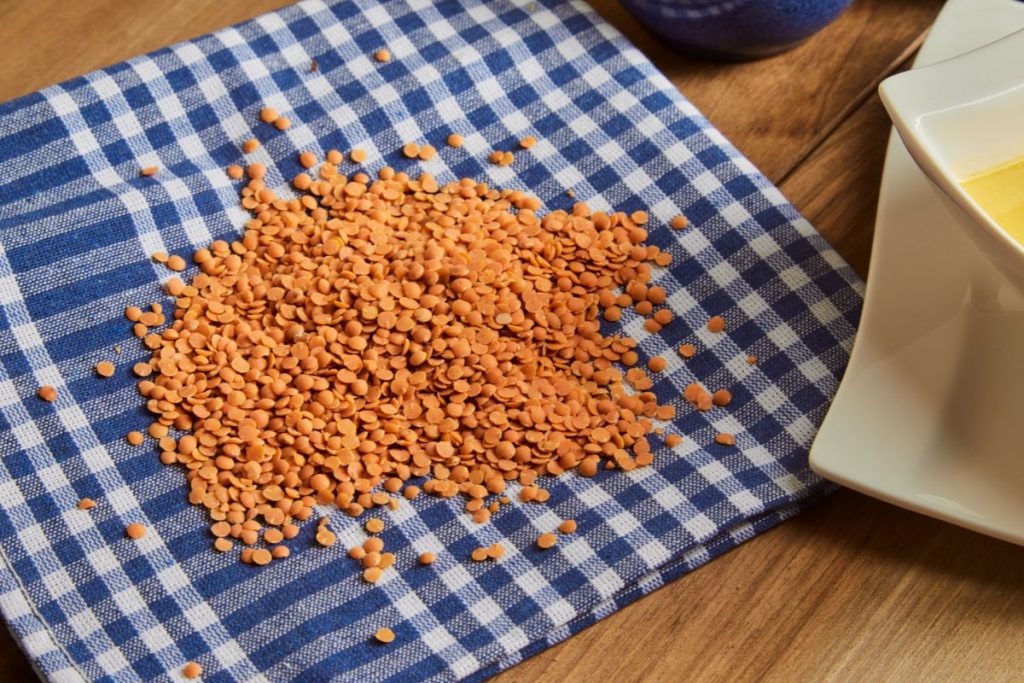 Is Lentil Soup Healthy?
Lentil soup is a low-calorie dish that is nutrient-packed and healthy. It contains:
Calcium for strong bones and teeth.
Fiber, which promotes a healthy digestive system and fights colon cancer.
Iron helps with cardiovascular fitness and fighting fatigue.
Protein for healthy bones, skin, and muscles.
Potassium is essential in lowering blood pressure.
Can You Can Lentil Soup in a Water Bath?
No – experts don't recommend processing lentil soup in a water bath. This condiment contains a mixture of vegetables, making it a low-acid food with a pH above 4.6. According to the National Center for Home Food Preservation, all meats and vegetables with a pH higher than 4.6 should be sterilized in a pressure canner's high temperatures to destroy botulism spores.
Is it Safe to Can Lentil Soup?
Yes – it's safe to can lentil soup when following proper canning preparation and processing procedures. Follow tested recipes only, and use a pressure canner to can lentil soup.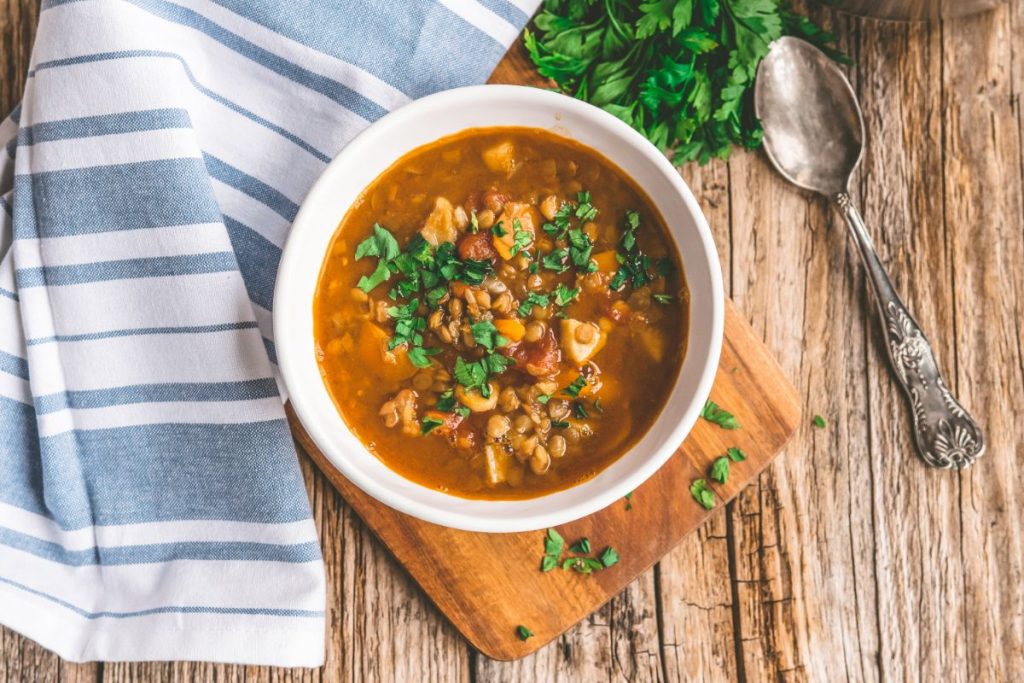 How Long Does It Take to Can Lentil Soup?
The canning process for lentil soup in a pressure canner takes 60 minutes for pint jars or 75 minutes for quart jars.
What is the Best Way to Store Canned Lentil Soup?
Store your homemade soup properly and extend its shelf life with these practical tips:
Avoid direct sunlight, which may diminish your food's texture and flavor.
Keep sealed jars 1-2 inches off the ground to prevent corrosion of metallic lids.
Keep the storage area clean and free from contamination.
Store canned lentil soup in a cool part of your house, like a kitchen pantry.
Store leftover soup or opened jars in the refrigerator or freezer.
How Long Does Canned Lentil Soup Last?
Properly sealed and stored home-canned lentil soup has a shelf life of 12 months. According to the USDA, you can still enjoy it past this best-used-by date, although its flavor, texture, and nutrients may deteriorate. Once you open a jar, place it in a fridge and use the contents within 5-7 days.