When canning pickled red onions, make a pickling brine with vinegar, water, pickling salt, and spices. Add onions to the brine and boil for 5 minutes. Ladle the onions into hot canning jars, covering them with the brine, leaving 1-inch headspace. Process the pint jars in a water bath canner for 10-20 minutes per elevation.
How to Pickle Red Onions for Refrigerator Pickles
Pickling makes red onions last longer and tones down the sharpness of fresh onions. Pickled onions are great for those who find raw onion too overpowering. Follow this method to make refrigerator-pickled onions:
Gather your ingredients. You will need 4 cups of 5% acidity red wine vinegar, one clove of garlic, and 3 pounds of fresh onion bulbs. You can use red, white, or yellow onions.
Wash the onions thoroughly under cool running water and cut off the top and stem ends. Remove the papery, leathery outer skin.
Using a sharp knife or mandoline, chop the onions into ¼ inch slices. Separate the slices to form neat rings.
Prepare the pickling liquid by combining 4 cups of red vinegar with 4 cups of water and a clove of garlic in a large pot and bringing it to a boil. You may add any desired spices, such as mustard seeds, allspice, bay leaves, or pickling salt.
Transfer your sliced red onions and submerge them in the brine. Wait for the mixture to resume a rolling boil. Using medium heat, simmer the mixture for 5 minutes at 180°F. Turn off your stove.
Allow the onions to cool at room temperature before transferring them into sterilized Mason jars with tight-fitting lids. Store the jars in a refrigerator and keep them refrigerated for up to three months.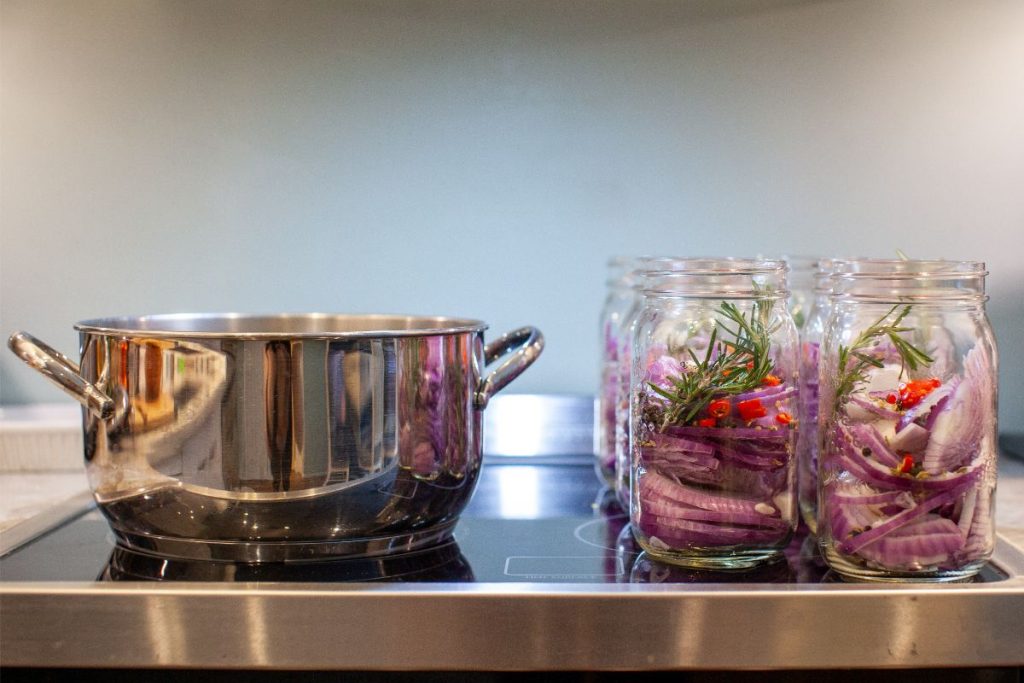 Are Pickled Red Onions Shelf Stable?
Quick pickled red onions have a shelf life of 2-3 weeks. During this time, they have a crunchy texture and rich flavor but must remain in the refrigerator. The acidity from vinegar temporarily prevents the rapid germination of botulinum spores and other bacteria.
According to the University of California, canning makes pickled foods shelf-stable for long-term storage. Water bath canning pickled onions will extend their shelf life to 12-18 months and allow you to store them at room temperature.
Print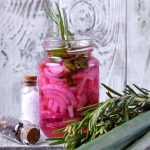 Pickled Red Onions Canning Recipe
---
Author:

Total Time:

2 hours, 40 minutes
Description
This simple pickled red onion recipe is fun to make for first-time or seasoned canners alike. You can add peppercorns, jalapenos, or red pepper flakes to make your onions spicier.
---
3

pounds red onions

4 cups

red wine vinegar (5%)

1

garlic clove
Ball Pickle Crisp (optional)
---
Instructions
Wash pint-sized canning jars, canning lids, and rings in warm soapy water and rinse well.
Transfer the canning jars to a large pot of simmering water and allow the jars to simmer for 10 minutes. Keep the jars hot until ready to fill.
Rinse the onions under running water and slice off the top and stems. Remove the outer skin.
Blanch the onions briefly in boiling water for 30 seconds. Then submerge them in ice-cold water for 2 minutes.
Using a knife or mandoline to slice the onions into uniform, ¼ inch slices. Toss the onions to separate the rings.
Prepare the pickling liquid by mixing the vinegar and water with a whole garlic clove and any desired spices and pickling salt. Bring the mixture to a boil.
Submerge the sliced red onions in the brine. Wait for the mixture to resume a rolling boil. Using medium heat, allow the mixture to simmer for 5 minutes. Turn off your stove.
Fill hot canning jars with hot sliced onion pickles. Remove the garlic clove and leave 1 inch of headspace.
Use a canning funnel to pour the pickling brine over the onions, maintaining the 1-inch headspace.
Add 1/16 teaspoon of Ball Pickle Crisp to each jar, as desired.
Use a bubble popper or plastic butter knife to remove excess air bubbles.
Wet a clean paper towel with hot water. Wipe the jar rims.
Center sterilized lids over each jar and apply the canning screw bands. Twist them on until they are fingertip tight.
Fill your water bath canner halfway with water and place it on a stove to heat.
Position your jar rack at the bottom and carefully transfer the filled jars into the canner, ensuring the jars don't touch each other or the sides of the canner. Ensure the water level is 2-3 inches above your jar tops.
Bring the water to a rolling boil, then cover the canner or pot with a lid.
Set a processing time of 10-20 minutes per altitude for pint or half-pint jars.
Processing Times Per Altitude
0 – 1,000ft: 10 minutes
1,001-6,000ft: 15 minutes
6,001ft and above: 20 minutes
Post Processing
Once the timer goes off, turn off the stove. Let the jars sit in hot water for five minutes.
Open the caner to remove the jars using canning tongs. Place them on a towel-lined countertop to sit undisturbed for 12-24 hours.
Remove the screw bands and check the seals by pressing them with a finger. Lids of unsealed jars pop up if pressed with a finger and should be reprocessed or refrigerated and used within 5-7 days.
Write the contents and canning date on the sealed jars of pickled onions. Store the jars in a cool, clean, dry place.
Prep Time:

10 minutes

Pickling Time:

2 hours

Cook Time:

30 minutes
Nutrition
Serving Size:

2 cups

Calories:

41.3kcal

Sugar:

4.5mg

Sodium:

2.8g

Fat:

0.2g

Saturated Fat:

0g

Carbohydrates:

9.5g

Fiber:

1.3g

Protein:

1.3g

Cholesterol:

0g
Is It Safe to Can Pickled Onions?
Pickling lowers the pH of red onions, giving them an acidity level on par with high-acid fruits. The highly acidic environment and a canner's hot temperatures make them safe for water bath canning.
How Long Does Pickling Red Onions Take?
Canning pickled onions takes 24 or 48 hours, including the prep and cooling time. Refrigerator pickles that aren't water bath canned take 1-2 hours to prepare.
What are the Benefits of Pickling Red Onions?
Convenience – Having pickled red onions enables you to make recipes with onions without the hassle of rushing to the grocery store.
Cost-effective – Pickling red onions lowers food costs due to preventing waste.
Longer shelf life – Pickling extends the shelf life of onions from 3-5 days to 2-3 weeks.
Nutrition – Pickled red onions are an excellent source of B vitamins, folate, magnesium, potassium, fiber, calcium, and antioxidants.
Versatility – Pickled red onions are a wonderful condiment for tacos and look great on charcuterie boards!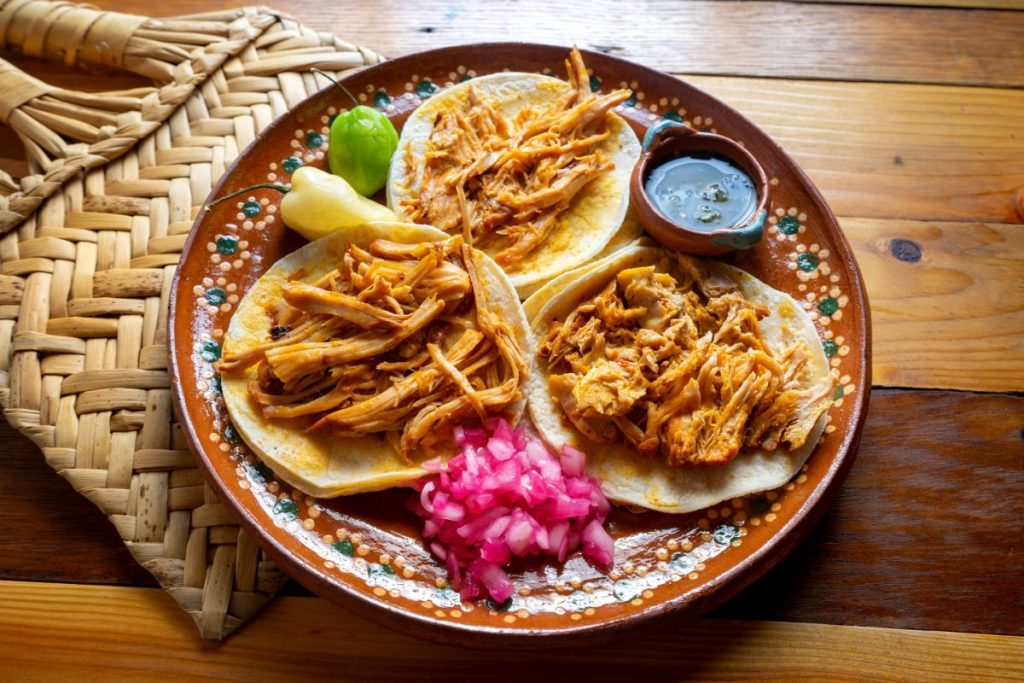 Can You Pressure Can Red Onions?
Yes – you can pressure can red onions. Red onion is a low-acid vegetable with a high botulism risk. If you don't pickle the onions, they must be pressure canned. The National Center for Home Food Preservation recommends processing vegetables in the extra-high temperatures of a pressure canner.
How Long Can Pickled Red Onions Be Stored?
Pickled red onions can last 2-3 weeks in your refrigerator. The USDA states that canned low-acid vegetables can last 2-5 years, but it is best to consume canned, pickled vegetables within one year for the best texture, nutrition, and flavor. While it's safe to use canned goods with the seals intact after the best-by-date, their quality may not be as good.