Pizza sauce is safe for water bath canning when it contains lemon juice, vinegar, or citric acid. Peel fresh tomatoes, puree, and bring them to a boil with onions and spices. Ladle the prepared sauce while hot into canning jars, leaving ½-inch headspace, and process for 35-40 minutes.
What is the Best Method of Canning Pizza Sauce?
It's best to process pizza sauce in a water bath. Adding lemon juice, vinegar, or citric acid to this tomato-based condiment creates an acidic environment, making it safe for water bath canning.
Print
Homemade Pizza Sauce Canning Recipe
---
Author:

Total Time:

3 hours, 20 minutes
Description
This homemade pizza sauce recipe is easy to make, flavorful, and the magic ingredient for making authentic-tasting pizza on the weekends.
---
13 cups

pureed plum tomatoes

1/2 cup

bottled lemon juice

2 teaspoons

dried oregano

1 teaspoon

ground black pepper

1 teaspoon

salt

1 teaspoon

garlic powder
---
Instructions
Wash canning jars, rings, and lids in warm soapy water. Rinse thoroughly. Set the lids aside to dry. Simmer canning jars in boiling water until it's time for filling.
Fill your water bath canner halfway with fresh water. Position a jar rack at the bottom before heating it on a burner.
Wash your tomatoes under cool, running water.
For easy peeling, put the tomatoes in a wire basket and blanch them in a sauce pot with boiling water for 30-45 seconds to split the skins.
Remove the tomatoes and immerse them immediately in ice-cold water. Once cooled, gently peel off the skin with clean hands.
Trim the stem ends, split the fruits into halves, and scoop the seeds with a clean spoon.
Place a large stockpot on your stove. Put the tomato pieces inside and heat them to a boil.
Transfer the hot tomatoes to a food processor or blender and process them into a tomato puree.
Drain the tomato puree back into a soup pot. Boil it vigorously while stirring to prevent scorching. Start with putting half of the puree first and add the remaining quantity one cup at a time.
Add salt, black pepper, oregano, and garlic powder. Simmer the mixture for 30 minutes over medium heat while stirring constantly.
Using an immersion blender, process the sauce into a smooth consistency.
Return the puree to the soup pot and simmer for an additional 1-2 hours until the mixture reduces by half. Stir occasionally to prevent sticking. Turn off the heat.
Put 1 tablespoon of bottled lemon juice into each pint jar or 2 tablespoons into each quart jar. Fill the hot jars with the hot pizza sauce, leaving 1-inch headspace.
Run a plastic butter knife, spoon, or wooden stir stick along the jar edges to remove air bubbles.
Dampen a clean cloth or paper napkin with vinegar and wipe the rims.
Place the canning lids on top of the hot jars, and screw the ring bands on until they are fingertip tight.
Load your canner with the filled jars carefully using canning tongs. Keep the jars upright and ensure the water level is 1-2 inches above your jar tops.
Place a lid on the canner. Adjust the heat to bring the water to a rolling boil.
Set a processing time of 35 minutes for pints or 40 minutes for quart jars.
Once the timer beeps, turn off your burner. Wait for 2 minutes before removing the lid. Allow the jars to sit for five more minutes before moving them.
Remove the jars from hot water using a jar lifter and set them on a towel-covered counter. Let them sit undisturbed for 12-24 hours.
After cooling, check the seals. Properly-sealed jars have concave-shaped lids and will not flex up and down when you press on them. Refrigerate unsealed jars, if any, and use them within 7 days.
For all sealed jars, wipe the exterior of the jars with a damp rag and label them with the content and date of canning. Store them at 50-70 degrees Fahrenheit in a clean, cool, dry place.
Prep Time:

45 minutes

Canning Time:

35 minutes

Cook Time:

2 hours
Nutrition
Serving Size:

1/4 cup

Calories:

99kcal

Sugar:

13.9g

Sodium:

319mg

Fat:

1.2g

Saturated Fat:

0.3g

Carbohydrates:

20.9g

Fiber:

6.4g

Protein:

4.8g

Cholesterol:

0g
Do You Need to Add Lemon Juice When Canning Pizza Sauce?
It's necessary to add lemon when canning pizza sauce. This condiment's main ingredient is tomatoes, and the acidity can vary depending on the variety and growing conditions. Adding bottled lemon juice lowers the pH to create an acidic environment necessary for inhibiting the growth of Clostridium botulinum and other bacteria types.
What Kind of Tomatoes Are Best for Canning Pizza Sauce?
Italian plum tomatoes such as Roma tomatoes, San Marzano, and Amish paste varieties are the best for making canned pizza sauce. These types are meaty and have less juice and seeds, which makes a thicker sauce.
What are the Benefits of Canning Pizza Sauce?
Convenience: Canned pizza sauce saves you the hassle of rushing to the grocery store anytime you want to make homemade pizza.
Cost-effective: Home-canning pizza sauce is an excellent method of preserving fresh-picked tomatoes and veggies from the farmer's market or your home garden.
Longer shelf life: Canned pizza sauce has a longer shelf life than other methods of food preservation.
Nutritional value: Homemade pizza sauce is a rich source of vitamin C, carbohydrates, calories, minerals, and antioxidants.
Versatility: Pizza sauce is versatile and can be used as a topping for baked eggs, mixed into a gravy, or used as a pasta sauce or meatloaf glaze!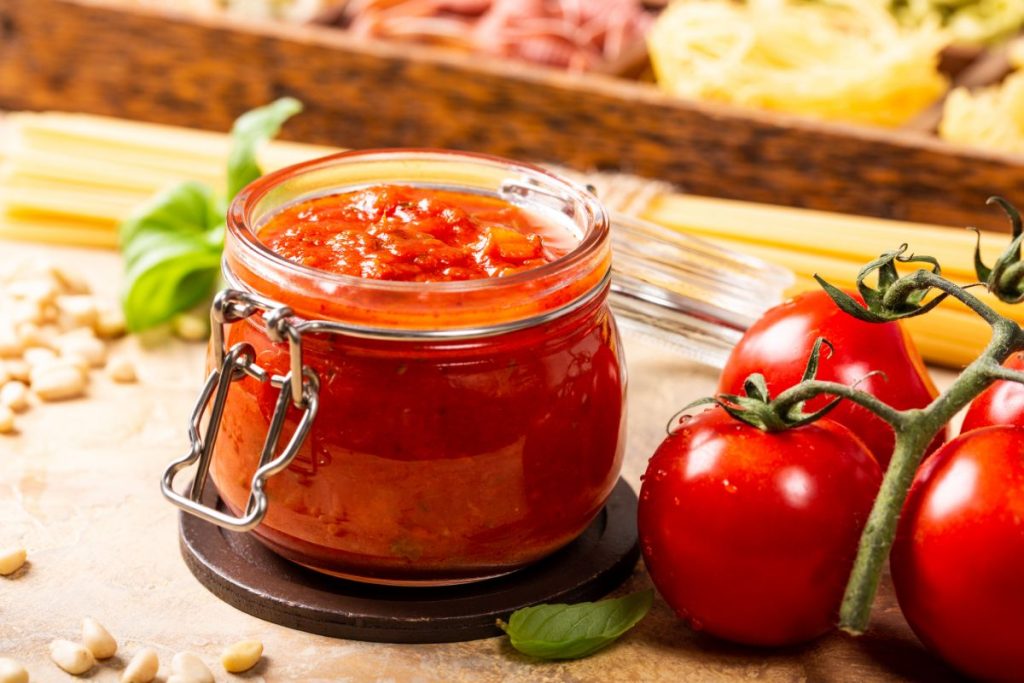 Can You Thicken Pizza Sauce Before Canning It
No – the University of Minnesota warns against adding artificial thickeners when canning tomato products, including pizza and marinara sauce, as they can create a thick product that does not allow good heat penetration.
However, it's possible to thicken pizza sauce naturally using suitable tomato varieties with less juice. For a slightly thicker consistency, cook the pizza sauce using medium heat for a few hours to reduce the amount of water in the sauce, or add tomato paste, which is an excellent natural thickener.
Can You Can Pizza Sauce With Fresh Tomatoes?
Yes – you can use fresh, frozen, stewed, or store-bought canned tomatoes when making pizza sauce. However, you must add bottled lemon juice for safe processing in a water bath canner.
What Ingredients Can Be Added to Canned Pizza Sauce?
Some ingredients that can be added when canning pizza sauce or pasta sauce include:
Celery stalks
Fresh basil leaves
Fresh bay leaves
Fresh red pepper
Garlic cloves
Onions
Oregano
Parsley
Pepper, ground
Red wine
Salt
Sugar
Tomatoes (fresh, frozen, or canned)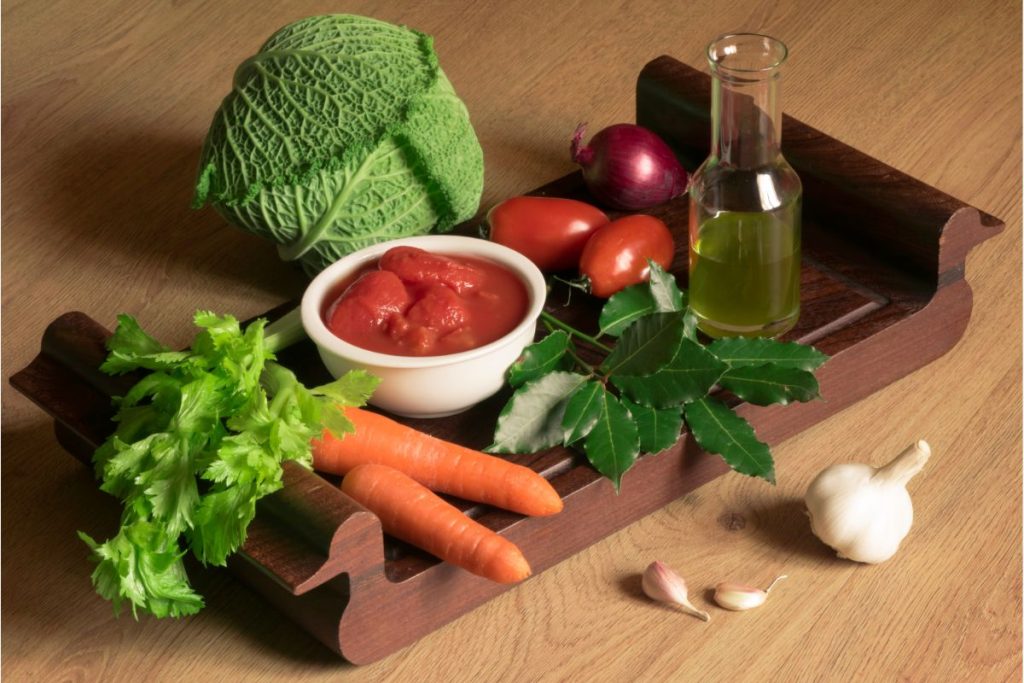 How Long Does It Take to Can Pizza Sauce?
Water bath canning takes 35 minutes for half-pints or pint jars and 40 minutes for quarts. All canned jars of pizza sauce require an additional 24 hours of time to cool after processing.
Storing Canned Pizza Sauce
For shelf-stable products, keep sealed pizza sauce jars away from areas with fluctuating temperatures, such as furnaces or uninsulated attics. Keep them away from direct sunlight and store them in places with good airflow to prevent dampness which can corrode metallic lids and break seals.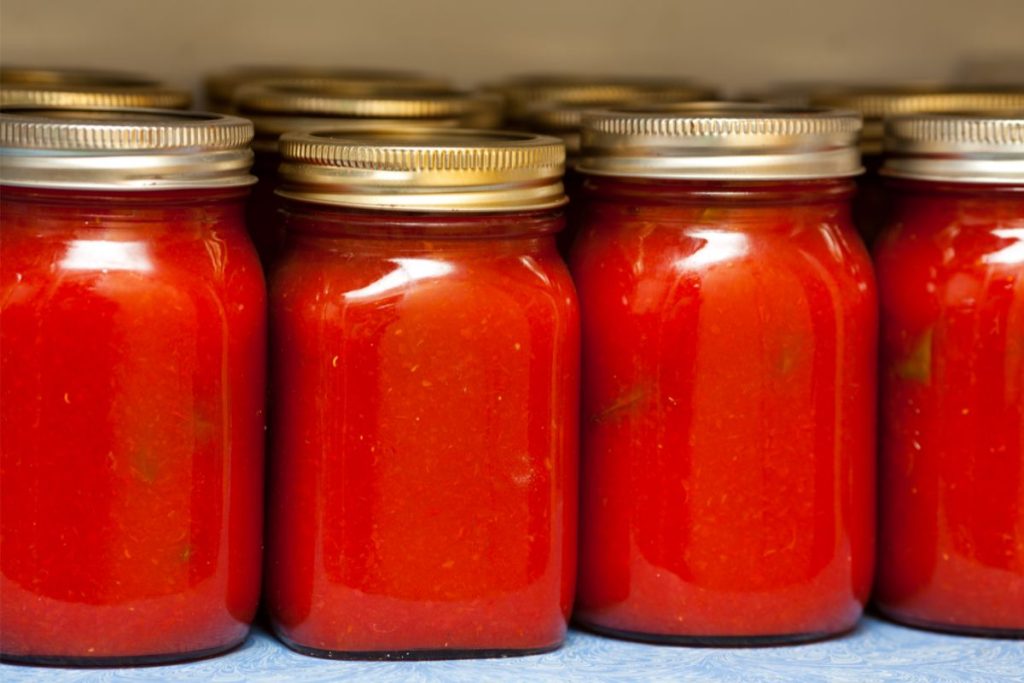 How Long Does Canned Pizza Sauce Last?
According to the USDA, all canned goods, including pizza sauce, should be used within one year when quality is at its best. While it's safe to use vacuum-sealed food after the best-used-by date, the flavor and texture may diminish. Refrigerate opened pizza sauce jars and use them within 5-7 days.